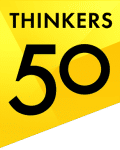 Thinkers50 Awards Gala 2021
IDEAS WITH PURPOSE
15-16 November 2021
Official Partners
The Thinkers50 Awards Gala 2021 is brought to you by Thinkers50 in partnership with these organisations.

Brightline® delivers insights and solutions that empower leaders to successfully transform their organization's vision into reality through strategic initiative management.
Haier Group is a world-leading provider of solutions to better life. Focusing on user experience, Haier has been included on the list of BrandZ™ Top 100 Most Valuable Global Brands for two consecutive years as the world's first and only IoT ecosystem brand.
Fujitsu is passionate about using technology to create a more inclusive, sustainable and trusted future. It drives everything they do. Throughout their history, they've supported businesses and society through delivering robust and reliable IT systems.
100 Coaches is an organization that brings together many of the world's leading executive coaches, top business thinkers and best leaders with the common purpose of making good executives better. 
Executive Networks has always been an effective tool for sharing peer insights, and now it's a non-negotiable resource for today's HR leaders.
The Business Ecosystem Alliance aims to bring together researchers, practitioners and others who are interested in better understanding how ecosystems work and how they can have a positive impact on organizations, society and the world.
ECSI consultants are passionate about the latest strategy and innovation management ideas and how to implement them with their clients.
One of the world's leading and largest graduate business schools, INSEAD brings together people, cultures and ideas to change lives and to transform organisations. 
IE Business School is an intrinsically innovative institution with a spirit of entrepreneurship that keeps them at the forefront of world-class business education. 
Rotman Management's mission is to be a catalyst for positive change: rooted in transformative learning, informed by original insight and inspired by the biggest challenges in business and society. 
Partnerships
If you would like to explore a potential partnership, we would love to hear from you. Contact Thinkers50 co-founders Stuart and Des.