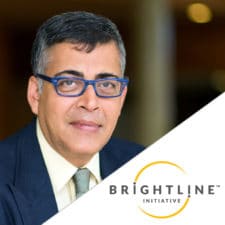 In this podcast brought to you in partnership with the Brightline Initiative, Stuart Crainer speaks with Pankaj Ghemawat, the Global Professor of Management and Strategy and Director of the Center for the Globalization of Education and Management at the Stern School of Business at New York University. His books include World 3.0, The Laws of Globalization and Business Applications, and the forthcoming The New Global Road Map: Enduring Strategies for Turbulent Times.
In this podcast:
Demystifying globalisation.
Using data to measure globalisation with The DHL Global Connectedness Index, which measures the depth and breadth of globalisation. This was the only globalisation index to pick up on the global financial crisis of 2008.
How assuming that borders don't matter and distance don't matter are two very bad ideas.
How Coca-Cola went from over-standardisation to extreme localisation to a balance.
Certain industries can't localise successfully and require globalisation.
How non-native CEOs are more likely to succeed with globalisation challenges.
Listen to the podcast below:
Listen on iTunes All Thinkers50 Podcasts
T50 podcasts are produced in partnership with the Brightline Initiative.