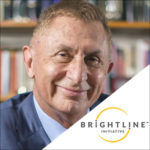 In this podcast brought to you in partnership with the Brightline Initiative, Andrew Kakabadse goes further into the MQ and EQ of the Five Qs.
Learn more about the Five Qs in the previous podcast or from Thinkers50 Books.
In this podcast:
The Morality of Bribery: who it affects most and why it's being used as a form of marketing
Is EQ (Emotional Intelligence) important for senior executives?
What EQ and engagement means for competitive advantage.
Listen to the podcast below: