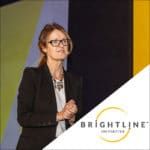 In this podcast brought to you in partnership with the Brightline Initiative, Deborah Rowland speaks about how to lead change and innovation from the Thinkers50 Gala. The results of her applied research on highly complex change is available in her book Still Moving: How to Lead Mindful Change.
In this podcast:
Four key messages on a radical new way of how to lead change.
Message 1: Contrast the difference between action and movement. Action is the unconscious repetition of past routine, and movement is the intentional disturbance of repeating patterns.
Why are we resistant to change?
Message 2: Being before doing. The more leaders can regulate and be in tune with their emotions, the more they're able to lead big change.
Message 3: Make disturbance your friend. Most movement occurs when difficulty is seen.
Message 4: Now is the time for emergence. Emergent change is the capacity to give up control, but with hard rules to govern behaviour.
Listen to the podcast below:
Listen on iTunes All Thinkers50 Podcasts
T50 podcasts are produced in partnership with the Brightline Initiative.