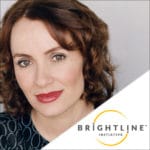 In this podcast brought to you in partnership with the Brightline Initiative, Stuart Crainer interviews Susan David, an award-winning Psychologist on the faculty of Harvard Medical School, co-founder and co-director of the Institute of Coaching at McLean Hospital, and CEO of Evidence Based Psychology. Her book Emotional Agility is a Wall Street Journal bestseller.
In this podcast:
The role of emotions in our everyday lives and how they can impact our effectiveness.
How Susan's growing up in apartheid South Africa led to her interest in emotional agility.
Four key concepts in emotional agility.
Showing Up: Instead of focusing on being positive, discover what our negative emotions can tell us about what we care about.
Stepping Out: Recognize who's in charge—the thinker or the thought? Creating space between you and the thought.
Walking Your Why: What is it that enables us to have our own compass?
Moving On: Make tweaks to infuse value into your mindset. Rather than "I have to", change the language to "I want to".
Listen to the podcast below:
Listen on iTunes All Thinkers50 Podcasts
T50 podcasts are produced in partnership with the Brightline Initiative.