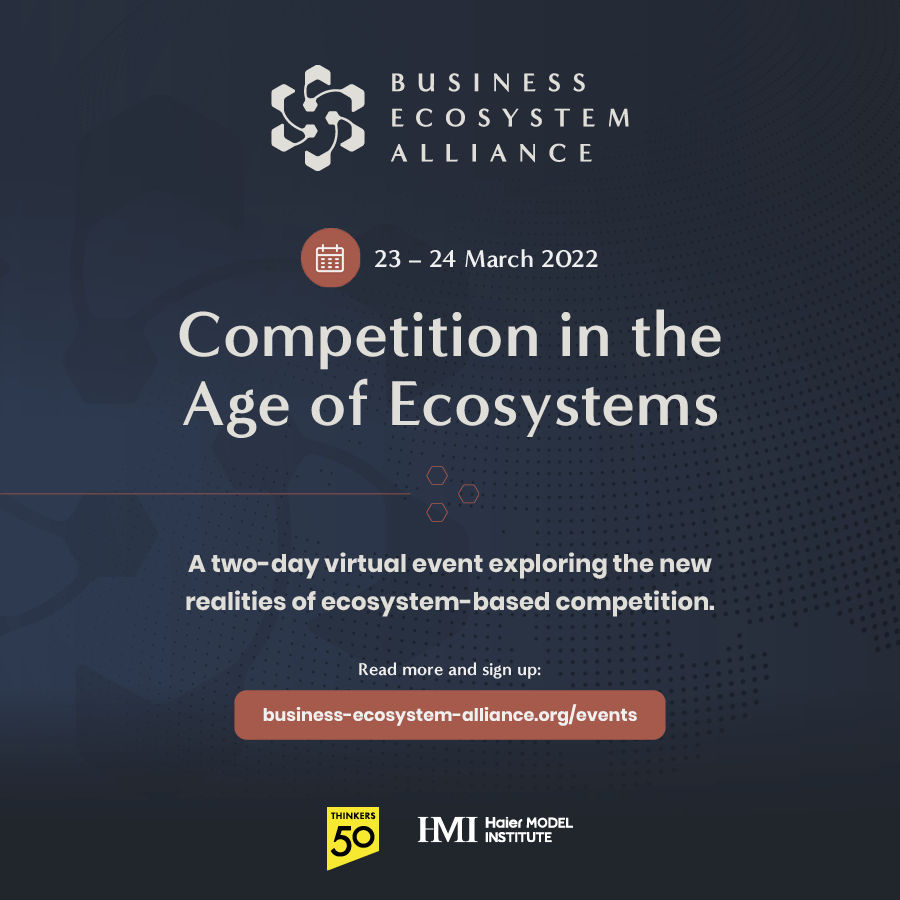 Competition in the Age of Ecosystems
March 23, 2022
-
March 24, 2022
Competition in the Age of Ecosystems is a partnership between the Business Ecosystem Alliance, Outthinker, Thinkers50 and the Haier Management Research Institute.
Over the seventy years or so since the field of competitive strategy has existed, the unit of study as predominantly been the company. Nearly every major competitive strategic concept – from the resource-based view (RBV) to Porter's 5-Forces to Christensen's Disruption Theory – has sought to explain why one company outperforms another company.
With the arrival of platform-based businesses such as Facebook, AirBnB, and YouTube, many of these strategic concepts were applied to advance our understanding of the competitiveness of such platforms.
The next era of competition, we believe, will be the business ecosystem. While business ecosystems have competed for many decades – between airline alliances, technologies (e.g., SAP v. Microsoft v. Oracle), operating systems (e.g., Android v. RIM v. iOS) – the prevalence of business ecosystems is being thrust to the foreground. The next era of competition will be defined by the ecosystem.
Competition in the Age of Ecosystems brings together some of the world's leading business minds as well as senior practitioners. Among those taking part will be James Moore, Kaihan Krippendorff, Rita McGrath, Martin Reeves, Jonathan Knee, Stuart Crainer and senior strategy executives from IBM, Microsoft and Yahoo among others.
The two-day live event will be supported by a series of exclusive pre-recorded sessions to ignite debate.