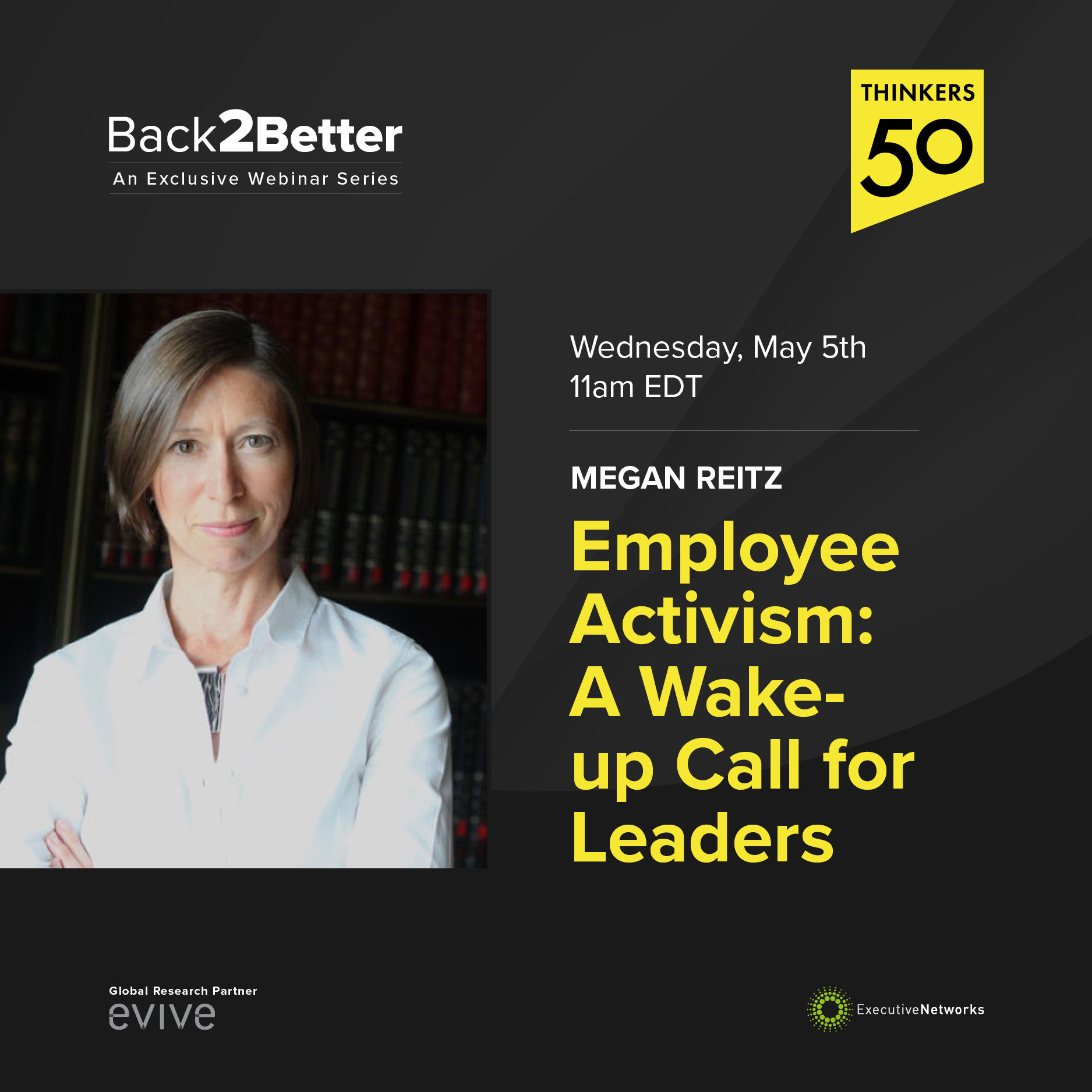 Employee Activism: A Wake-up Call for Leaders with Megan Reitz
May 5, 2021 @ 11:00 am
-
12:00 pm
EDT
Virtual Event
The Back2Better Report states the organization's 'brand' with workers is inextricably linked with its 'brand' with customers, society and other stakeholders' so it is hardly surprising that it spotlights increasing worker scrutiny and activism. Google, Starbucks, Facebook, Wayfair, Cathay Pacific, Amazon…. employees are standing up to leadership action and inaction that they see as unethical or against their interests. From the global organisation to the local small business, activists are demanding a voice which many leaders, taken often by surprise, are reacting to with confusion and defensiveness. This raises some fundamental questions:
What is employee activism, why is it on the rise and how does it manifest in the workplace?
Why might you, as a leader, right now, be underestimating the force of activism and overestimating how others perceive your response?
Can you argue your organizations is apolitical and silence the activist voice?
If the pressure of employee activism continues to increase, how should you respond/ready yourself? What is a productive response to activism?
In this webinar, Megan Reitz will draw from her acclaimed research on 'Speaking Truth to Power' with John Higgins, published extensively in Harvard Business Review and in their book Speak Up. In addition, she will reference their research on employee activism this year which includes a rigorous analysis of over sixty in-depth interviews with leaders, academics and activists from around the world.
Megan Reitz is Professor of Leadership and Dialogue at Ashridge where she speaks, researches, consults and supervises on the intersection of leadership, change, dialogue and mindfulness. She is ranked in HR Magazine's Most Influential Thinkers listing and has presented her research to audiences throughout the world. Reitz is the author of Dialogue in Organizations and Mind Time. Her new book, with Financial Times Publishing, is called Speak Up.
About Back2Better
We are excited to partner up with Executive Networks to bring an exclusive collection of new resources for navigating change through the Back2Better webinar series, which includes 50 Webinars in 50 Weeks. The series officially kicked off in September 2020 and focuses on real-time actionable insights from the world's top business leaders, academics, and HR thought leaders that help organizations adapt and evolve to the new future of work.
A catalyst for deeper exploration of the world of work, Back2Better is a platform for community knowledge-sharing that will help prepare forward-thinking organizations and their leaders to evolve and grow in the months to come. Through informative webinars delivered over the course of 50 weeks, this program covers timely topics selected moment to moment through a process informed by Executive Network member surveys, research from the Human Flourishing Program at Harvard, and insights from an esteemed advisory board. This is your opportunity to explore how you can adapt to the future of HR post-COVID with leading business professionals from Harvard, NYU, Amazon, and other top institutions and organizations.