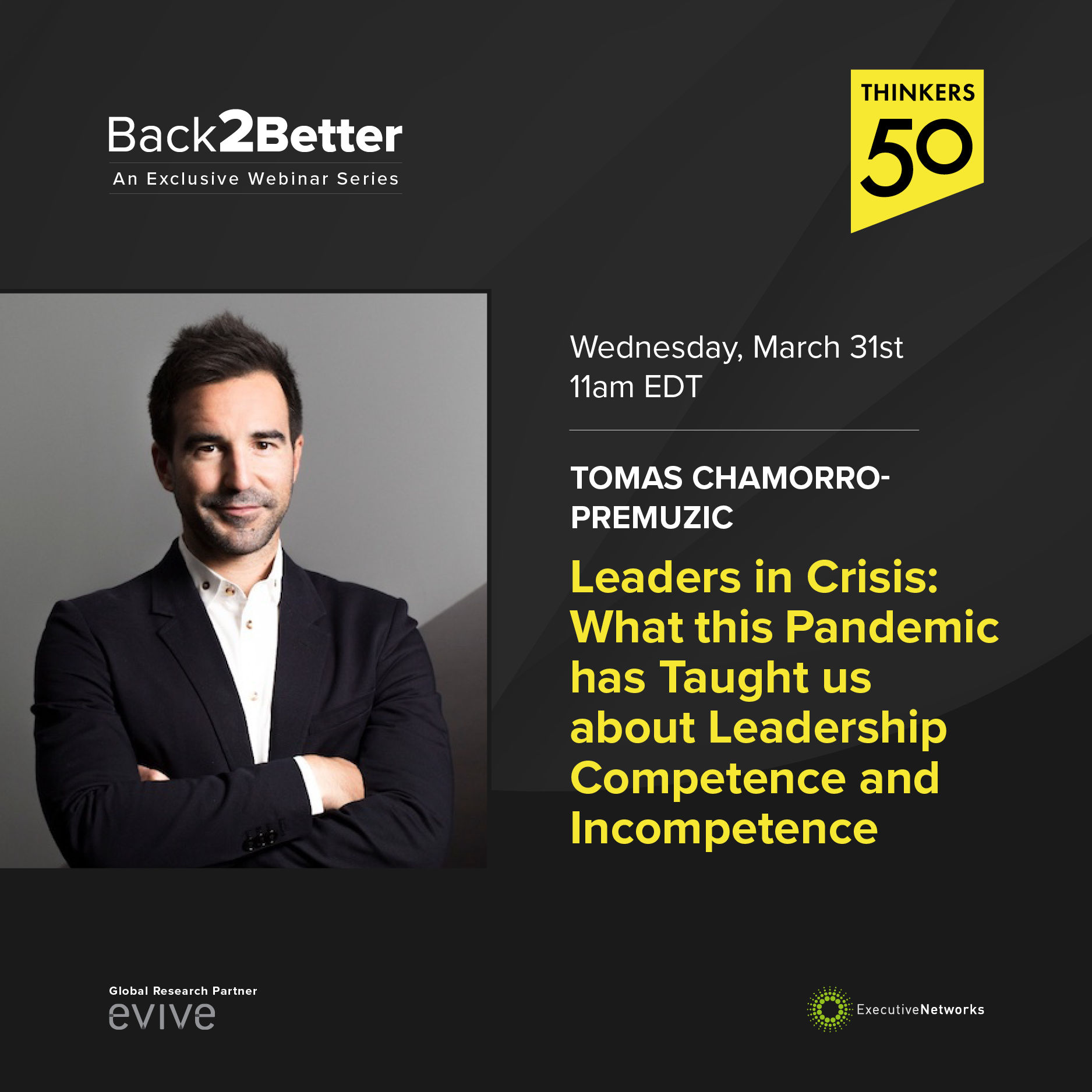 Leaders in Crisis: What this Pandemic has Taught us about Leadership Competence and Incompetence with Tomas Chamorro-Premuzic
March 31, 2021 @ 11:00 am
-
12:00 pm
EDT
Virtual Event
This session will evaluate the major leadership lessons from the current covid19 pandemic. Just over 1-year has now passed since the crisis started in full swing throughout the world, forcing the general public to pay substantial attention to the role of leaders in tempering, containing, or augmenting crises.
Through a data-driven examination of the basic tenets from the science of leadership, and leaders' key performance indicators vis-a-vis managing the pandemic, this session will examine the following key questions:
What type of leader (in both organizations and nations) is best equipped for managing a global crisis?
Do we need to revise our models of leadership for the post-pandemic world?
What have we learned about leadership competence and incompetence during the pandemic?
Dr. Tomas Chamorro-Premuzic is an international authority in psychological profiling, talent management, leadership development, and people analytics. His commercial work focuses on the creation of science-based tools that improve organizations' ability to predict performance, and people's ability to understand themselves. He is currently the Chief Talent Scientist at ManpowerGroup, cofounder of DeeperSignals and Metaprofiling, and Professor of Business Psychology at University College London and Columbia University. He has previously held academic positions at New York University and the London School of Economics, and frequently lectures at Harvard Business School, Stanford Business School, London Business School, and IMD, as well as being the co-founder and CEO of BrazenX and the former CEO at Hogan Assessment Systems.
About Back2Better
We are excited to partner up with Executive Networks to bring an exclusive collection of new resources for navigating change through the Back2Better webinar series, which includes 50 Webinars in 50 Weeks. The series officially kicked off in September 2020 and focuses on real-time actionable insights from the world's top business leaders, academics, and HR thought leaders that help organizations adapt and evolve to the new future of work.
A catalyst for deeper exploration of the world of work, Back2Better is a platform for community knowledge-sharing that will help prepare forward-thinking organizations and their leaders to evolve and grow in the months to come. Through informative webinars delivered over the course of 50 weeks, this program covers timely topics selected moment to moment through a process informed by Executive Network member surveys, research from the Human Flourishing Program at Harvard, and insights from an esteemed advisory board. This is your opportunity to explore how you can adapt to the future of HR post-COVID with leading business professionals from Harvard, NYU, Amazon, and other top institutions and organizations.