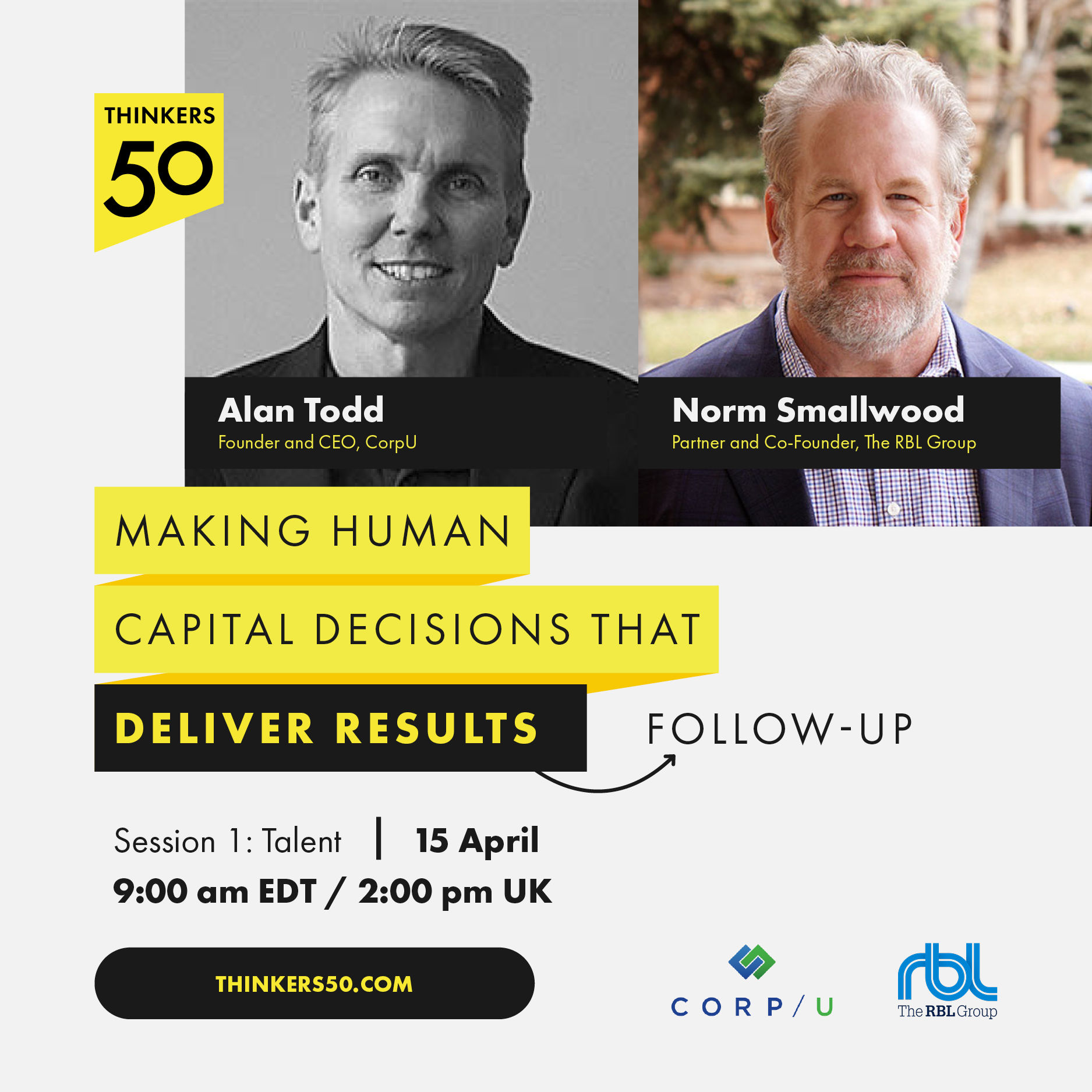 Making Human Capital Decisions That Deliver Results: Follow-up session #1: Talent
April 15, 2021 @ 9:00 am
-
10:00 am
EDT
Virtual Event
Making Human Capital Decisions That Deliver Results is a webinar series, blending a powerful introductory session with one of the world's leading thought leaders on managing people and organizations Dave Ulrich, with follow-up assessments and facilitated discussions.
In the talent pathway, we have identified ten of the most common talent initiatives that build competence, commitment, and contribution of employees. You will learn which of these ten initiatives can have the most impact on business outcomes for your company from our learning from 1250 organizations. You will also receive a summary of the latest trends for each these ten initiatives. You can use this information to guide you to your talent priorities and to the actions to make the priority happen.
Ten Initiatives
Acquiring talent

Managing employee performance

Developing employees

Managing employee careers and promotions

Communicating with employees

Increasing diversity, equity, and inclusion

Retaining the best employees

Managing departing employees

Improving and tracking employee engagement

Creating a positive employee experience
If you weren't able to join the introductory webinar with Dave Ulrich on 29 March, please watch the recording here to get the most out of your experience.
For those who want to build on what they have learned in the introductory session, we are offering an assessment process and follow-up discussions. Take the free assessment here.
Sign up to this webinar to join a facilitated discussion on the pathway where you completed the assessment to get the latest insights on that pathway and receive advice on how to make progress.
All follow-up discussions will be run by RBL Group partner, Norm Smallwood, and Alan Todd, CEO and founder of CorpU along with Dave Ulrich.