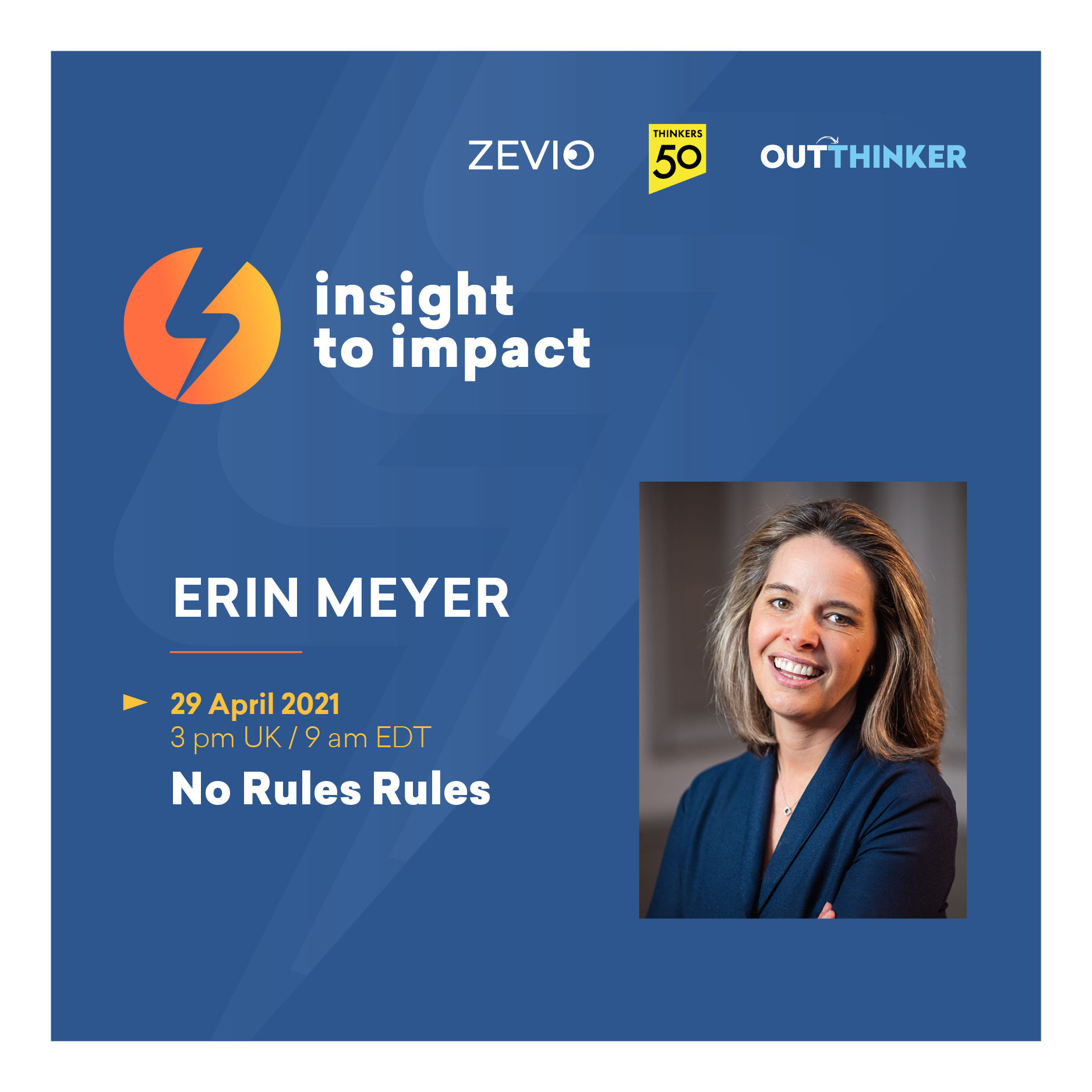 No Rules Rules with Erin Meyer
April 29, 2021 @ 3:00 pm
-
4:00 pm
BST
Virtual Event
With the arrival of Covid 19 businesses around the world are experiencing unexpected and unforeseen challenges. The management paradigms influencing our thinking have been upended. Suddenly digital transformation and organizational flexibility have become the urgent topics of our time. Only a very few companies have demonstrated the ability to shift quickly and thrive in the face of unexpected change. Netflix, one of the most successful companies of our time, is one of those companies. 
In this talk, New York Times best-selling author and international culture guru Erin Meyer,  explores a counter-intuitive set of principles for how to build an organizational culture for today's fast-changing age based on extensive research conducted with Netflix CEO Reed Hastings (and detailed in their new award-winning book No Rules Rules). Whether it's  Freedom and Responsibility, Radical Honesty, or The Keeper Test, in this speech Meyer lays  out a three-step method for giving your employees increasing levels of freedom in order to build a corporate culture that breeds flexibility and innovation across the organization. 
Erin Meyer is the co-author, with Netflix CEO Reed Hastings, of the New York Times best-selling book and FT  nominated best business book of 2020: No Rules Rules: Netflix and the Culture of Reinvention. She is also the  author of The Culture Map and a professor at INSEAD. Her work has appeared in Harvard Business Review, The New York Times, and Forbes.com. In 2019, Erin was selected by the Thinkers50 as one of the fifty most  influential business thinkers in the world.