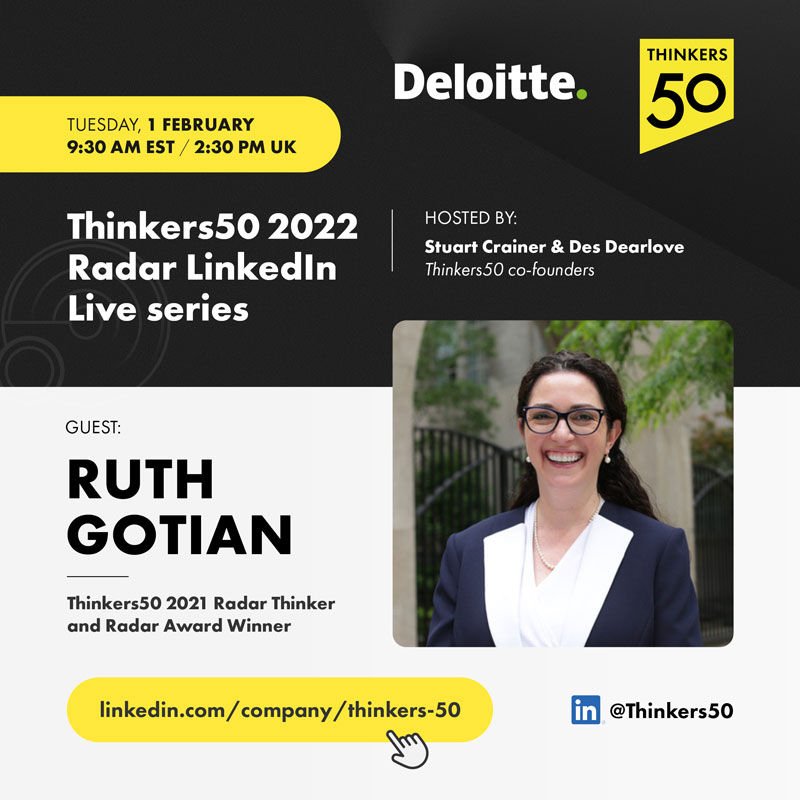 Thinkers50 2022 Radar LinkedIn Live Series: Ruth Gotian
February 1, 2022 @ 2:30 pm
GMT
From the power of trust to The Unspoken Rules, what are the big ideas, which are going to shape the organisations of tomorrow? Who are the management thinkers to watch?
Des Dearlove and Stuart Crainer, founders of Thinkers50, provide an exclusive perspective on the world of management ideas. In the first session of this year's Thinkers50 Radar LinkedIn Live series in partnership with Deloitte, they will showcase some of those celebrated in this year's list of 30 thinkers to watch in 2022 and beyond.
Stuart and Des will be joined by our special guest, 2021 Thinkers50 Radar member and Radar Award Winner, Ruth Gotian, Ed.D., M.S., who will share her experience being part of the community and give us an update on her exciting new book The Success Factor.
An engaging insight into the new world of global ideas is guaranteed! Join us on 1 February at 9:30 am EST / 2:30 pm UK.