Background
When it was launched in 2001, Thinkers50 was the first-ever global ranking of management thinkers. It has been published every two years since, and remains the premier ranking of its kind.
Since 2001, the scope of Thinkers50 has broadened to include a range of activities that support our mission of providing innovative access to powerful business and management ideas – ideas that will make the world a better place.
That mission is based on three core beliefs:
Ideas have the power to change the world.
Management is essential to human affairs.
New thinking can create a better future.
The Thinkers50 Awards Gala – dubbed "the Oscars of Management Thinking" by the Financial Times – was introduced in 2011. This extraordinary event celebrates the very best in management thinking, and provides a forum for our community of thinkers to share the leading business and management ideas of our age.
Held every other year in central London, the Gala draws thinkers from across the globe for a full day of debate, discussion and networking, followed by an elegant evening awards ceremony.
Highlights of the Gala:
Winners of Thinkers50's Distinguished Achievement Awards are announced.
The new Thinkers50 Ranking of Management Thinkers is revealed, including who has won the coveted #1 position on the list.
The Thinkers50 brand, built on our core values of independence, integrity, and accessibility, is admired globally for objective market intelligence, confirming our position as the leading authority in management ideas.
Accessing Great Management Thinking
Thinkers50 also has a growing reputation for innovation in the world of ideas. Developing new ways to share the best of management thinking is at the heart of what we do. That's why we have launched our debate-igniting video blog series, Thinkers50 Direct, book publishing, podcasting, 50 second Q&As, and much more.
Stuart Crainer and Des Dearlove are internationally recognized experts and commentators on management thinking. For two decades they have championed the very best new management ideas through Thinkers50.
The editors of the Financial Times Handbook of Management, Stuart and Des are the authors of a number of best-selling books, including: Generation Entrepreneur (runner-up in the WH Smith Best Business Book of the Year), Gravy Training, What We Mean When We Talk About Leadership, and the six-book Thinkers50 McGraw Hill book series. Their books are available in more than 20 languages.
Through their work with Thinkers50, they are frequently asked to advise organizations and individuals on how to maximize the impact of their ideas. Their clients include some of the world's leading business schools and corporations. Stuart and Des's work in business thought leadership led Management Today to describe them as "market makers par excellence".
Corporate clients include: Cisco Systems, Fujitsu, Haier, Heidrick & Struggles, Management Centre Turkey, Pearson, PwC, Santander, Strategy, and Swarovski.
Des Dearlove
Des is a former columnist to The (London) Times, contributing editor to Strategy+Business, and co-editor of the bestselling Financial Times Handbook of Management. He has taught at some of the world's leading business schools, including IE Business School, and the Said Business School at Oxford University, where he is an associate fellow. He is a Visiting Professor at Warwick Business School. He is also the author of the Archie Greene trilogy of children's books.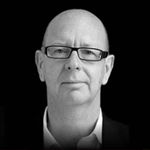 Stuart Crainer
Stuart is the former editor of London Business School's award-winning magazine Business Strategy Review. His book credits include The Management Century and a biography of the management guru Tom Peters. He has taught in the International MBA at IE Business School and in executive education programs around the world, including the Strategic Leadership programme at Oxford University. Stuart is a Visiting Professor at Warwick Business School. He is also the author of Atlantic Crossing, based on his experiences sailing the Atlantic.