Although technical development is the key factor in increasing the prosperity of the human race, it is the development of human minds that has driven all major leaps in civilization. Now the Internet has brought huge improvements to our technical resources and we are standing at a critical juncture. At the moment when large-scale industry is developing each individual into a part of a machine, the train of the era turns into a new track, moving along new paths of development; zero distance, decentralization, and distributed Internet thinking are taking us into an era full of new prospects and challenges, an era where everybody can be a maker.
After 30 years of innovation and development, Haier has grown from a small, almost bankrupt, collectively owned factory into today's leading brand in the global white house appliances market. Globally, Haier has hundreds of millions of users, and every day, hundreds of thousands of Haier products are put onto the market. The advancements in industrial civilization have created today's Haier, allowing us to undergo, in just 30 years, the one hundred years of development experienced by traditional enterprises in advanced economies. We have caught up with our role models in the industry, but at the same time we have also lost the benchmark for reference. Faced with new challenges, we have never abandoned the founding spirit of innovation – Haier is always entrepreneurial, always innovative.
Emperor Taizong of theTang Dynasty once asked his ministers the difference between winning a power and defending a power, in other words, originating as opposed to maintaining. The answer in his mind was that while winning a power (starting a business) was hard, maintaining it was even harder. In Haier's corporate culture, it is believed that there would be no answer to this question if entrepreneurship and maintenance should be thought of as separate things; the only way forward is to maintain entrepreneurship.
The natural enemy of entrepreneurship is the experience and mindset that used to lead to success. As described in the Dao De Jing, to defeat the enemy requires strength, but defeating the self makes one the true winner. The essence of the culture of Haier is that, instead of resting on our laurels, we dare to deny ourselves of the achievements.
This is true not only for an enterprise but for every individual involved. In the Internet era, everyone is their own CEO, and everyone should become an entrepreneur.
The Chinese word for an 'entrepreneur' (创业家, chuangyejia) is only slightly different to the Chinese word for a 'business executive' (企业家, qiyejia); yet there is a world of difference in the connotation and essence. Business executives are business-centered, whereas entrepreneurs are user-centered. The mission of a business executive is to supply perfect products and services, whereas an entrepreneur puts emphasis on creating the best possible experiences for users. Business executives measure their achievements with the size and profits of their businesses, whereas entrepreneurs feel honoured for their user resources and fans. Business executives show their power with management and control, whereas entrepreneurs apply self-organizations as their magic boxes. One business executive needs hundreds of thousands of people to support him, whereas any innovative individual can be an entrepreneur. In Buddhism, there is a saying: "One single word may condense volumes of Buddhist scriptures".
In Haier's early days, our contribution to the community was branded products, later we provided Haier branded services to the community. Haier then elected to transition from a closed hierarchical organization to an open business platform, from a walled garden to an ecosystem containing many new makers and enterprises. Today, we offer our resources to society, providing a Haier branded business platform to makers. This means that those innovators who are full of entrepreneurial passion can develop new products on Haier platform.
Haier has also opened our supply chain resources to the public, so each supplier and user can participate in Haier's new processes and create user value. In doing this, Haier has created the new soil in which innovation can grow, and the results will be equal opportunities and fairness for everyone, with all stakeholders building a win-win situation.
Since 2005, Haier has been exploring 'aligning people and goals' (RenDanHeyi), a win-win business model, to ignite the potential of micro enterprises (Xiaowei). We have given up the simple pursuit of traditional business results. In the absence of benchmarks, we endure questioning and criticism from the outside, but we are determined to persevere, not for the aim of success, but for the exploration of the spirit of the times.
To mark the tenth anniversary of the Haier venture, in 1994, I wrote an article entitled Haier is the Sea. Now, I envisage Haier as a cloud, because, no matter how large the sea is, it still has its edges. But even the smallest cloud can drift anywhere, linking itself with the rest of the world.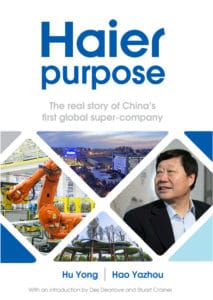 Open, open, and open further. More than 100 makers or micro enterprises have been bred and hatched on Haier's cloud platform. Some of them are the so-called "registered employees" of Haier, used to be employed by Haier but then left Haier to form stand-alone entrepreneurial enterprises through the support of the Haier platform. There are also some entrepreneurs outside of Haier making use of the Haier platform to create businesses. They deserve respect, and I would like to thank them. Because Haier's entrepreneurial platform transition itself is an innovation. As a platform, Haier is no longer the Haier with the 30-year history, but is a newborn baby, a rising sun. The makers on Haier platform are both the entrepreneurs and the builders of our platform.
I would like to pay tribute to the great era of makers! Haier strives to be a commons for great makers.
This is an edited version of the Foreword to Haier Purpose by Hu Yong and Hao Yazhou now available from Thinkers50 and Infinite ideas.