Whitney Johnson is the CEO of WLJ Advisors and an expert on helping high-growth organizations develop high-growth individuals.  An innovation and disruption theorist, she is the author of the bestselling Build an "A" Team: Play To Their Strengths and Lead Them Up the Learning Curve, and the critically-acclaimed Disrupt Yourself: Putting the Power of Disruptive Innovation to Work.  In these books, she codifies her frameworks for developing high-growth individuals and organizations – the Personal Disruption and the S Curve of Learning frameworks.
A former award-winning Wall Street stock analyst, Whitney was the co-founder of the Disruptive Innovation Fund with Harvard Business School's Clayton Christensen, through which they invested in and led the $8 million seed round for South Korea's Coupang, currently valued at more than $9 billion. She was involved in fund formation, capital raising, and the development of the fund's strategy.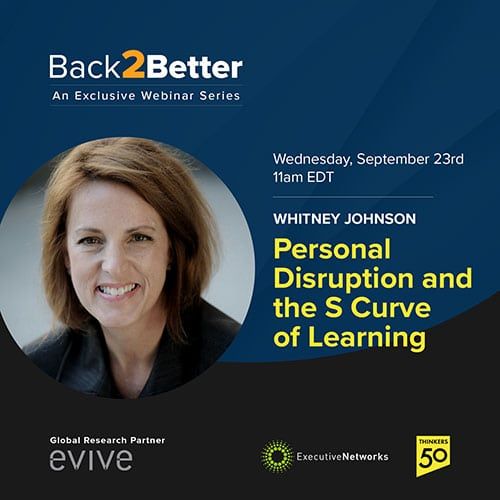 ---
About Back2Better
We are excited to partner up with Executive Networks to bring an exclusive collection of new resources for navigating change through the Back2Better webinar series, which includes 50 Webinars in 50 Weeks. The series officially kicks off in September and focuses on real-time actionable insights from the world's top business leaders, academics, and HR thought leaders that help organizations adapt and evolve to the new future of work.
A catalyst for deeper exploration of the world of work, Back2Better is a platform for community knowledge-sharing that will help prepare forward-thinking organizations and their leaders to evolve and grow in the months to come. Through informative webinars delivered over the course of 50 weeks, this program covers timely topics selected moment to moment through a process informed by Executive Network member surveys, research from the Human Flourishing Program at Harvard, and insights from an esteemed advisory board. This is your opportunity to explore how you can adapt to the future of HR post-COVID with leading business professionals from Harvard, NYU, Amazon, and other top institutions and organizations.