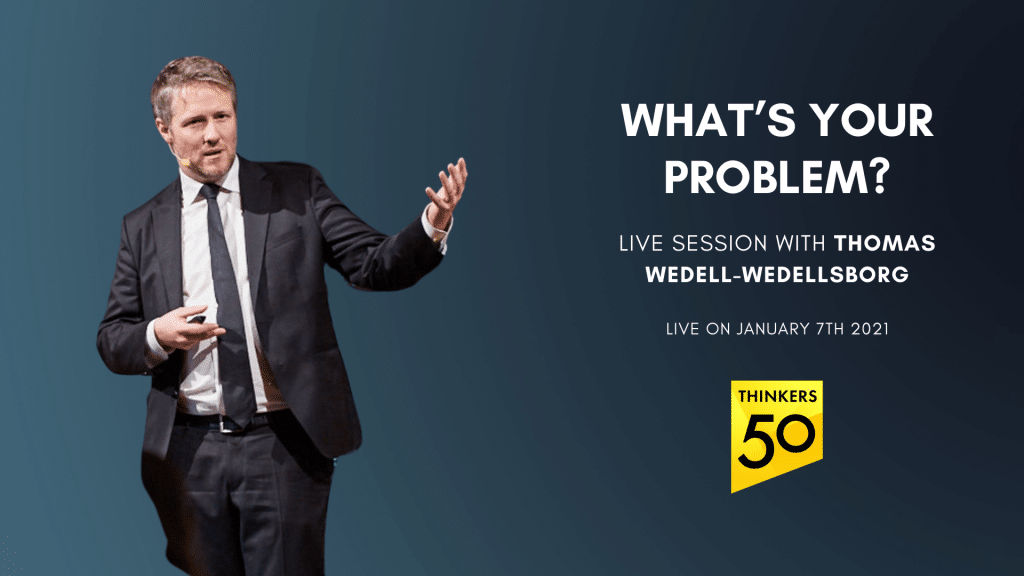 Thomas Wedell-Wedellsborg explains how to solve the right problems by mastering the art of reframing.
Have you or your colleagues ever worked hard on something only to find you were focusing on the wrong problem entirely? Most people have. Research shows that 85% companies say they often struggle to solve the right problems. The consequences are severe: leaders fight the wrong strategic battles; teams spend their energy on low-impact work; and start-ups build products and services that nobody wants. As Peter Drucker pointed out: there's nothing more dangerous than the right answer to the wrong question.
But there is a better way. In this Thinkers50 Big Idea webinar, Danish-born author and thought-leader Thomas Wedell-Wedellsborg explains how reframing is the crucial, underutilized skill you can master to transform your organization, career, and life. In this session you will learn a truly powerful three-step method to help you overcome your toughest challenges.
Register for this Big Idea Webinar on January 7th
***
About Thomas:
Thomas Wedell-Wedellsborg is a Harvard Business Press author and a globally recognized expert on innovation and problem solving.
His new book, "What's Your Problem?", was endorsed by Google's Eric Schmidt with the words "If you want the superpower of solving better problems, read this book". Thomas has shared and refined his reframing method with clients like Cisco, Microsoft, Citigroup, Time Warner, AbbVie, Caterpillar, Amgen, Prudential, Union Pacific, Credit Suisse, Deloitte, the Wall Street Journal, and the United Nations.
His first book, "Innovation as Usual", coauthored with Paddy Miller, was translated into five languages and got Thomas recognized as a "Top 20 International Thinker" by HR Magazine. Thomas' research has been featured in Harvard Business Review, The Sunday Times, The Telegraph, BBC Radio, Bloomberg Businessweek and the Financial Times.
Thomas holds an MA in Media Science from the University of Copenhagen and an MBA from IESE Business School. Prior to his business career, Thomas served for four years as an officer with the Danish Royal Guards.
To learn more about Thomas, visit thomaswedell.com.
To learn more about reframing, visit howtoreframe.com.