Anna Tavis is Clinical Associate Professor and Academic Director of Human Capital Management Department at NYU School of Professional Studies, Senior Fellow with the Conference Board, and the Academic in Residence with Executive Networks.
Anna's work laid the basis for the agile revolution. Her Harvard Business Review articles 'HR Goes Agile' (2018) and 'The Performance Management Revolution' (2016) quickly became required reading worldwide.  She is also author of Point/Counterpoint: The New Perspectives on People and Strategy.
Previously, she was the Head of Motorola's EMEA OD function based in London, Nokia's Global Head of Talent Management based in Helsinki, Chief Learning Officer with United Technologies Corp based in Hartford, CT and Global Head of Talent and Organizational Development with AIG Investments based in NYC.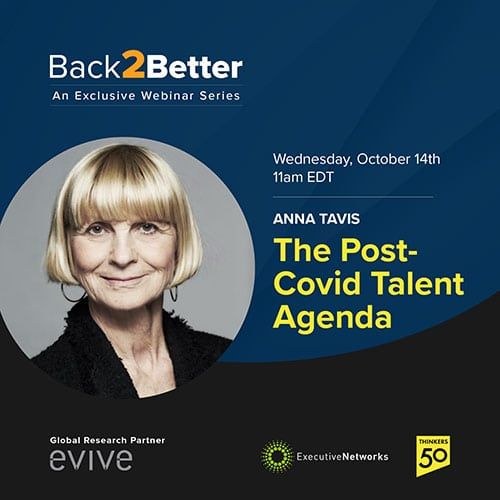 ---
About Back2Better
We are excited to partner up with Executive Networks to bring an exclusive collection of new resources for navigating change through the Back2Better webinar series, which includes 50 Webinars in 50 Weeks. The series officially kicks off in September and focuses on real-time actionable insights from the world's top business leaders, academics, and HR thought leaders that help organizations adapt and evolve to the new future of work.
A catalyst for deeper exploration of the world of work, Back2Better is a platform for community knowledge-sharing that will help prepare forward-thinking organizations and their leaders to evolve and grow in the months to come. Through informative webinars delivered over the course of 50 weeks, this program covers timely topics selected moment to moment through a process informed by Executive Network member surveys, research from the Human Flourishing Program at Harvard, and insights from an esteemed advisory board. This is your opportunity to explore how you can adapt to the future of HR post-COVID with leading business professionals from Harvard, NYU, Amazon, and other top institutions and organizations.