Richard D'Aveni was recently inducted into the Thinkers50 Hall of Fame. Here, we take a closer look at his work. 
"D'Aveni is the Kissinger of corporate strategy," Adrian Slywotzky, author of The Profit Zone, has observed. "There are few authors with the prescience that D'Aveni has had. Each of his books accurately predicted major shifts in the nature of competition and the economy," says Gary Hamel.  Fortune likened D'Aveni to the ancient master of strategic arts, Sun Tzu, as he advises executives either to be revolutionaries, and or to create order out of the chaos that revolutionaries cause. He also advises government, militaries, and other organizations on how to compete effectively.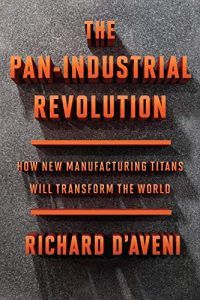 His most recent focus is on how 3D printing will change strategies, firms, markets, and even geopolitics. His book, The Pan-Industrial Revolution: How New Manufacturing Titans Will Transform the World (2018), explains the strategic implications of recent advances in additive manufacturing.
Richard A. D'Aveni is the Bakala Professor of Strategy at Dartmouth's Tuck School of Business. He holds a Ph.D. from Columbia University and a bachelor's degree from Cornell University, as well as a law degree and MBA.
He is a previous winner of the Thinkers50 Strategy Award and has been a fixture on the Thinkers50 ranking of the world's leading management thinkers since its inception in 2001.  D'Aveni's research looks for the winning competitive strategies used by corporations, governments, militaries, and sports teams in conflict. He seeks the fundamental principles of the application of power that transcends time, space, type of rival, and arena of competition.
His first book, Hypercompetition (1994), predicted the evaporation of long term competitive advantages based on barriers to entry and power over buyers, suppliers, and substitutes. It foresaw the demise of national oligopolies, broken up by challengers with temporary advantages in the dynamic economy of the late 1990s and beyond. Next, Strategic Supremacy (2001) predicted that global companies would aim to replace national oligopolies with new global spheres of influence. These spheres of influence would create new forms of barriers to entry. Beating the Commodity Trap (2010) described how spheres of influence in turn would be undermined by commoditization in local markets, and offered a variety of tactical responses.
Strategic Capitalism (2012) looked at the many types of capitalism emerging around the world, especially in China, and foresaw conflicts between some incompatible models. It predicted an economic cold war, including over trade, between the U.S. and China.
T50 Ranking
Ranked #7 in 2019

#9 (2017), #11 (2015), #17 (2013), and #21 (2011).
T50 Award

Winner of the Thinkers50 2017 Strategy Award, for his research on 3D printing and its impact on business worldwide.
Shortlisted
Thinkers50 2019 Breakthrough Idea Award.

Thinkers50 2015 Strategy Award.

Thinkers50 2011 Strategy Award.