Few industries or brands will survive unless they understand what Nilofer Merchant (nilofermerchant.com) calls "Onlyness" – the experience, talent, perspective, and purpose lying untapped in our own people. By centering on the source of innovation, onlyness, Nilofer enables you to unlock new business value.
She is the author of The Power of Onlyness: Make Your Wild Ideas Mighty Enough to Dent the World, is a field guide for anyone to use networked leadership to scale their ideas, especially when they don't have traditional power and status. Her book, The New Rules for Creating Value in the Social Era forecasts the future of work when connected people can now do what once only large organizations could. Her first book, The New How shows organizational leaders how to solve the persistent gap between strategy and execution by taking an inclusive and collaborative approach to solving tough problems.
Nilofer's work is based on deep practical experience. During her 25 years in technology, she personally launched more than 100 products, netting $18B in sales. She helped launch the first Internet Server at Apple, grew division performance at Autodesk by 50 percent, and created product and pricing strategies for Adobe that grew the company from $2B to $5B. In 2009-2010, she waged a competitive battle with Microsoft and triumphed, saving Symantec's Anti-Virus $2.1B annual business.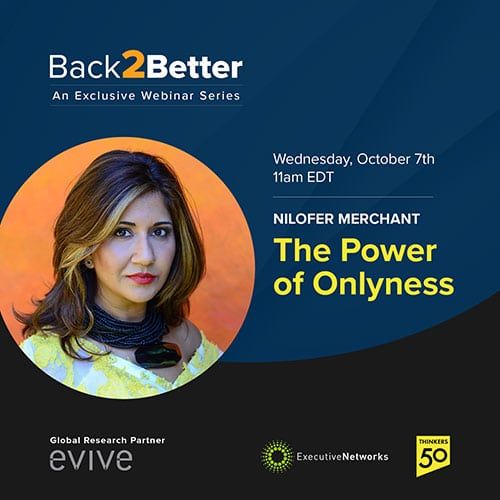 ---
About Back2Better
We are excited to partner up with Executive Networks to bring an exclusive collection of new resources for navigating change through the Back2Better webinar series, which includes 50 Webinars in 50 Weeks. The series officially kicks off in September and focuses on real-time actionable insights from the world's top business leaders, academics, and HR thought leaders that help organizations adapt and evolve to the new future of work.
A catalyst for deeper exploration of the world of work, Back2Better is a platform for community knowledge-sharing that will help prepare forward-thinking organizations and their leaders to evolve and grow in the months to come. Through informative webinars delivered over the course of 50 weeks, this program covers timely topics selected moment to moment through a process informed by Executive Network member surveys, research from the Human Flourishing Program at Harvard, and insights from an esteemed advisory board. This is your opportunity to explore how you can adapt to the future of HR post-COVID with leading business professionals from Harvard, NYU, Amazon, and other top institutions and organizations.