Executives who can learn the secret to solving complex problems have got it made, writes Professor Albrecht Enders
Lots of people want to be popular. Googling the term 'popularity' returns more than four billion results ('successfulness' manages just 590,000). There are innumerable online resources — aimed at everyone from teenage girls to high-flying executives — on how to boost your popularity.
Yet even the great business journal Fast Company, in its piece Five Habits of Popular People, managed to miss a sure-fire way to supercharge your popularity.
If you want to be sought after, become a better problem-solver. The World Economic Forum and McKinsey report that problem-solving skills are of paramount importance. They often come first among skills demanded by organisations — frequently trumping other critical skills such as communication acumen or the ability to handle ambiguity.
But if excellence in problem-solving makes you popular, why aren't more executives developing such expertise? The answer is simply that problem-solving isn't easy. Even the best people toil with it.
In the research for our new book Solvable, my International Institute of Management Development (IMD) colleague Professor Arnaud Chevallier and I discovered an uncomfortable truth: many senior businesspeople struggle to solve exactly the sorts of problems that organisations face daily. These dilemmas are classed as CIDNI — complex, ill-defined and non-immediate. CIDNI problems are easy to pronounce — "seed-nee" — but fiendishly hard to master. Unless you know how.
Complex problems
Humans face dilemmas from dawn until dusk, every day of their lives. There are a multitude of potential solutions to the quandary: "What colour socks shall I put on this morning?" But we rarely dwell on such mundane choices. Instead, our brains short-circuit the process through instinctive responses. This is called System 1 Thinking and, for many everyday problems, it does the job. Our thick, navy socks might not be perfect for that day's meetings and weather, but the time saved in making our choice usually justifies our lack of precision in selection.
The trouble is that most problems faced by business leaders are rather different in nature to rudimentary clothing choices. CIDNI dilemmas share important characteristics that render System 1 Thinking inappropriate as a means of solving them.
Complex (C): our current state, our goal and the obstacles inhibiting our efforts to achieve it are diverse, changing, interdependent or opaque. What will our profitability be next year? This depends on our revenues on one side and our costs on the other. Closing one of our stores would reduce our costs. But it would probably also reduce our revenues — so revenues and costs are interdependent.

Ill-defined (ID): the current state and goal are unclear. The obstacles towards the goal might also be indistinct. The problem may lack any solution at all. Even if it does have a solution, rarely does it have just one 'right' solution. Ill-defined problems are typically unique. Their best solution is at least partly subjective: we might agree that we should release a product that is both high quality and affordable, but we might assign different importance to these two attributes, thereby causing us to disagree on which solution is best.

Non-immediate but important (NI): it is unnecessary to find an instant solution. We have days, weeks — even months — to develop one, so we can follow a systematic process to address the problem. The quality of the solution we ultimately choose is more important than how fast we end up finding it.
Why do we fail?
The NI — non-immediate — element of CIDNI problems might present as an advantage: if we have ample time to follow a systematic process we are more likely to solve the problem. This is true in theory, but — in practice — many people still fail to properly address dilemmas despite having adequate time and resources to do so. There are several classic mistakes.
Poor framing: Framing the problem means defining what it is and what it is not. Do you want to increase revenues, or do you want to increase profitability . . . or your return on investment? Although all three frames address the same theme, they don't have the same scope. The way we frame the problem has a profound impact on how we solve it.

Insufficient engagement: Even a solution that seems superior may fail if key stakeholders don't support it. This is especially true when the problem is controversial, with different stakeholders favouring different alternatives. Beware, though, as you can have too much of a good thing. Under time pressure, for instance, engaging can be counterproductive. It is unwise to consult everyone on every decision. Yet too many engage the wrong people at the wrong times.

Outdated thinking: Complex problem-solving occurs under uncertainty in changing environments, which conflicts with the human need for certainty. As a result, we often form opinions early in the problem-solving process, seek evidence partially, and stick to our opinions, even as new evidence should prompt us to revise our conclusions. Economist John Maynard Keynes said: "When the facts change, I change my mind. What do you do, sir?" For many people, the truthful answer to Keynes' poser is: "Carry on regardless."
Meet FrED
Thankfully, help is at hand. Most complex problems can be solved in as little as five minutes with the appropriate techniques. In our book, Professor Chevallier and I use an approach called FrED. By understanding it, and following it, business leaders can transform their working lives through better, quicker and more effective decision-making. FrED can be equally well deployed on dilemmas we face in our love, family and social lives.
Frame answers: What is my problem? Framing consists of defining the problem and synthesising it into a single overarching key question.

Explore answers: How may I solve my problem? Exploring consists of identifying potential answers to the question — your alternatives — and the criteria that will help you decide how much you like each option.

Decide answers: How should I solve my problem? Deciding consists of identifying which alternative, on balance, you prefer.

We know those who can crack complex problems are popular. But, despite decades of management and leadership theory, they remain rare.
Yet CIDNI problems are at the heart of running every organisation. Global business has a skills shortage… Great decision-makers wanted: call FrED to find out more.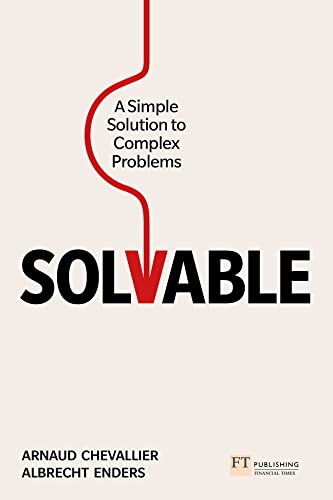 Solvable: A Simple Solution to Complex Problems by Arnaud Chevallier and Albrecht Enders is out on 18th June, by FT Publishing, priced £16.99.
Albrecht Enders is Professor of Strategy and Innovation at The International Institute for Management Development (IMD). His new book with co-author and IMD colleague Professor Arnaud Chevallier Solvable is out soon.