Tiffani Bova, the Growth and Innovation Evangelist at Salesforce, interviews Roger Martin on his newest book When More is Not Better: Overcoming America's Obsession with Economic Efficiency.

Roger Martin has ranked in the top 7 of the Thinkers50 ranking since 2011 and topped the ranking in 2017 at #1. He has also won the Thinkers50 2015 Social Enterprise Award and Thinkers50 2015 Book Award with Sally Osberg. His book Playing to Win with AG Lafley also won the Thinkers50 2013 Book Award. 
Tiffani Bova entered the Thinkers50 ranking in 2019 after being listed in the Thinkers50 radar class that year. She was also shortlisted for the Thinkers50 2019 Breakthrough Idea Award for the ideas in her book Growth IQ.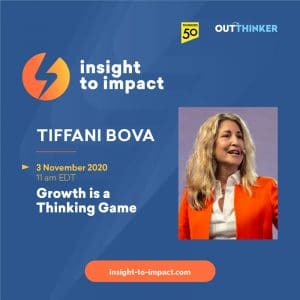 Tiffani Bova will be leading an interactive live webinar with Insight to Impact on November 3rd with "Growth is a Thinking Game".
The one thing about growth is it is never one thing. Growth is a thinking game— and no-one knows that better than Tiffani Bova of Salesforce, author of the bestseller, Growth IQ.
In this Adventure, Tiffani will motivate participants to get comfortable being uncomfortable, take action and find new, different and better ways to grow together now and in the next future.