In this unique webinar, London Business School's Dan Cable presents a three-step process to access and activate your full potential. Imagine switching on the television to see a highlight reel of the best moments from your life. Like a professional athlete, you'd learn with every clip how to repeat past successes, pinpoint your blind spots and build confidence.
In his new book Exceptional (published later in September), Dan reveals how building your own personal highlight reel — a collection of positive memories about you from your network — is key to accessing your potential. He has worked with tens of thousands of people to create their highlight reels and make the most of their gifts. Using the latest science and proven research behind best-self activation, his three-step process will help you improve your life by teaching you to:
Focus on what you do best
Craft a life around your strengths
Increase your confidence and resilience
By living up to your full potential you can strengthen the relationships you value most and transform your mindset to one of possibility. Every one of us has a version of ourselves that is uniquely outstanding. It's a version of ourselves that already exists — all we have to do is access it.
Dan Cable is Professor of Organisational Behaviour at London Business School. He has been a professor at Georgia Tech and the University of North Carolina.  He is also the author of Alive at Work and Change to Strange.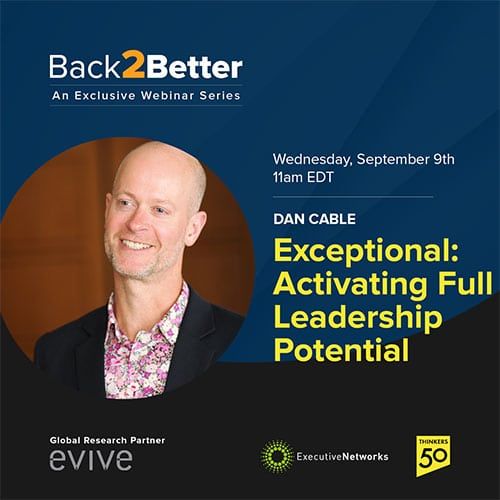 About Back2Better
We are excited to partner up with Executive Networks to bring an exclusive collection of new resources for navigating change through the Back2Better webinar series, which includes 50 Webinars in 50 Weeks. The series officially kicks off in September and focuses on real-time actionable insights from the world's top business leaders, academics, and HR thought leaders that help organizations adapt and evolve to the new future of work.
A catalyst for deeper exploration of the world of work, Back2Better is a platform for community knowledge-sharing that will help prepare forward-thinking organizations and their leaders to evolve and grow in the months to come. Through informative webinars delivered over the course of 50 weeks, this program covers timely topics selected moment to moment through a process informed by Executive Network member surveys, research from the Human Flourishing Program at Harvard, and insights from an esteemed advisory board. This is your opportunity to explore how you can adapt to the future of HR post-COVID with leading business professionals from Harvard, NYU, Amazon, and other top institutions and organizations.