Dr. Marshall Goldsmith is the world authority in helping successful leaders achieve positive, lasting change in behaviour: for themselves, their people and their teams. In this webinar, Dr. Goldsmith will begin with a discussion of the unique challenges that occur for all professionals in a time of crisis. He will provide practical tools to help people maintain focus in the midst of turbulence. Marshall will then illustrate how leaders can use a proven coaching process to help ensure clarity and alignment on all levels of the organization. Finally, he will share the essence of his 'team building without time wasting' model that has been used to successfully build teams (including virtual teams) around the world. 
A pioneer in the field of business education and leadership coaching, Goldsmith champions coaching for leadership that ensures long-term, positive behavioural change. His success is built upon a practical, no-nonsense approach to leadership. He helps leaders to overcome limiting beliefs and behaviours and to understand how beliefs and the environments we operate in can trigger negative behaviour.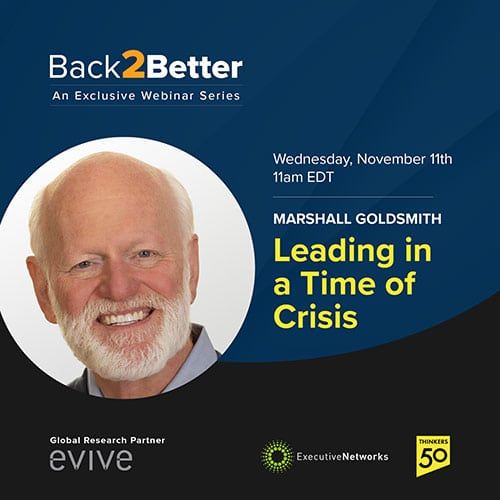 About Back2Better
We are excited to partner up with Executive Networks to bring an exclusive collection of new resources for navigating change through the Back2Better webinar series, which includes 50 Webinars in 50 Weeks. The series officially kicks off in September and focuses on real-time actionable insights from the world's top business leaders, academics, and HR thought leaders that help organizations adapt and evolve to the new future of work.
A catalyst for deeper exploration of the world of work, Back2Better is a platform for community knowledge-sharing that will help prepare forward-thinking organizations and their leaders to evolve and grow in the months to come. Through informative webinars delivered over the course of 50 weeks, this program covers timely topics selected moment to moment through a process informed by Executive Network member surveys, research from the Human Flourishing Program at Harvard, and insights from an esteemed advisory board. This is your opportunity to explore how you can adapt to the future of HR post-COVID with leading business professionals from Harvard, NYU, Amazon, and other top institutions and organizations.