95% of product teams don't agree on what a customer "need" even is. This is the root cause of failure in innovation and why the majority of new products fail. To succeed at innovation, product teams must unite around a common language and understanding of customer needs.
During this session, Tony will debunk myths that are preventing companies from making needed progress and show you how a jobs-to-be-done mindset can be used to define, capture, organize, and use customer need statements in a way that makes innovation far more predictable and profitable.
This session will examine the following:
The 3 deep-rooted myths that cause companies to fail at innovation
The real problems companies need to overcome to succeed at innovation
The innovation process that solves these problems
Tony Ulwick, Founder and CEO of the innovation consultancy Strategyn, is the pioneer of jobs-to-be-done theory and the inventor of Outcome-Driven Innovation® (ODI), a powerful innovation process with a documented success rate that is 5-times the industry average.
Tony is the author of the original Jobs-to-be-Done book, What Customers Want, his recent release, JOBS TO BE DONE: Theory to Practice, and additional articles on ODI published in HBR and MIT Sloan Management Review. Through his involvement in hundreds of innovation initiatives, Tony has helped companies reinvent underperforming products, create new business models, and build and implement company-wide innovation programs. His work is cited in hundreds of publications. As an innovation thought leader, inventor, author and speaker, Tony Ulwick has changed the way academics and executives alike think about growth strategy and product innovation.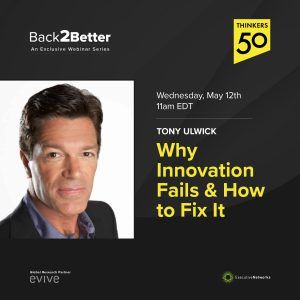 About Back2Better
We are excited to partner up with Executive Networks to bring an exclusive collection of new resources for navigating change through the Back2Better webinar series, which includes 50 Webinars in 50 Weeks. The series officially kicked off in September 2020 and focuses on real-time actionable insights from the world's top business leaders, academics, and HR thought leaders that help organizations adapt and evolve to the new future of work.
A catalyst for deeper exploration of the world of work, Back2Better is a platform for community knowledge-sharing that will help prepare forward-thinking organizations and their leaders to evolve and grow in the months to come. Through informative webinars delivered over the course of 50 weeks, this program covers timely topics selected moment to moment through a process informed by Executive Network member surveys, research from the Human Flourishing Program at Harvard, and insights from an esteemed advisory board. This is your opportunity to explore how you can adapt to the future of HR post-COVID with leading business professionals from Harvard, NYU, Amazon, and other top institutions and organizations.