The art and science of selling is at the heart of every job, and yet the world of sales is undergoing massive change. In this Thinkers50 curated session, Steve Schrier takes us into the concepts of his book Build Your Sales Tribe: Sales in the Information Age.
---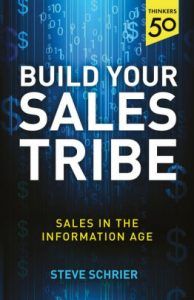 Steve has held multi-national commercial roles for over 25 years. Steve has run global sales team for large and start-up companies in the tech world. His journey has taken him from start-up to exit several times focusing on high growth through proven commercial engagement techniques. You can read more about Steve's career here.
Steve believes that there is a problem which is going to get worse as the Information Age accelerates, particularly in the aftermath of the COVID-19 pandemic. Sales is the differentiator for many companies and they will continue to face serious challenges for a successful commercial approach. This book contains the framework and the tools he would like to share with any company looking to take their business on a high growth path in modern times.