Stuart Crainer, co-founder of Thinkers50, joined Sangeet Paul Choudary, Annika Steiber, and Amit Kapoor for a webinar on Ecosystems Inc. to discuss how organizations now have to transform into multi-dimensional ecosystems to survive in the 21st Century.
Watch the recording below:

Sangeet Paul Choudary is Founder of Platformation Labs and the best-selling author of Platform Revolution and Platform Scale.
Annika Steiber, PhD, is the Assistant Professor of Entrepreneurship & Innovation at Menlo College.  
Amit Kapoor, PhD, is Honorary Chairman at Institute for Competitiveness, India; President of India Council on Competitiveness and Editor-in-Chief of Thinkers.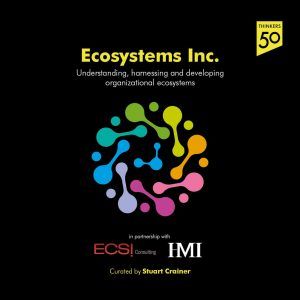 Understanding, harnessing and developing organizational ecosystems
Insights from the world's leading thinkers and practitioners.
Organizations were once linear and one dimensional. No more. The modern organization exists in a multi-dimensional ecosystem sustained by a potent combination of trust, technology and management. Think of Amazon, Alibaba, WeWork, Tencent and Uber. In Ecosystems Inc. some of the world's leading management thinkers make sense of what it takes to understand, harness and develop organizational ecosystems.