Imagine playing basketball and every time you pass the ball to one of your teammates, you see him freezing — unable to decide whether to shoot, dribble or pass to another player.
And every time this happens, your team loses momentum, letting go of the opportunity to score. Your opponents have the time to regroup in defence as they now guard each player tightly and the window to secure an advantage has closed.
What would you feel if this kept on happening again and again? If some players keep on "freezing" and the team on losing, would it remain cohesive? Would players keep on practising or even showing up for the matches?
As much as the answer is evident when we look at it through the prism of sport, it comes less naturally when we set ourselves in a corporate setting. But we have all been there. We pass the ball to a colleague and they do nothing with it.
And most often, it's not that they don't want to help or do their fair share. Instead, what happens is that they "freeze", they get overwhelmed or considerably slow down. And the most surprising part is that it happens to brilliant and capable individuals.
Simply put, they overthink.
Jason, a software team leader for a growing tech company, was one of the 365 people I interviewed for my book's research Act Before You overThink. As a manager leading individuals with strong analytical skills, my basketball analogy hit the mark.
Some of his engineer colleagues could spend days working on requirements, weighing pros and cons, drafting specifications after specifications, without getting much done and missing milestones. When confronted during advancement meetings, people would often argue that this is mandatory to avoid making a costly mistake. Still, when taken separately, a few would admit the size of the project and its ramifications felt daunting.
Jason's team members suffered from analysis paralysis, which is typical for many overthinkers.
To explain it, I like to use the story of a possum (for non-Australian readers, imagine a giant mouse) that broke into a bakery one night. Then, it binged on cakes until it could not move anymore, defeated to have eaten so much but unable to stop itself.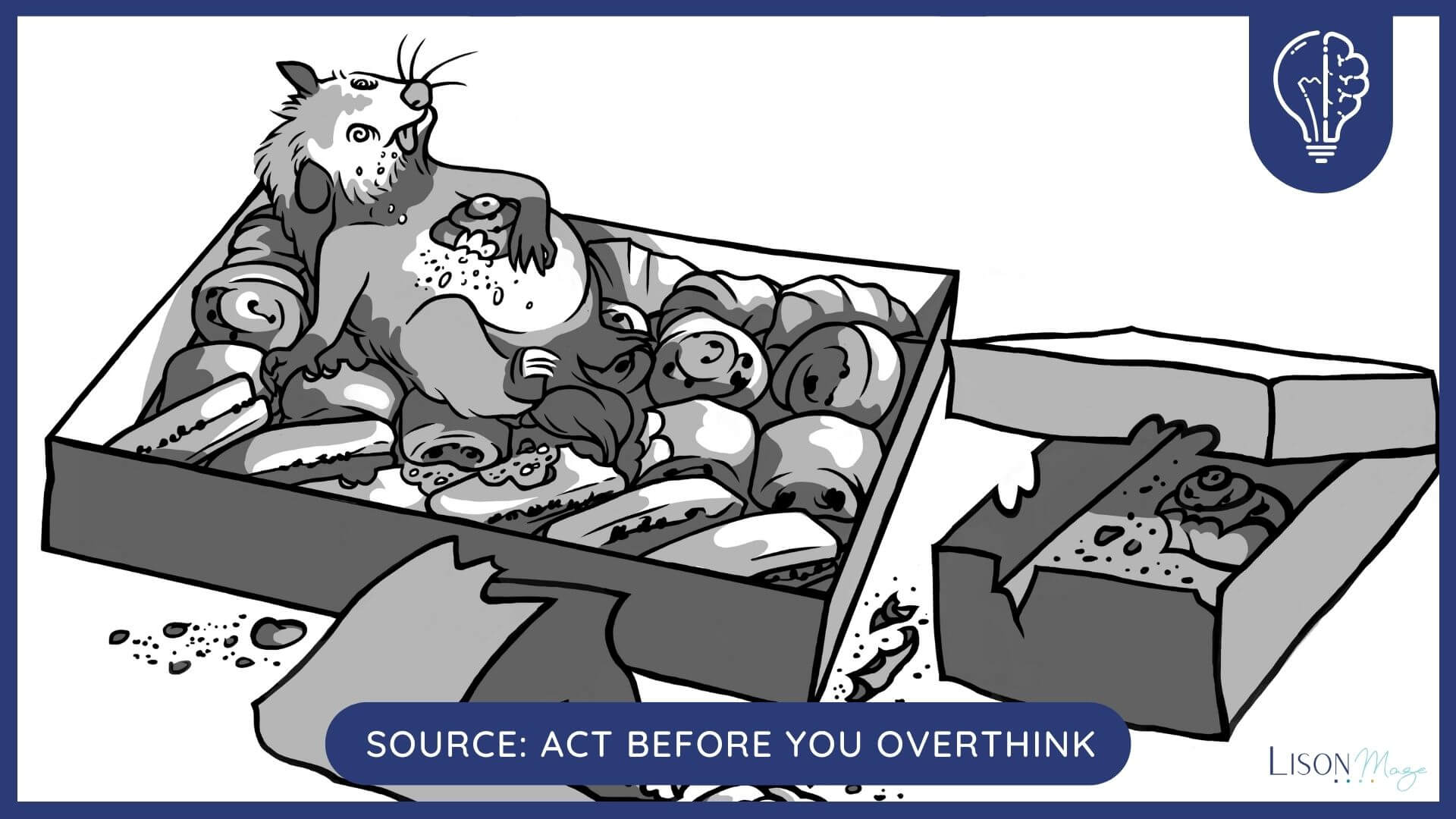 Illustration of a possum overeating cakes
It is critical for our poor possum to be able to eat without any limit. In its natural habitat (quite different from an Australian bakery), there is no food buffet; hence when food is available, it needs to eat as much as possible to stock it and prepare its body for when food is scarce.
This is an evolutionary trait deeply rooted in the mind of this small animal to ensure it lives and perpetuates its species. And like food, there is one more thing our little friend will consume without limit to maximise its survival chance — information.
And that's something we have in common with possums.
Indeed as we evolved, we now have more self-control than possums and can refrain from eating to the point it would kill us. However, we cannot say the same for information.
In ancient times, we were always looking for cues indicating where to find water and food, the presence of predators and possible shelters as information would increase our chances of survival. And we kept this habit.
But nowadays, we have access to more information than ever with the internet and our consumption keeps increasing. We are now like our poor possum, stuck in the bakery with an incommensurable number of delicious pastries. It is estimated that from 1990 to 2015, the information load of a manager in day-to-day operations has quadrupled. However, over this span of 25 years, our species' cognitive abilities remain mostly the same.
We have gained access to an overwhelming amount of information, but our ability to process it didn't change. Indeed, this can lead to an information overload where we cannot account for every bit of data, inputs and possibilities, which creates this anxious and paralysing feeling of not knowing how or what to do next. In this situation, overthinkers will generally double down on analysis and explain they "just need a bit more time to get on top of it".
More is not always better. More will not make it perfect.
For overthinkers, this concept can be counterintuitive and they often struggle with it. They fear making mistakes and not being perceived as valuable and knowledgeable contributors. Hence, they rely heavily on their analytical skills to navigate the unknown and tackle uncertainty with pure logic and facts.
Gathering and analysing more information to make the correct decision is a mirage overthinkers are happy to pursue. They can lure themselves into the apparent complexity of their research for "perfection" (or the "best" course of action). They delay, they postpone, wholly entangled in their thoughts, unable to process all the information they have accumulated. And ultimately — like the basketball player — they miss their opportunity to score.
Now, what is the best? Attempting a shot and missing or not shooting and handing over the ball to the adversary after the 24-second shot clock elapsed?
No need to be a sports expert to understand that it is better to shoot. And that's the same in most situations in life. Like the famous slogan from the French national lottery stated: "100% of the winners did buy a ticket."
If you don't try, you have zero chance of succeeding.
Overthinkers will object to this idea, finding counterexamples (which are most often valid), yet they miss a core concept. They focus on the outcome (scoring or not, namely success or failure) to the detriment of the process (shooting or freezing).
Obviously, the basketball example is caricatural since the "best" choice is evident. But when the decision becomes more complex, when there is an enormous amount of information at their disposal, overthinkers focus too much on outcomes to find the "best" answer and disregard the decision process.
Let's imagine you decide to take some holidays to travel abroad, book your tickets and plan your activities to cancel everything because you broke your leg two days before your departure — was it a "bad" decision? After all, the outcome is not the one expected. But the process was the right one.
I fell prey to this cognitive trap while I began writing my book. I wanted to have a "good" book that could impact one's life. It led me to consume a lot of content. I read books on similar topics, researched extensively for more than a year, watched countless videos on how to write and publish a book, and the list goes on.
I kept accumulating information, but I hadn't written a single line.
I was too focused on the outcome — writing a "good" book — and felt paralysed every time I faced my computer by the challenge ahead of me. So, to help me, I adopted a process beautifully explained by Steven Pressfield in his book The War of Art.
It is pretty simple, I needed to get "in the trenches" every day: sit in front of my computer, and write, come hell or high water. How many lines I wrote and the writing quality were only details of the process that I could adjust, but the main point was to write no matter what. Therefore I progressed every day, getting closer to my goal, to my "good" outcome of getting a book written and published.
If you keep shooting at the hoop, you will eventually end up scoring, but more importantly, you will improve your skills. The process of practising is more important over time than the result in itself.
Michael Jordan, arguably the greatest basketball player of all time, famously said:
"I've missed more than 9,000 shots in my career. […]. 26 times, I've been trusted to take the game winning shot and missed."
But these outcomes never prevented him from trying, from trusting his process — to achieve success.
As I worked with Jason to help him with his team, we went on moving the focus from outcomes to processes by shifting the mindset from destination to progression. At a practical level, we still encouraged his colleagues to leverage their curiosity and think about the problem they were encountering — but we added one key component: audacity.
To counter overthinking and avoid analysis paralysis, they embrace the process of thinking and doing, which can be translated as being curious and audacious. So his colleagues had to ask themselves regularly: "I have been quite curious lately — but was I audacious enough?" — which prompted them to take action.
Or, as I like to say, they realise it was time to act before they overthink.