How the Top Companies for Leaders Develop and Retain their High Potential Employees
by Jessica Johnson and Dave Ulrich
Jessica Johnson and Dave Ulrich. 2013. Winning tomorrow's talent battle: What really matters. RBL working paper. Leadership Excellence. June 2013, Vol. 30 (6).
Everyone talks about the importance of talent, but only a few companies fully identify and develop their people. One recent global study found only 15% of companies in North America and Asia believe that they have enough qualified successors for key positions (Harvard Business Review Oct. 2011). Another study of 300 senior executives found over two thirds express a high degree of concern about the retention of critical talent, high potentials and executive level leaders.
But the challenges are not as severe in all companies. Leaders at Top Companies for Leaders (research on leadership practices from over 450 companies) are far more confident—and have a track record that shows—that their programs and practices will produce a strong pipeline of talent. Leaders at Top Companies fundamentally understand that leadership creates value so they focus on the key levers that create a strong talent and leadership base.
From the Top Companies for Leaders research we estimate that 10 to 15% of the workforce in any given company is high-potential future talent, found scattered throughout the organization. As we delve into the characteristics of high-potentials, four factors emerge:
Ambition: future leaders are willing to pay a price for success, including time, energy, risk taking, and personal mobility.
Ability: leaders can move from doing work, to getting work done with others as team leaders, to getting work done when they are not present.
Agility: high-potentials must learn, experiment, be curious, be self aware, and be flexible.
Achievement: Future leaders have demonstrated a pattern of achievement. They accept new assignments and deliver on what they say they are going to do.
While these four factors help identify high potentials, we also found that there are three practices that develop high potentials.
Best Practice #1 – Developing High Potentials is Everyone's Business
Our research found a number of indicators that Top Companies believe talent creates value. If you believe high potential talent matters then you will connect that belief to your financial performance, you will invest in good times and in bad, and you will invest in more thoughtful, robust ways.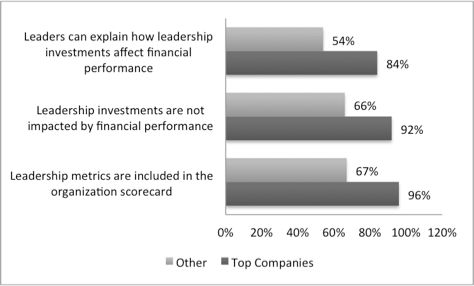 One CEO from a Top Company in the manufacturing business said, "Our tools are no better than [those from] any other organization. What we are good at is institutionalizing talent management and making it part of the system."
Leaders express commitment by their time. Seventy-six percent of the Top Companies' CEOs spend more than 20% of their time on leadership activities—and some spend much more.
A Top Company CEO believes heavily in personally meeting with high potentials through activities like hosting a monthly dinner for 15 senior leaders. Others are involved in recruiting at leading schools, interviewing potential candidates, helping create the curriculum for the emerging leader training workshops, and attending all flagship courses—not always to present or teach, but instead to have a discussion on a wide range of topics.
Best Practice #2 – Top Talent in the Organization is Calibrated Through a Systematic, Ongoing Process
Ninety-six percent of the Top Companies for Leaders formally identify high potentials compared to just over 70% of other companies. The Top Companies for Leaders use more assessment tools, and use them more consistently, in their calibration processes for selection and development of leaders.
At Top Companies high potentials are told they are on a list or in the pool. Many high potentials will be slated for future positions, but it is rare that those potential jobs are delineated to the employees. Being in the high potential pool becomes a special designation, and one company told us how those employees expend extra effort to stay on that list because long-term status is not guaranteed.
Best Practice #3 – Leaders are Built Through Customized, High-impact Experiences
Top Companies recognize developing potential is a complex process and to accelerate growth and potential they need to do more and do it better.
The Top Companies teach us that cookie cutter programs are not what got them where they are in their talent development journey—93% use customized development programs. To develop these high potentials the Top Companies employ a lot of different techniques like pairing-up their internal faculty with academics or consultants to get the leading thinking on leadership. Others customize interactive business simulations—giving attendees greater exposure to business units throughout the company.
A Top Company in the financial services sector sends their high potentials off on "Learning Expeditions" for five to nine days with teams of 20-30. They spend time benchmarking directly with selected companies that are of special interest to the organization—seeking to discover best practices and new ways of doing business. In the end they publish an internal white paper of their findings.
One multinational conglomerate tracked the graduates from their Accelerated Leadership Development Program and recorded a 370% ROI (as judged by CFO) in 2010. In 2011 they decided to expand the program internationally with 90% of the attendees from countries outside of their headquarters in the United States.
Nearly all of the Top Companies utilize senior leaders to facilitate in their Leadership Development courses. The leadership cadre doesn't just show-up, pontificate for 45 minutes, and then leave. Some senior leaders—including CEOs—help co-create the curriculum. Others will come to observe high potentials working through action learning projects, and help educate newer employees on cultural norms. Some companies report that their leaders are lining up to help teach the curriculum—there's even a waiting list. Another Top Company with a very strong alumni network brings retirees back to teach classes thus keeping them connected to the firm.
Multiple firms in the Top Companies report that mentoring—in both formal and informal ways—is a way of life in their organization. Accessible leaders understand that an integral part of their job is to share experiences and know-how with employees.
One of the Top Companies measures leaders on the number of mentees they have, another sets the bar at building relationships with two high potentials outside of their group. A Top Company CEO mentors seven people personally per year—meeting individually with them monthly. A global manufacturer started a program called "Extend our Reach" where female vice presidents have up to three protégés to mentor, develop and advocate for their careers.
Nearly all of our Top Companies utilize learning solutions. Learning solutions go beyond action planning by starting with business problems and using learning forums to solve these problems. Some projects are built around internal business issues, while others assist community and non-profit organizations. One organization reported a $25 million return on the learning solutions undertaken in a year's time.
A multinational conglomerate sponsors a monthly program where high potentials teach leadership development to local non-profits in all company regions. They also use social learning, community outreach and philanthropy to build innovative, customized internal development programs.
Organizations are using off-the-shelf social media tools, or creating their own proprietary internal villages, for affinity groups like their high potential personnel so they can stay connected after meeting in leadership development courses. These global hallways become so popular that some feel it aids in the retention of their high potentials.
Conclusion
The secret to winning the talent battle isn't in one program or process, but the holistic development of high potential employees. Once leaders identify them through the 4 A's, they believe that developing talent creates value and they have a role in the process. Unless firmly rooted as a business priority—with strong backing from the top of your organization—investment in high potential development will not be prioritized when times are tough.
Top Companies are systematic about discovering their high potential talent, and the process occurs regularly throughout the calendar year. Customized development can put your organization on the pathway to creating a global workforce that is prepared to take on the challenges that await.
---
Bibliography
S. Ashford and S. DeRue, "Imagining the Future of Leadership," HBR Blog, June 2, 2010.
C. Fernandez-Araoz, B. Groysberg, and N. Nohria, "How to Hang On to Your High
Potentials," HBR October 2011.
R. McGill Murphy, "25 Top Companies for Leaders," FORTUNE Magazine, Nov. 4, 2011.