The pandemic has pushed communication skills to the forefront like never before. CEOs must communicate strategy with humanity and reinforce the power of collective endeavour as workforces continue to operate remotely. They must do so from behind "video walls," as one CEO put it recently.
As the business world seeks to regain some semblance of normality, leadership will not. The leaders who will thrive are the "Humans" who listen carefully, admit mistakes, communicate authentically and take seriously their duty of care for colleagues.
Join us as financial journalist James Ashton defines nine types of leaders encountered in his 20+ years of journalism. Meet the Alpha, the Campaigner, the Fixer, the Lover and more. Discover their methods and motivations, where they fit—and occasions when they don't. Which type are you? James will share:
how leaders can develop more Human characteristics

the decline of Alphas

what charity leaders can teach corporate leaders and vice versa

the rise of Sellers and how promoting soap powder and shampoo created a golden generation of CEOs
James Ashton is a UK-based financial journalist, speaker and consultant. He was City Editor and Executive Editor of the London Evening Standard and Independent titles, City Editor of the Sunday Times and has written for the Daily Mail, Telegraph, Scotsman and Reuters. Today he writes widely on business, technology and leadership and hosts his own podcast, Leading with James Ashton.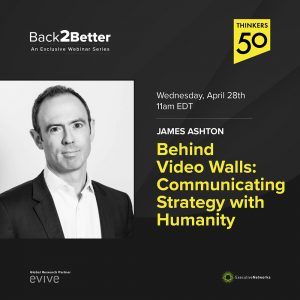 About Back2Better
We are excited to partner up with Executive Networks to bring an exclusive collection of new resources for navigating change through the Back2Better webinar series, which includes 50 Webinars in 50 Weeks. The series officially kicked off in September 2020 and focuses on real-time actionable insights from the world's top business leaders, academics, and HR thought leaders that help organizations adapt and evolve to the new future of work.
A catalyst for deeper exploration of the world of work, Back2Better is a platform for community knowledge-sharing that will help prepare forward-thinking organizations and their leaders to evolve and grow in the months to come. Through informative webinars delivered over the course of 50 weeks, this program covers timely topics selected moment to moment through a process informed by Executive Network member surveys, research from the Human Flourishing Program at Harvard, and insights from an esteemed advisory board. This is your opportunity to explore how you can adapt to the future of HR post-COVID with leading business professionals from Harvard, NYU, Amazon, and other top institutions and organizations.