During this unprecedented time of uncertainty, we are digitally collaborating faster and more often than ever before. We feel like we're connected – but are we really? How do we lead, motivate, and collaborate effectively regardless the distance? How do we brainstorm, have difficult conversations and drive culture change digitally? And how do we sell and market without in person interactions?
In this session, Erica Dhawan will teach you the art and science of Digital Body Language – the key to silo-breaking collaboration, engagement and business results in our 21st century marketplace. This virtual masterclass will help you eliminate digital work challenges and build a culture of maniacal clarity that fosters the highest performing teams and business relationships. Most importantly, attendees will gain specific actions to inspire teamwork, innovation, resilience, and progress to emerge stronger and results-driven in this time of change.
Participants will leave this session with the ability to:
Learn the digital body language signals and cues that you are broadcasting (even if you don't intend to)
Show others you understand their feelings and hear their ideas using digital empathy — even in emails, conference calls, video meetings, and IMs
Build your brand, find your voice online and show virtual executive presence
Grow trust and connection, no matter the distance
Erica Dhawan is the world's leading authority on 21st century Collaboration and Connectional Intelligence. "Her newest book – Digital Body Language – decodes" the new signals and cues of effective collaboration and teamwork in a digital-first human workplace. Dhawan is the Founder & CEO of Cotential, a global organization that helps companies, leaders, and managers leverage 21st century collaboration skills and behaviors to improve game changing performance.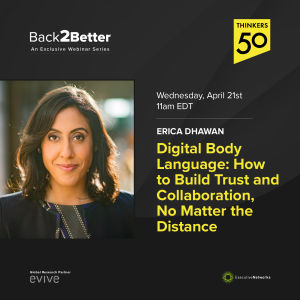 About Back2Better
We are excited to partner up with Executive Networks to bring an exclusive collection of new resources for navigating change through the Back2Better webinar series, which includes 50 Webinars in 50 Weeks. The series officially kicked off in September 2020 and focuses on real-time actionable insights from the world's top business leaders, academics, and HR thought leaders that help organizations adapt and evolve to the new future of work.
A catalyst for deeper exploration of the world of work, Back2Better is a platform for community knowledge-sharing that will help prepare forward-thinking organizations and their leaders to evolve and grow in the months to come. Through informative webinars delivered over the course of 50 weeks, this program covers timely topics selected moment to moment through a process informed by Executive Network member surveys, research from the Human Flourishing Program at Harvard, and insights from an esteemed advisory board. This is your opportunity to explore how you can adapt to the future of HR post-COVID with leading business professionals from Harvard, NYU, Amazon, and other top institutions and organizations.