If your managers are like most, they are stuck in a vicious cycle of undermanagement… and it's likely they don't even realize it. Despite all the meetings and metrics surrounding everybody at work these days, nine out of ten managers struggle to practice the fundamentals of leadership. They don't provide employees with regular high-structure, high-substance guidance, direction, support and coaching. As a result, unnecessary problems occur. What is undermanagement and how can you recognize it in your organization or team? What are the costs of undermanagement? Why is it getting so much harder to manage people today? What are the most common myths that keep managers from taking a more highly engaged approach? How can you break the vicious cycle of undermanagement?
In this session. participants will learn:
The eight costs of undermanagement that lead right to the bottom line
The seven myths that prevent most managers from being highly engaged with direct reports
Exactly what employees need from managers in order to succeed
Exactly what managers need from senior executives in order to deliver what their employees need
Strategies, options and next steps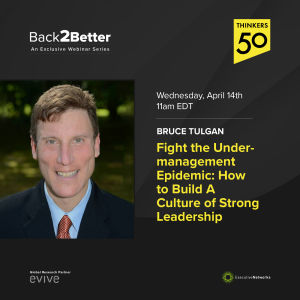 Bruce Tulgan is an adviser to business leaders all over the world and a sought-after keynote speaker and seminar leader. He is the founder and CEO of RainmakerThinking, Inc., a management research and training firm, as well as RainmakerLearning, an online training resource. Drawing on 25 years of workplace research and sharing true stories from real managers, he will share best practices and techniques for understanding and identifying the signs, symptoms, and effects of undermanagement in your organization, identifying the specific challenges managers are facing in the real world today, instilling regular high-structure, high-substance, coaching-style management, embracing and adopting the best practices of highly-engaged management, and for making a systematic commitment to proven best practices at every level. With a blend of humor, insight, and concrete best-practices, Tulgan teaches leaders how to fight the undermanagement epidemic and start building a culture of strong highly engaged leadership.
About Back2Better
We are excited to partner up with Executive Networks to bring an exclusive collection of new resources for navigating change through the Back2Better webinar series, which includes 50 Webinars in 50 Weeks. The series officially kicked off in September 2020 and focuses on real-time actionable insights from the world's top business leaders, academics, and HR thought leaders that help organizations adapt and evolve to the new future of work.
A catalyst for deeper exploration of the world of work, Back2Better is a platform for community knowledge-sharing that will help prepare forward-thinking organizations and their leaders to evolve and grow in the months to come. Through informative webinars delivered over the course of 50 weeks, this program covers timely topics selected moment to moment through a process informed by Executive Network member surveys, research from the Human Flourishing Program at Harvard, and insights from an esteemed advisory board. This is your opportunity to explore how you can adapt to the future of HR post-COVID with leading business professionals from Harvard, NYU, Amazon, and other top institutions and organizations.