In a year of profound global disruption, the need for leaders to be able to handle uncertainty, complexity and unprecedented change has been never so vital. Deborah's three decades of research and practice in the field of how to lead big change have consistently pointed to the same conclusion – it takes deep inner skills, i.e., the capacity to tune into and regulate your mental and emotional response to experience, becoming systemically mindful.
But how can such exquisitely perceptive skills be cultivated at both the individual and collective level in what can be the dehumanizing flat-screen experience of online contact? Deborah started the COVID-19 crisis skeptical. However, across the course of 2020 she has had some illuminating experiences which she would love to share.
Join Deborah at this session to hear about:
the set of leadership skills it takes to pull off large complex change well
how to run virtual leadership developmental experiences in which the online setting itself creates a perfect "living laboratory" for deep personal insight and system influence
how to work with intact executive teams tasked with leading transformational change where again the online environment can be harnessed to accelerate their developmental journey through change
how to design whole-system online processes to engage an entire organisation through change
Deborah Rowland is a leading global thinker, speaker, writer, and coach in the field of leading change. She is the co-author of Sustaining Change: Leadership That Works (Wiley, 2008), Still Moving: How to Lead Mindful Change (Wiley, 2017), and now the Still Moving Field Guide: Change Vitality at Your Fingertips (Wiley, 2020). She has personally led change at Shell, Gucci Group, BBC Worldwide and PepsiCo, and pioneered original research in the field, accepted as a paper at the 2016 Academy of Management, and the 2019 European Academy of Management.
Sign up to join the webinar on February 10th at 11 am EST: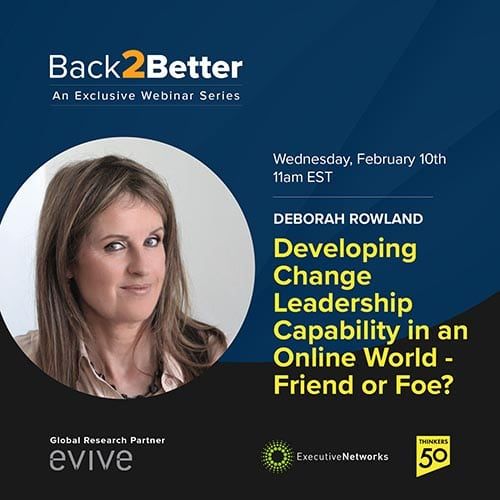 About Back2Better
We are excited to partner up with Executive Networks to bring an exclusive collection of new resources for navigating change through the Back2Better webinar series, which includes 50 Webinars in 50 Weeks. The series officially kicked off in September 2020 and focuses on real-time actionable insights from the world's top business leaders, academics, and HR thought leaders that help organizations adapt and evolve to the new future of work.
A catalyst for deeper exploration of the world of work, Back2Better is a platform for community knowledge-sharing that will help prepare forward-thinking organizations and their leaders to evolve and grow in the months to come. Through informative webinars delivered over the course of 50 weeks, this program covers timely topics selected moment to moment through a process informed by Executive Network member surveys, research from the Human Flourishing Program at Harvard, and insights from an esteemed advisory board. This is your opportunity to explore how you can adapt to the future of HR post-COVID with leading business professionals from Harvard, NYU, Amazon, and other top institutions and organizations.