We know a lot about the changing nature of work. We know that technology, demographic shifts, societal and cultural changes, as well as changes in the location of wealth creation and economic power are all factors that are influencing our business and work lives. But, with all that we have learned about the changing nature of the world of work, surprisingly little attention has been paid to what the implications of these changes are when we turn our attention to what it means to be a great leader in the future.
During this presentation, Doug will share the findings of an 18 month study of thousands of companies from over 120 countries from around the world on what it takes to lead in the new economy. He will take us through the reasons why the old leadership playbook isn't working, why we need a new one, and how to build one for your organization.
Doug will take us beyond reciting a series of new leadership buzzwords, by helping us to better understand that the primary challenge facing organizations is for leaders to create the conditions for success so that we might foster a shared context enabling communities of leaders to flourish.
Doug Ready is the founder and CEO of the International Consortium for Executive Development Research and senior lecturer at MIT's Sloan School of Management. His articles in the Harvard Business Review have set the agenda for talent, leadership and strategic change over the last two decades. His recent work looks at the hallmarks of a game-changing talent strategy.
Doug has been named multiple times as a member of Thinkers50, the premier global ranking of the 50 most influential management thinkers in the world, and in 2017 Doug was named to the Thinkers50 Hall of Fame. He is the recipient of the coveted Marion F. Gislason Award, an honor bestowed to only one person annually for excellence in the field of leadership and executive development. Business Horizons also recognized Doug as one of the world's top "leadership gurus."
Ready has taught at London Business School, the Kenan-Flagler School of Business at UNC Chapel Hill, and has guest lectured at various universities and companies in the U.S., Europe, the Middle East, Australia, and Asia. He also advises CEOs and top teams on large-scale, enterprise-wide change efforts. He has worked with senior leaders in this capacity around the world.
Ready earned his MPA from Harvard's Kennedy School of Government and a PhD from Cranfield University in the UK.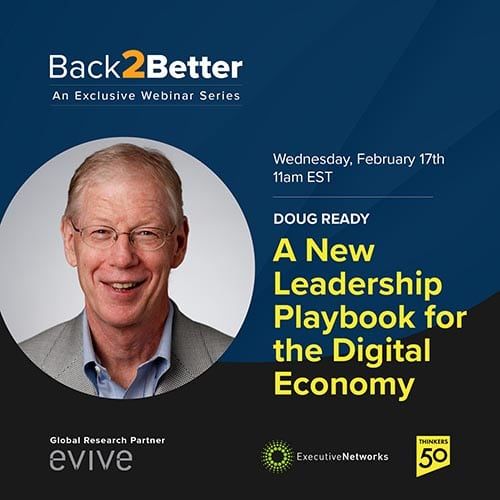 About Back2Better
We are excited to partner up with Executive Networks to bring an exclusive collection of new resources for navigating change through the Back2Better webinar series, which includes 50 Webinars in 50 Weeks. The series officially kicked off in September 2020 and focuses on real-time actionable insights from the world's top business leaders, academics, and HR thought leaders that help organizations adapt and evolve to the new future of work.
A catalyst for deeper exploration of the world of work, Back2Better is a platform for community knowledge-sharing that will help prepare forward-thinking organizations and their leaders to evolve and grow in the months to come. Through informative webinars delivered over the course of 50 weeks, this program covers timely topics selected moment to moment through a process informed by Executive Network member surveys, research from the Human Flourishing Program at Harvard, and insights from an esteemed advisory board. This is your opportunity to explore how you can adapt to the future of HR post-COVID with leading business professionals from Harvard, NYU, Amazon, and other top institutions and organizations.