In the 1980s the name of the great management thinker, Peter Drucker, was unknown in China. However, a 30-year-old director accidentally got his hands on a book written by Drucker. He treasured it. From a dilapidated factory in the Shandong Peninsula, he pondered how an enterprise which was unable to pay its wages could get out of trouble. The director was called Zhang Ruimin. The small factory which was unable to pay its wages was called the Qingdao Daily Appliance Plant, later renamed the Qingdao Refrigerator Plant, which grew to become Haier, the world's biggest white goods company.
Zhang found Drucker's book The Effective Executive (early 1967 edition) inspirational. One idea in the book deeply touched Zhang, which was Drucker's assertion that 'good management of a factory is always monotonous'. Zhang Ruimin says:
Drucker's words were exactly opposite to the approach we were taking, not only for Haier. At that time, all Chinese enterprises were finding ways to do something exciting every day, for example, engaging in mass campaigns, oath swearing rallies and the like. Drucker's statement was completely different to our approach. But I thought carefully and realized that what he said made sense. Most things in an enterprise should be treated as routine events. Inspired by Drucker, we started doing budgets for Haier, and created the Daily Clearing Act. The act made clear that 'work for the day should be completed on the day, clean daily and improve standards daily'. The goals for each task were applied for each person every day. Every person looks at their completed work based on their goals before leaving, and clears their tasks daily. The clearing daily work method solved the confusion caused by ineffective management, so that the factory, which was near collapse, quickly turned around, and won the first gold medal in the history of Chinese refrigerators.
The refrigerator factory in Qingdao was a starting point. Under the name Haier it is now a world-renowned brand.
Difficult battles
In December 1984, when Zhang Ruimin joined the Qingdao Daily Appliance Plant, the predecessor of today's Haier Group, it was an insolvent neighbourhood factory with only 600 employees. Due to poor management, the company deficit was ¥1.47 million. They were unable to pay wages, and the factory was on the verge of collapse. Since it was a collective enterprise, the state did not give it any money, and the banks were unwilling to do so either, so Zhang Ruimin had to fend for himself. At that time, the main task of leadership was to borrow money to pay the workers' wages. According to one creditor at the time, in order to get the loans for the factory, Zhang Ruimin had to buy drinks for all kinds of creditors.
In addition to having money worries, Zhang Ruimin was also anxious about the people working at the factory. It is very cold in December in the north of China, and the employees had no coal for heating. They had removed the wood from the workshop windows to burn to keep warm, so the plant windows were sealed with plastic film and paper. The workshop was a mess, and the workers were not working, as there was no work to be done. Sometimes the team heard that certain things would be easy to sell, and they would quickly produce some items of that kind; but as the quality was poor, nobody would buy them. Zhang Ruimin announced the Thirteen Articles to regulate labour discipline at the factory. The list of articles included one stating that staff must not relieve themselves on the workshop floor. Other provisions included 'no arriving late or leaving early', 'no drinking during working hours', 'no smoking inside the workshop, offenders will be fined ¥500 per cigarette.' Another article left a strong impression on everyone; it said 'no looting factory property'.
Zhang has preserved a lot of photos and video materials of the factory as it was in 1984. He joked that at the time he took the pictures, he hoped that if he did not do well with the plant, he could use the photos for verification of how bad it was: 'I would be able to prove that it was such a bad place that I could not be expected to run it well.'
Says Zhang Ruimin:
I did not want to work at Qingdao Daily Appliance Plant. But, at that time, I was the Home Appliances Company vice-manager , and if I did not work there, no one else would. I arrived in December 1984 only to find 53 requests for transfers were waiting for me. Only a muddy road led to the factory, so when it was raining we had to use rope to tie on our shoes, or else they got stuck in the mud.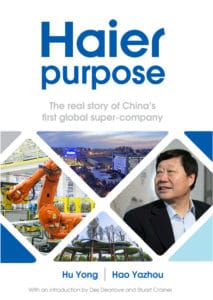 I believed that even though we had no funds, we could still manage to get the money; there were no products but that would not stop us producing them. What we did lack was confidence, an indispensable part of the entrepreneurial qualities. Without it, it would be very difficult to develop the business as it was very hard to do anything well. As soon as they heard I wanted to rectify the situation, the factory staff showed me a long list of regulations. I did not want so many articles, so we just developed thirteen. The first one was: You must not relieve yourself on the workshop floor. Without the basic qualities, nothing could really be done.
This is an edited extract from Haier Purpose by Hu Yong and Hao Yazhou now available from Thinkers50 and Infinite ideas.