Excerpted from Inclusion on Purpose: An Intersectional Approach to Creating a Culture of Belonging at Work by Ruchika Tulshyan. Reprinted with permission from the MIT Press. Copyright 2022.
I'm often asked if diversity, equity and inclusion (DEI) are global issues, or just U.S.-centric ones. The reality is this: DEI and creating cultures of belonging is the number one priority for every leader today, regardless of geographic location.
The inclusive leader will understand that there are specific issues and challenges to inclusion across geographic and cultural borders. No doubt, any attempt to capture the nuances of DEI that are evenly applicable across the globe will fall short.
But there exist some clear overlaps between how people from historically marginalized backgrounds experience the workplace in countries around the world. Simply applying a U.S.- or Western-centric approach to DEI without local customization will not be successful. Instead, leaders must seek out local cultural context in the global marketplace.
Below are my recommendations to get you started.
Cultivate cultural humility, not cultural competency
For years, cultural competency has been hailed as the standard to becoming more proficient in the way other cultures operate. But more racial equity practitioners have now begun questioning its efficacy in inclusive engagement, especially as it originates within dominant culture, Eurocentric thinking. Cultural competency refers to learning about other cultures but retaining the idea that your culture is dominant. Cultural competency allows stereotypes to proliferate like "people from non-western cultures are always late" or "we don't discuss business over work meetings in China." The belief is that the non-dominant culture's way of doing things may be considered exasperating, perhaps even exotic. A quirk to accommodate, not something one could respect or learn from.
Cultivating cultural humility means, "approaching this work with the premise that we don't know everything — and so, the goal is to invest resources in the experts on the ground that have lived experience," Diya Khanna, a global DEI expert tells me. Cultural humility also means familiarizing yourself with and even deferring to local customs, laws and practices where relevant.
Acknowledge that while we may have a bias toward thinking our culture's way is best, that we can approach a different culture with a mindset of learning and growth.
While doing business in an Islamic country, for example, cultural competency would lead us to sweepingly assume that no women would shake hands with a man. Cultural humility would guide us to wait and observe the specific practices in different countries, work cultures and local environments, then adapt to the situation. Cultural competency is broad and fixed, cultural humility allows us to have nuance and flexibility. It prompts us to observe visual and body language cues, not just verbal ones.
Cultural humility is particularly useful for leaders working with non-dominant group women, no matter where in the world they are. Even one team based in the United States could be comprised of a number of immigrant women of color, second- or third-generation Americans and U.S. born citizens that represent a plethora of religions, cultures and languages.
Every inclusive leader must make the effort to ask the correct pronunciation of a colleague's name if it's unfamiliar, practice (in private) and demonstrate an unwavering commitment to get it right. Cultural humility reminds us that all names are meaningful to their owner; stumbling through an unfamiliar name or worse, asking someone to anglicize their name for your comfort is unacceptable.
Customize and Co-create DEI and culture initiatives locally
"Inclusion" can mean different things in different parts of the world. In individualistic societies in the western world, the concept of "inclusion" encourages us to magnify and celebrate the differences we bring to the organization. In more collectivist societies, like countries in Asia, standing out for being different may not be a positive thing. I have found that the term "belonging" often resonates more deeply in non-western cultures.
Leaders looking to engage in a global DEI strategy must spend time getting to know the local marketplace and what may constitute challenges to fully engaging the workplace. Find local studies, media articles and experts to guide DEI strategy for local offices.
Specifically evaluate: who constitutes the non-dominant groups in this country and what are some barriers holding back their representation and advancement here? Do this by conducting focus groups with local teams, to find out whether employees feel like they belong to the community and the organization. Inquire what may be some obstacles to their progress there.
Accordingly, adapt your company norms, which were likely created when the organization was small and localized. As the company grows, so does the responsibility to tailor company principles and values to concepts that are easily recognized and practiced by a global employee base.
Practice intersectionality on a global scale
The same measures of what constitutes leadership and confidence in white men does not apply unilaterally to women. This is even more relevant in the global context, where people from other cultures are often not socialized to operate with the outward confidence and self-assurance of North American and Western European cultures (which are already varied in themselves.)
As leaders begin to manage more global teams, or indeed, even global employees in western offices, it's incumbent upon them to understand the local customs and norms that contribute to an employee's communication style.
Recognize that professionalism and communication styles are typically Eurocentric and often set non-dominant group women up for failure if they're measured against those standards. As Stanford researchers advise in a Fast Company article, "whenever you feel the urge to correct a behavior or appearance as "nonprofessional," pause. Ask yourself, "Is this ineffective or different?" and "Can I expand my expectations to include this?" Instead of dismissing what you see, try to understand why you are having the reaction and learn to make room for it."
Center the voices and expertise of non-dominant group women
Recently, I learned of a startup geared to provide financial services to underbanked women around the world. The startup's website boasted that their service was built "for women by women," but the cofounders of the company were a white European man and woman, who had gathered a largely white, European female leadership team. Their target audience at launch was lower-income female entrepreneurs in Asian countries. While I could see the business and social potential behind the idea, I couldn't help wonder, why had the cofounders not brought on women from the countries they were hoping to serve? Surely, there were many qualified women who were already trying to solve the barriers to financial services access within their own communities! Why not partner with them? Wouldn't their cultural acumen and proximity to the communities they were trying to serve be an asset?
These are questions that more leaders should be asking in every situation:
Whose perspectives should be here but aren't?
Am I always the right person to lead an initiative, or are there women who are often overlooked but eminently qualified to lead?
Could I better support this not from the front, but by taking a learning and support role?
Taking a globally inclusive approach means making room for the expertise, wisdom and leadership of non-dominant group women. It means making room for them to lead, then stepping out of the way.
We cannot solve the complex, worldwide problems we're currently facing without cultivating cultural humility and dismantling long-existing oppressive social hierarchies, many which stifle the innovation and growth of too many around the world. With purpose and intention, I believe we can write a different story to create a diverse, equitable and inclusive workplace and world for all.
---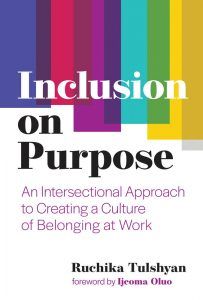 Ruchika Tulshyan, an award-winning inclusion strategist and speaker, is CEO and founder of Candour, which works with organizations to create diverse teams and inclusive cultures. A former business journalist, she has reported from four countries and writes regularly on inclusive leadership for the Harvard Business Review. She was named to the Thinkers50 Radar list, a global ranking described by the Financial Times as "the Oscars of management thinking."