Julie Carrier is recognized as a leading authority in the field of leadership coaching and development. Her specialty is in bringing the kind of evidence-based coaching that is typically reserved for executives in the C-suite to young women. Hailed as the 'World's #1 Coach for Young Women' by Marshall Goldsmith; former Pentagon Senior Management Consultant in Leadership, Julie has been featured on NBC's Today Show, and in Forbes and The New York Times. She served as a young women's leadership coach for MTV's goal-setting show, MADE and Discovery Channel's entrepreneurial show, Girl Starter.
Julie has developed the world's first evidence-based, applied-neuroscience leadership development and coaching curriculum for young women, The Leadership Course. She is an Advisory Board Member for The United Nations Foundation's Girl Up program, where she is working to scale equitable leadership coaching and development for girls globally. Because of her groundbreaking work for young women, she was recognized as the "Woman of the Decade for Girl Empowerment" by the Women Economic Forum.
On Tuesday, 26 April 2022, Stuart Crainer and Des Dearlove will have Julie Carrier on as their guest in a new session of the Thinkers50 Radar 2022 LinkedIn Live series in partnership with Deloitte.
---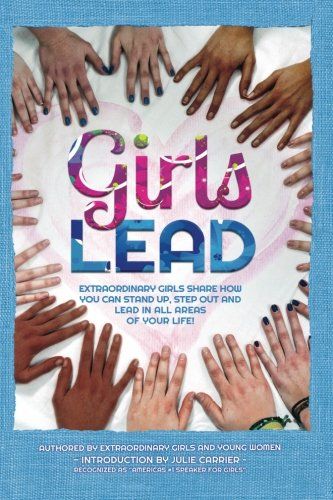 Julie Carrier's book, Girls Lead: Extraordinary Girls Share How You Can Stand Up, Step Out and Lead in All Areas of Your Life, features stories of girls and young women authors from a wide range of backgrounds and experiences. Their inspiring essays show how any girl can bounce back, lead, achieve, and succeed, making their own unique impact on the world.
---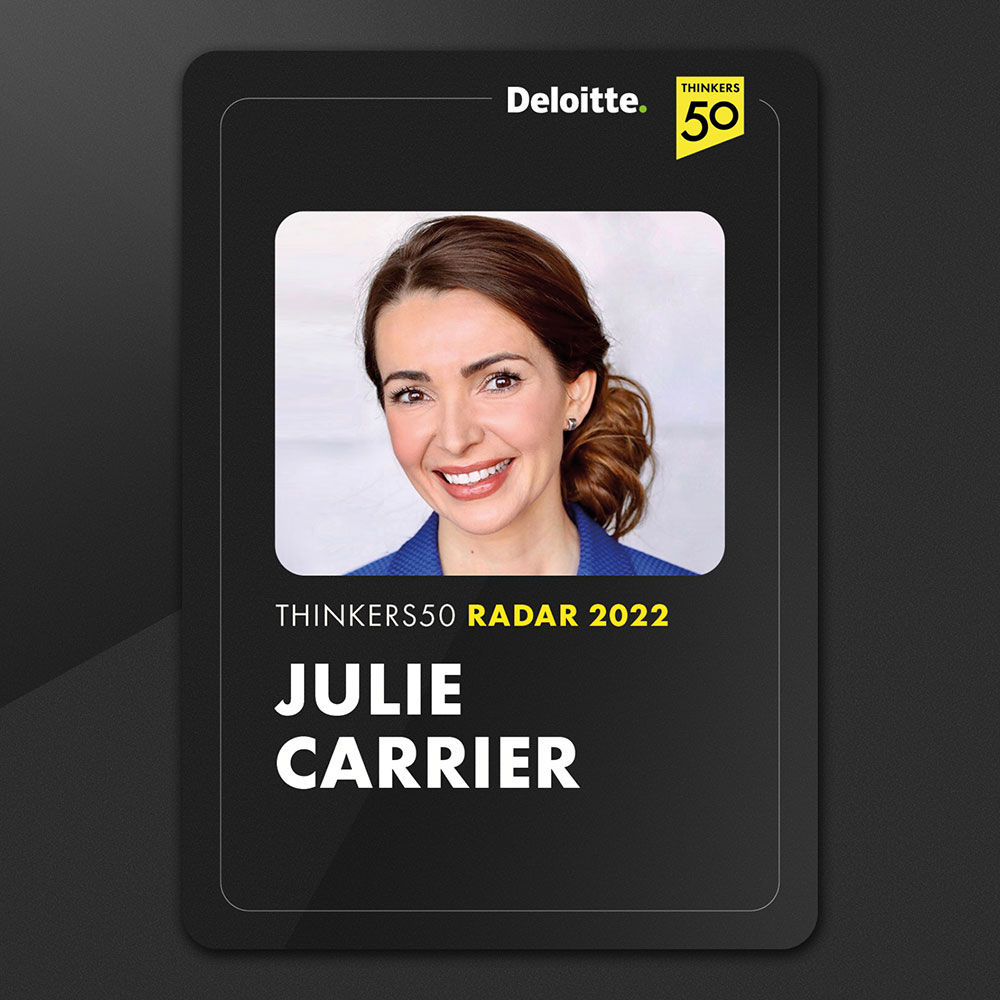 ---
Transcript
Des Dearlove:
Hello, and welcome to Thinkers50's Radar 2022 series, brought you in partnership with Deloitte. I'm Des Dearlove.
Stuart Crainer:
And I'm Stuart Crainer. We are the founders of Thinkers50, the world's most reliable resource for identifying, ranking, and sharing the leading management ideas of our age, ideas that make a real difference in the world.
Des Dearlove:
In this weekly series of 45 minute webinars, we want to showcase some of those ideas, to bring you the most exciting new voices of management thinking.
Stuart Crainer:
So please let us know where you are joining from today, and send over your questions at any time during the session.
Des Dearlove:
Our guest today is actually two guests. We'll explain a little bit later, but our first guest is Julie Carrier. Julie is the CEO of Girls Lead Worldwide, and founder of the Leadership Development Institute for Young Women. She's been shortlisted for the Thinkers50 Coaching and Mentoring Award. She's recognized as the world's number one coach for young women by Marshall Goldsmith, and is a former Pentagon senior management consultant in leadership.
Stuart Crainer:
Julie really is a trailblazer in the field of young women's leadership, where she researches and brings evidence-based applied neuroscience leadership coaching and development to girls and young women in high school, through a set curriculum. Asides from being a coach, Julie is a keynote speaker, a contributing author to Insights on Coaching, and the author of the US National Bestseller, Girls Lead, which came out in 2017. Julie, welcome. Before we get onto talking about your work, can you start by explaining your journey to where you are now? How did you get here?
Julie Carrier:
Absolutely. Well, thank you for the privilege and delight of being here today, and getting to share this mission and this message for the next generation that we're impacting. It's interesting, I'm actually going to start, because I'm focused in the youth space and the girls' space, with a story from my high school, and it's how I got started. It's my why, and I remember I was 14 years old, I had crippling anxiety, I had health issues, and so I felt like an outsider, like I didn't belong. I wouldn't even raise my hand in class, and on one particular day, there was an all school assembly, and I remember sitting on the fifth row of the bleachers in my high school gym, hard wooden bleachers, and something amazing happened, and I'm probably going to get emotional, I won't apologize for it, but it's really my why.
Julie Carrier:
I remember the door of the gym opens, and through the doors walked a 6'3″ African American man wearing this beautiful tuxedo, and far more striking than the tuxedo was the way he carried himself. He walked with such care, such love, such compassion, that when he stood in the center of that gym, every single student's eye was on him, including mine, and as he stood there in that tuxedo, he said a phrase that I will always remember. He said, "I am wearing my best, because you deserve the best. You deserve to live the best life, you deserve to make the best choices," and for some reason, at that moment, it really hit me. It turned my world upside down because at that point, I had felt like life was a passive experience, that life just happened to you. But in that moment, what happened is I thought, "You know what? Actually, he's right. I'm the leader of my own life. I'm responsible for creating the life that I want."
Julie Carrier:
And at the end of that program, I literally remember I was so short because I had a growth disorder, but I was walking as tall as I could, and I left that gym, and I looked back at that gentleman surrounded by all these kids, and I said, "Someday, I want to be able to impact the lives of other kids the same way that that one person impacted me," and I felt different. I felt like I, for the first time in my life, was a leader. I got what we're now calling, research is showing, a leader identity, and let me tell you, that changed everything. I went from being a kid who couldn't raise my hand in class, to being a kid who ran for junior class vice president, to running for National Honor Society president. I started my own business in high school and hired my friends.
Julie Carrier:
I went on, in fact, I was so fascinated by this idea of how you can create transformational moments that have a lifetime of impact, I tried to study it in college, and in fact, the field didn't exist at the time. So, I teamed up with four amazing university professors to create my own degree program in leadership studies, not just learning about leadership, but how do you actually create leader identity? How do you help people see themselves as leaders, so they have access to those leadership behaviors? And that is what led me to being hired by the Pentagon at the age of 23, because of my unique background in applied neuroscience and leader development, to do leadership development for senior executives, doing innovative, cutting edge approaches to leader development there.
Julie Carrier:
And by the way, I'm not saying all this to impress our listeners or even impress you guys, I'm saying this because that started with a transformational moment in identity, leader identity. And so, that's why I'm so passionate about this work, because we know it takes a while to shift behaviors, but if we can shift mindsets, guess what? Those behaviors will automatically fall in line with that self concept that person has. So, when I was at the Pentagon doing this work, I was seeing the outcomes and they were really extraordinary, and I kept thinking back to that little girl in my high school, myself, who couldn't even raise my hand in class, and I thought, "What would happen if we take these world class leadership development practices that we usually reserve for senior executives, and we actually take and bring them into the high school school day?" That's how this mission was born.
Des Dearlove:
It's fascinating to hear you talk about that ignition point, almost, and it's easy to forget how influential one teacher, or as you say, one speaker can be on an entire life. Particularly, there are certain ages, I think, where we are more susceptible and more open, perhaps, to that. I mean, I remember moments from assemblies as well which made an impact, and bits of poetry that people spoke. So, this ignition point, so where does that take you next? I mean, there you were working with, dare I say, adults.
Julie Carrier:
Yes.
Des Dearlove:
How did you take this into schools, and how do move it on from the idea?
Julie Carrier:
Yes. So, that was the key, how do we take this theory, this idea and put it into practice? So it's been a 15 year journey. It has been one where I told my family and friends, "I'm going to leave my job as a senior management consultant, and go teach leadership to kids," and at the time, I had lots of questioning glances and, "Why are you doing this? You already have a great job." And I remember again, that girl, and just thinking about what would happen.
Julie Carrier:
And so, I did leave my high powered corporate job to do this work, and what I started doing is bringing these, what we call wise psychological interventions, and we can talk more about it. It's basically carefully constructed learning experiences that are shown to have impacts over a long period of time. Sometimes it's three months, sometimes it's six months, sometimes it's two to three years, or in my case, longer. It was a lifetime impact. So, we found it very effective, so I became one of the top speakers in leadership for the youth space, and I was like, "You know what? Something's missing. This is an opportunity. Yes, it's going to have impact, but we need to do more."
Julie Carrier:
And I remember I was sitting next to Marshall Goldsmith, you know he's [in] Thinkers50 Hall of Fame, and I was at a conference that my mentor invited me to, Carol Kaufman with the Institute of Coaching, and I was hearing Marshall talk about the impacts that he has on executives and coaching, and I asked Marshall, I said, "Marshall, what are you doing to bring this world class leadership coaching to impact the next generation?" And I remember he looked at me, and he almost got a little irritated. He's like, "Julie, you are asking the wrong question." He said, "What are you doing to bring this amazing experience of leadership coaching to impact the next generation?" And so, that was the next step in the evolution. I thought, "You know what? Wouldn't that be amazing, not just to teach leadership development practices myself, but actually to equip and empower schools to certify teachers who are already natural coaches, in leadership coaching practices, and have them teach these amazing experiences and leader development practices in the classroom?"
Julie Carrier:
So, with Marshall's support, with Dr. Kaufman from the Institute of Coaching, with this amazing team of people came together to support this mission. Now, this is not about me, we say, "Teamwork makes the dream work." We have Dr. Diane Ryan, former Head of Behavioral Sciences and Leader Development at West Point, she's now at Tufts university, Harry Kraemer, the number one professor at Northwestern University in Values-Based Leadership. I can go on and on, Bonita Thompson, expert in collaborative leadership, Sunya, who's contributed so much of her content and ideas from Duke and the work she's doing in the education space.
Julie Carrier:
So, this powerhouse team came together to say, "Hey, how are we going to do this?" And over five years of, oh my gosh, it's been a laborious, but joy-filled process of pilot testing, of figuring out, how do we actually bring it into the school day? How do we make sure it's not stuffed after school as an afterthought, or crammed in homeroom? How do we actually make sure that leader development has the same level of respect, and rigor, and impact as any other class? And in fact, we hold it to a higher standard. We follow the Doerr Institute model for evidence-based leader development. We rigorously evaluate every class, we test our exercises, we get student feedback.
Julie Carrier:
So, it's been a very challenging learning process over the last five years, but through that, we've found a framework that works, and you'll see later some of the outcomes that we're seeing, most people would say are impossible for a 14 year old girl. I mean, we're seeing extraordinary things happen, not just anecdotally, but scientifically validated, reliable data showing significant increases in growth mindset, resilience, confidence measures. And so, that's why I am so excited. This is the future of education, and it's not an idea, it's actually happening.
Stuart Crainer:
Thank you everyone, for joining us. We've got people from Denmark, India, France, Belgium, Switzerland, United States, and a few other countries. Please send in your questions at any time for Julie. And we should also, Julie, mention the work of Marshall Goldsmith and his colleagues, Sanyin, Ayse, Ruth, and we should salute their generosity as well and their commitment to the cause. But as you were speaking, the way we think about leadership, we think about leadership as the preserve of adults, and that's fundamentally, it seems to me, what you're challenging.
Julie Carrier:
We're absolutely challenging that. I think that it is easy, we know adults need leadership development, leadership coaching, but what research actually tells us is that leader identity, someone self-identifying as a leader, happens in adolescence, and what research also shows us, that you can teach someone all the leadership competency skills and tools, all the most elite best practices, but unless that person has self-identified as a leader, they're not going to use those competencies.
Julie Carrier:
So, what we're finding that's missing in leader development, not only in the youth space historically before this work, but even in the adult education space, is that this idea of leader identity is not even really understood or included as part of the leadership development experience. It is especially important for women and especially important for girls, because of so much, literally decades of socialization, where women were taught that they weren't leaders. And so, that's why adolescents, we're missing the boat, if we're not doing leader development in high school where that leader identity is formed, we are really doing a disservice to a huge generation of the next leaders.
Des Dearlove:
I'm absolutely fascinated by the concept of leadership identity, because I mean, Stuart and I have been writing about leadership for 25 years plus, and this is a relatively new concept to me, in that language. It may be that we need to unpack it a little bit, but I also want to make sure we have time to really look at your work. Now, we're going to see a video. We want to see some of this stuff in practice. Would you like to tell us what we're going to see in the video?
Julie Carrier:
Absolutely. So, I think it's fun, it's one thing to talk about the theory and the practice, but it's another thing to see it in action. And so, what we actually have is a beautiful video from St. Ursula Academy, which is a school that has the leadership program, and is showing the power of not only leader development during the school day, but leader development taught by certified faculty, in school coaches, that's within a framework where the whole school supports self-leadership development.
Julie Carrier:
And so, I'm not going to say another word because honestly, hearing these 14 year old girls talk about their perspectives on leadership, when you could be essentially looking at an adult who's running a corporation, is pretty exciting. So, you'll hear from Nichole Flores, who is the president. You'll also hear from Mary Werner, who's going to be joining us, who is actually, Mary Werner is the president, Nichole Flores is the principal, and the students, and the coaches themselves. So, I can't wait for you and our audience to get to see a little glimpse into the power of leadership development in high school.
Des Dearlove:
Okay. Let's take a look at that now.
Nichole Operacz Flores:
Outcomes of the program, the girls' confidence has really increased with the freshmen who've taken the class. The other thing is that their friendships are stronger, and they've been able to connect with girls they would maybe not have initially connected with. The other thing that has really soared is the growth mindset. This means that girls see potential in their friendships, they see potential in their learning, and they see potential in themselves, and wow, that's a game changer.
Grace Spenthoff:
Self-confidence is a big part that I learned. I mean, that doesn't just go for presenting, but that's just in life in general, and I think that's helped me to set goals for myself in what I want to do, and truly help me to live the life that I want to.
Rachael Roberts:
I can take what I've learned in leadership to all my other classes. I can use it with time management with homework.
Ashley Wagner:
The public speaking skills that I learned were not to be nervous, because it's okay if you mess up. We're all human.
Vanessa Onyekelu:
Something that surprised me that I learned about leadership was that you don't have to lead from a position of power, you can lead from your character or what you really believe in, instead of what others believe in.
Campbell Jagodzinski:
I think it's helped me grow as a person my confidence, not anymore, but it was really down there. Like I didn't have very good self-confidence, but this class helped me realize my self-worth, and that I can do anything anyone else can do.
Ella Stoll:
So, you have to start with yourself first and focus on developing yourself and your own skills and abilities, before you go on to help other people. I always thought, "Oh, I need to help people right away," but if I don't know who I am first, I'm not going to be as successful with helping other people too.
Ciara Lalor:
On my soccer team, I have been able to use my leadership skills. I used to be really quiet on the field, and in soccer, you're supposed to communicate. So, I can definitely use the leadership skills to find my courage to talk.
Emma Springer:
I learned to use my leadership skills by including everybody, but also speaking up, so when I had questions, not being afraid to go ask somebody older, because if I spoke my opinion and was confident about it, they would be respectful and confident back.
Kennedy Bethel:
Anyone can be a leader. Even if I am in the back of a room, just by being present and being active in the class, I can be a leader. You just have to have the positive mindset and the strive to be there and do it.
Avery Grimes:
Being a leader from the back of the room means that we can lead anywhere. You can be silent and be a leader, you can be upfront and be a leader. Anywhere you are, you're a leader in your own specific ways, and nobody can tell you that you can and can't be a leader.
Madison Repass:
When people used to ask me what I wanted to be, I wasn't completely sure, but now I know that I want to be an entrepreneur, I want to be a CEO, I want to be a businesswoman, and I just want to live a happy, fulfilled lifetime.
Rachael Roberts:
I'd really like to be in the sciences, engineering. I love space. I'd love to work at NASA. That's one of my biggest goals in life.
Nikki Schaub:
They started out quiet and as the weeks went on, the relationships built between all of us in the room. You can see the girls really start to be able to just be themselves, and be open to who they are.
Julie Arnold:
That's the most powerful thing about the program, is that you are shifting a mindset, you're shifting a vision. You're saying, "I don't have to look this way, or speak this way, or have this background, I can lead from where I'm at from a point of view of my character, and what I value."
Mary Werner:
The leadership program for St. Ursula Academy is so incredibly exciting, to develop leaders during the academic school day, in a way that marries our commitment to academic excellence, and development of the whole person. It's just thrilling.
Grace Spenthoff:
Taking the class again sophomore year is something that I'm really looking forward to, because this class, we worked on self-leadership, and I'm excited to also work on leadership of others, to learn how I can help lead in a group setting, or in my teams, or in projects that I have to work in a group.
Julie Carrier:
Yeah. These are 14-year-old girls talking about this, and I think even with the, I don't know if on your end, the video clip clipped a little bit, the audio really spoke to what happens in the classroom, and-
Des Dearlove:
Yeah, I think we had a little bit of a synchronization problem, but we will try to make that video, if possible, available through other media, through the Thinkers50 website, because it's a great video. As you say, it just got a little bit out of sync there.
Julie Carrier:
Yeah, and I'm excited.
Des Dearlove:
And [crosstalk 00:18:31]. Sorry?
Julie Carrier:
I was going to say I'm super excited about the fact that we actually get to hear from this amazing collaborator and trailblazer as well in this space, Mary Werner, who is the president of St. Ursula Academy. My team and I did a really, a national search to find the right fit school, and one of the reasons why we chose Mary and her school is because they already have an intentional commitment to leadership development, they already had an intentional space for a focus on leadership coming from character. And Mary herself as a former executive coach, also CPA, she has this extraordinary back background to really understand the value of leadership, and just recently got a Milestone Award in Education. So, Mary, I don't know, are you able to join us? I don't see you just yet, so we might have to make sure your video is turned on.
Mary Werner:
I'm here. Yes, it's great to be here. I'm honored to be included in this Thinkers50 program to show really the power of what can happen when you marry the theoretical and vision of one person, with what we're all about here at St. Ursula Academy.
Stuart Crainer:
So, Mary, the program started last August 2021?
Mary Werner:
Yes.
Stuart Crainer:
Okay. We started the program with our freshman class, class of 2025, with the plan to then transition each year, adding the layers of the curriculum each year, so that by the time that the class of 2025 graduates, they will have had four years of leadership development during the academic school day.
Julie Carrier:
And if you think about it, what I love, we think of school as math, science, and reading, or reading, writing, and arithmetic, at St. Ursula Academy, because of this collaboration, it's reading, writing, arithmetic, grit, goals, growth mindset, resilience, psychological safety on teams, how to overcome challenges and setbacks. That's what schools should be, and it's pretty extraordinary to see what happens when that's the case.
Des Dearlove:
No, I think, and then the resilience thing is something else we're not trained in at school. We learn it the hard way, I think, sometimes as we go along, but I think giving children the tools, I mean, you mentioned the growth mindset. Well, it's such an important concept to grasp, the difference between that, and the other sort of mindset, but also understanding psychological safety to know when it's there and when it's not there, and to be able to actually be aware of it, I think is fantastic. Mary, what kind of difference have you noticed in the young people who have been going through the program?
Mary Werner:
Well, one of the things that we love about this program is that it's neuroscience-based, it's evidence-based, and there are measurement of the outcomes that we can really point to. So, we did a pre-test and a post-test, and what some of the outcomes were, my very favorite one is that when the girls were asked about their hope for the future, 92 of the girls responded that because of this leadership program, they had more hope for their future. And given what we've all been through the last couple years, and the amount of anxiety and stress in our young people, this is a powerful, powerful outcome, and it shows the value of having this sort of development as part of the academic school day.
Mary Werner:
The other outcome is, I believe it was 95% reported that they were better able to work in teams. 85% reported an increase in self-confidence. Amazing, amazing outcomes that I believe every school is hoping for in their academic programs, and because of our core values of leadership and academic excellence, this is a rigorous program, it's not just a fluff class, and that matches very well with our college prep school, with our mission to prepare young women for the future, and for a life of meaning.
Stuart Crainer:
Yeah. I mean, I think the rigor and the evidence-based elements are really important, aren't they? It's not just an isolated initiative, which you're going to try, it's a long term program.
Mary Werner:
Exactly, exactly. I shared with Julie when she was asking about my background, I'm a CPA by training. I spent many years in the profession before I left for the world of coaching, and then education. So, the fact that it was evidence-based, outcomes measured, neuroscience-focused were all areas, and of course, advised by a team of the world's best leadership development experts, I knew that we were onto something very, very special, and our board knew it too, and we fully embraced the opportunity.
Des Dearlove:
We have one or two questions coming in. Ayse actually asked, "What's a good age for starting on your program?" And perhaps that's one for Julie to answer, because I mean, can you start people on this stuff too young? Obviously 14 seems a sensible place, but what's your view on that?
Julie Carrier:
Yeah. So, and Mary, feel free to jump in as well. One of the things we really, again, did a lot of research on where are those foundational pivot points in a young person's development? And what research shows us is right around the age when they enter, in the US, it's called ninth grade, that freshman year, that's a transitional pivot point. The statements, the declarations that a young person makes about themselves that ninth grade year, actually impact every outcome that comes next. It impacts their grades, it impacts their ability to use leadership competencies.
Julie Carrier:
So, if someone self-identifies and says, "I am not a math person," guess what? Those math scores that they have, even four years later, are going to be lower than a student that says, "You know what? I haven't learned this math yet, but I'm going to keep trying and using new strategies, because I'm growing." So, when we thought about the perfect place to bring in this leadership development work that's used with top executives, but tailoring it for young people, we found ninth grade is the ideal spot, because that's especially where that leader identity formation happens.
Des Dearlove:
Fascinating.
Julie Carrier:
Mm-hmm (affirmative).
Stuart Crainer:
What about your own leap, Mary, from CPA and a coach, into the world of education?
Mary Werner:
It's interesting. I'm an alumna of this school, St. Ursula Academy, and I came here as president 10 years ago, and the first thing I did when I met our principal, is said that I really want to bring to St. Ursula the concept of the growth mindset, and things that I had studied in my coach training at Hudson Institute, and just in my coaching practice. And then when I looked at my background and experience, really everything that I've done in my career journey has been about, "How can I help? What can I learn, and how can I be the best person I can be?", which is all about leader development, and knowing yourself, and understanding yourself.
Mary Werner:
So, I was a partner in a CPA firm, I did that before I jumped into coaching, and so, I would say all my experiences to this point in my career have led us, and really led St. Ursula to this point. And what I would say to other administrators or leaders of secondary schools, that having a vision of leadership that's aligned with the concept that every girl, no matter who they are, how outgoing they are, how shy they are, is a leader, that forms your leader identity right from the start, and for a successful program, I believe that an institution has to have that fundamental belief. That's a long answer to a short question, but I've probably taken a different path than a lot of people, but whatever path it is, is the right path for me.
Stuart Crainer:
Mary, there's a question come in from Frank Calberg in Switzerland about what parents can do to help their child develop confidence I think there's another question I'd like to ask about parents. How have the parents of the children responded? But it must be quite strange. I mean, I imagine if my daughter came home and started talking about growth mindsets, and leadership, and psychological safety, I'd be a bit thrown, because I'm not sure I could join in the debate. But so, what's been the response with parents, Mary?
Mary Werner:
I believe I would sum it up as they are thrilled, because it's important to learn math, and science, and English, and all the academic subjects, but across the board from an inclusionary standpoint, every girl needs to have a foundation of leadership that will take them to whatever career they choose, throughout their life. And so, the parents are very excited to see where this takes them. The anecdotal conversations I've had with parents and grandparents of their girls who were freshman and went through the program, is they were not sure at the beginning, because of course, we're groundbreaking here, but the impacts they've witnessed firsthand in their daughters and granddaughters.
Julie Carrier:
And can I-
Des Dearlove:
Yeah, that's-
Julie Carrier:
Oh, go ahead, Stuart. Or sorry, Des.
Des Dearlove:
No, you were going to add something?
Julie Carrier:
Oh, I was just going to add that the reason, one of the reasons why this works is, I like to say rather than the word "redefined," we've reclaimed what leadership really is. We've reclaimed this definition that leadership doesn't mean you have to lead from a title or position of power, that leadership is leading from who you really are, in service to something bigger than yourself, and guess what? A 70 year old CEO can do that, and so can a 14 year old young woman who is shy, who doesn't know who she is. So, that's part of the beauty of this, and I think my favorite quote, Mary, we talked about it, one girl said, "I realized that sometimes the loudest leader in the room can be the quietest person."
Des Dearlove:
Mm-hmm (affirmative). That's great. I've noticed we're joined by Fons Trompenaars, one of our Hall of Famers. It's always good to have Fons on board. Another good friend of Thinkers50, Erika Lucas has a question, I think this one's for you, Julie, and I think I know where Erika's coming from, and this almost brings together, I think the psychological safety thing, which obviously, we need to bring into the workplace and is long overdue, and what you're doing, because if we push people, if we give them a leadership identity, and then they land in a workplace where they're not psychologically safe, potentially there's danger there, Erika asks, she says, "Fantastic and inspiring program. Do you think there is a danger that young people who have had this type of development could have their confidence crushed when they get into the workplace, where although progress is being made," as we've just alluded to, "In some organizations, there's still a way to go." I mean, a long way to go.
Julie Carrier:
Absolutely, and that is such an important question, and that's one of the reasons why the program is designed the way that it is. So, we leverage the best of positive psychology, the best of coaching, and we make the idea of resilience, the idea of how do you deal with struggle? How do you overcome adversity? And also knowing that this isn't about fixing girls, this is about empowering them, almost giving them a shield that helps to inoculate or protect against some of those really strong risk factors that happen in the corporate space. This isn't going to fix the world issue, it's one way to support girls in going out into what can be a very toxic workplace, and helping them to speak up, to be heard, or to leave that space if it's not the right fit for them, if that's possible.
Julie Carrier:
So, it's not about fixing girls, it's about equipping them, giving almost that shield of protection that allows them to go into those spaces, to use those resilience skills, use those skills of speaking up and being heard, knowing that their worth isn't dependent on the outcome of that job, that they're inherently worthy, and if they're not being respected in that space, you know what? Let's get out of there. You deserve a better place that respects you for that. So, it's not a very analytical answer, that's more of the answer I would give to our girls, but all of the evidence-based exercises, they have longitudinal outcomes for resilience, for a whole host of other things that would support in those environments. So, if they're not being respected, they can have more access to becoming resilient and overcoming those circumstances.
Stuart Crainer:
Mary, I know you've not got much time because you've got a school to run and children to teach about growth mindsets, so where does this go next, from your point of view?
Mary Werner:
So, we are ready to go for our sophomores. Our rising freshmen who will be sophomores will take the next level of this program, that is The Neuroscience of Self-Confidence, and really expanding on what they learned in year one, and then our new crop of freshmen who will come in August, will begin with leadership, with The Foundations of Self-Leadership, which is the first year class. We will also be certifying likely for more coaches, our faculty or staff who have interest. This is also integral to the program, as our first year coaches were phenomenal. And one of the outcomes that we were hoping for as a school culture, is that the information and the leader development that the coaches themselves go through, because you know as coaches, we're always learning and growing ourselves, that the impact to those certified coaches will be exponential to the rest of our faculty and staff culture as well.
Mary Werner:
So, we'll be bringing some more coaches into the fold. There's a massive teacher shortage in the United States, so we're hoping that this program will attract great faculty members who want to teach not only math, but we have a cross-disciplinary group. One of our coaches is math, one is foreign language, another is I guess, English. So, we want to just fully explode this into our school body, but we're doing it over four years, so as to really make sure that the impact sticks.
Des Dearlove:
Fantastic. Christina Smith observes, "We need to be able to teach that failure is growth, and not an obstacle."
Mary Werner:
Yes.
Des Dearlove:
I mean, back to the growth mindset, and of course, the other mindset is the fixed mindset, which I temporarily couldn't quite place just a few minutes ago. But we've got another question from Frank Calberg, and he asked, I mean, we've been talking very much about trained people who are doing this great work in the school and are certified, but he asked, "What can parents do?" I mean, a lot of people listening to this will be parents. "What can parents do to help their child/children develop self-confidence? What are your experiences?" Because there's a tendency to overpraise sometimes, it seems. I don't know if that's…
Mary Werner:
Mm-hmm (affirmative).
Julie Carrier:
Yeah. One of the things that we teach, both our coaches and the entire school faculty, and Mary, I want to be respectful, I know you have an awards luncheon, so we want to make sure you get to attend that, and we are so grateful for you being able to join us here today. Thank you, and-
Mary Werner:
I just want to thank you for the opportunity, and thank Julie for her work in trailblazing in this space, and for me and my background to meet someone like Julie, and to bring this work into our school, it's a thrill and a dream come true, and it will change our girls' lives, I know, and that's an exponential impact on the world. So, thank you for having me, and thank you for spotlighting Julie and her great work.
Julie Carrier:
Mary, thank you. It's definitely-
Des Dearlove:
Mary, thank you. Thank you very much, indeed, and keep up the good work.
Julie Carrier:
Yes.
Mary Werner:
Thank you. Thank you. Bye-bye.
Julie Carrier:
Bye. And Des, to your earlier question as well, so there are some wonderful things that parents can do. I think really, a lot of times as parents, we were we're taught, hey, if a kid's performing well, like, "Oh, you got a perfect score. Great. You're so smart," or "Wow, you got straight As," we want to start to shift. Now, it's okay to give a praise based on outcomes, that's okay, but what's missing is praise based on character, because the thing is the adolescent brain is wired and it's hungry for rewards and recognition, so what we reward or recognize that young person for, that brain prioritizes that as the most important thing.
Julie Carrier:
And I think what we're seeing is really an epidemic of young people that have been praised so much on outcomes, and so little on character, that that hasn't been a priority, and we know really for a young person's success, character is even more important, because if you have the right character and the right mindset, you can learn anything. So, what I encourage parents to do is to include character-based feedback, to include things like, "You know what? Becca, I noticed how you stayed after school to support Sarah. I was very impressed by your kindness. That really tells me a lot about your heart." Starting to work that type of feedback, not only as a parent into the home life, but I encourage schools to start to shift how they also give feedback. Yes, you can give grades on assignments, but start to pull out those character moments where young people are showing their best version of themselves. That's a game changer.
Stuart Crainer:
Julie, this is fantastic work, inspiring, and it was great to see a real example of it happening. How can this work go global? Because obviously, there is a global need for it. How, and-
Julie Carrier:
Thank you for asking that. That's the ultimate mission, and what we find is there needs to be a fundamental shift in how we see education. We need to stop looking at education as merely an academic institution teaching academic subjects, and expand the role of academia to include leadership, self-leadership, social-emotional development, and not as an afterthought. It has to be a core part of the academic school day. That's the biggest differentiator.
Julie Carrier:
When we were doing our pilots and it was reserved for 20 minutes, once every two weeks, or an afterschool experience, the outcomes were so small compared to having 80 minutes, five days a week for a nine week class, set aside for this type of learning. It's why we're seeing the transformational impact. So, schools need to, just like students go to their math and their science class, students need the space to go to their evidence-based applied neuroscience leadership class, and we need to make sure that the faculty is on board integrating character-based feedback, so it's not just a program, it's not just a curriculum, it's a mindset shift on the educational level.
Des Dearlove:
And we hope Thinkers50, if we can do anything to be supportive or helpful, then we'll continue this conversation after, and I'm sure a lot of the people who are tuning in will want to be supportive and helpful as well. But can I just say one word, boys, I mean, boys need this too.
Julie Carrier:
They do, 100%, and actually, the ultimate goal is that this'll be made available and accessible to all young people. What we found is because education is so mired in tradition, because things are so geared toward test taking scores, that when we were looking at supporting schools with this type of development, we found the most receptivity in girls' schools, and why that was, is I think because a lot of girls' schools see the crippling anxiety that our girls have, the crippling perfectionism. I guess the challenges seem more visible.
Julie Carrier:
So, our girls' school community was very open, and excited, and receptive to this idea, more so than traditional co-ed education. So, we're focusing on girls because that is where leadership and confidence gaps arise for young women in adolescence, but as we vet this and grow this, and continue to have these amazing outcomes, the ultimate goal is to make this available for all young people.
Stuart Crainer:
How can people find out more, Julie? What if you're a teacher and you're inspired, and want to bring this to your school, or you're a parent, or a 14 year old girl?
Julie Carrier:
Absolutely. So, I think that there's a lot of great new and emerging books and resources, the VIA Institute on character is incredible. I mean, really, I tell people that if you really want to support your young person in being a better leader, work on yourselves, because we find that mirror neurons, and more is caught than taught. So, from a broader perspective, the more we work on ourselves, the better.
Julie Carrier:
From a school development perspective, we have the Institute for Leadership Development for Young Women. That's a great resource to learn more about what we're doing with this idea of leadership schools, and St. Ursula Academy, Girls Lead Worldwide is my company, but I would say at a whole, because we're still emerging in this space, stay tuned. There's going to be a lot more information about how do you actually bring evidence-based leader development to the school day, as we continue to expand this mission. But anything related to brain-based learning, social-emotional learning, we just got to start expanding what education can be.
Des Dearlove:
I know you're going to have your hands full for a while with this big global mission of yours, but have you got anything else? Are you working on another book? What are you cooking up?
Julie Carrier:
It's so interesting, because I speak on the neuroscience of confidence, and I've done a lot of great work, as you know, in the corporate space, but also in the youth space. I am so passionate about this mission, that the transformations I've seen in these students is one of the most rewarding things I've ever been a part of in my life, and I know this is my purpose. So, I literally cleared my calendar. This is my mission, and this is what I'm doing, and I could do many other things, but I try to practice what we preach, like when you find your purpose, live it to the fullest. So, that's what I'm blessed to do, with the support of so many at Thinkers50, so many with Marshall Goldsmith and the 100 coaches, and amazing leaders like Mary in the school system. So, I say, watch out, world. With a powerhouse team like this, I think we can change education.
Stuart Crainer:
I hope you're right. Ayse suggests, "I think it's 50 Young Leader Award for high school students."
Julie Carrier:
I love that. I love that. Let's talk about it. Let's make it happen.
Des Dearlove:
Let's make that happen.
Stuart Crainer:
We're going to give it to the girl at the back of the classroom.
Julie Carrier:
She can be a great leader. You can lead from the front of the room, the back of the room, or walking alongside someone who needs help. So, that's real leadership in action.
Des Dearlove:
Okay. We're starting to run short of time, but I have to say, it is so wonderful to meet someone and see someone who has actually found their purpose and is living it, because you don't see that every day, and it's a great honor to have you on. But a final word, a final kind of call to action, what would you like everybody listening to this, I mean, people are going to go out and look on websites , they're going to read books and stuff, what can they do tomorrow to make a difference and to help support this mission of yours?
Julie Carrier:
Thank you for asking. I would say start talking, but it starts with dialogue and conversation. I would say if you're a parent or you're a teacher, it starts at the dialogue of conversation about, "What can education be?" If we really are trying to prepare our young people for thriving, for a Fulbright future, what does school need to look like, in order to help support that to happen? It has been such an effort to get this far. I think if we start to have more of those conversations, more schools, education systems will start to really shift things, but we got to shift the mindset first. So, creating those conversations, I would say is the biggest call to action.
Stuart Crainer:
Ayse says she "Was the girl at the back of the classroom who learned to go on stage."
Julie Carrier:
And she's an amazing leader. I love Ayse. She actually, one of her exercises is in our curriculum, by her awesome permission. So, we definitely have a dream team here.
Stuart Crainer:
Julie, unfortunately, we're out of time, so I would recommend that people follow up with the various websites and books Julie mentioned. Julie will be back, no doubt in sometime in the future, and hopefully with Mary to report on progress as these programs travel throughout the world, hopefully. Next week, we're going to be joined by David Liddle, talking about transformation. So thank you very much, Julie, and thank you very much, everyone, for joining us today.
Julie Carrier:
Awesome, and Stuart and Des, thank you for founding Thinkers50, and trailblazing the ideas space and changing the world. So, it's an awesome honor to be here. Thank you.