In 1984 Zhang Ruimin took over as Director of the Qingdao Refrigerator Factory. The small collectively-owned factory was losing money. Others had tried to turn the venture around and failed. Money had to be borrowed to pay wages and products often had to be repaired before leaving the factory.
Since then Zhang Ruimin and Haier have cut an impressive swathe through business orthodoxy. Their experiments and innovations in management are unique in their scale. Today, Haier has 75,000 employees and annual revenues of over $32 billion. In 2016 Haier bought GE's appliances business in the US for $5.4 billion. This year Zhang Ruimin was identified by Fortune as one of the World's Greatest Leaders.
Now, for the first time, the inside story of the company's rise and its revolutionary approach to management and leadership is told by Hu Yong and Hao Yazhou in Haier Purpose.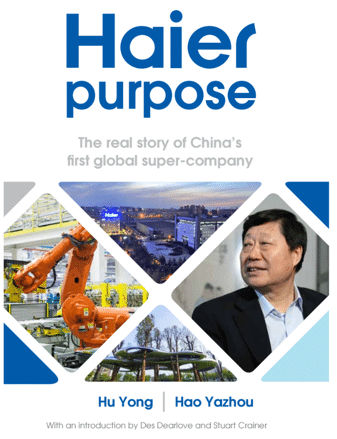 The book is published by Thinkers50 (www.thinkers50.com), the global platform for management thinking, in partnership with Infinite Ideas (www.infideas.com).
"Despite all the trumpeting of change programs and the like, large organizations tend not to change the way they operate to any significant extent. Change is often decorative tweaking rather than a radical overhaul," observes Thinkers50's Des Dearlove. "That Haier has managed to maintain business growth and ground breaking organizational innovation over a sustained period is unusual and owes a great deal to the leadership of the company. It has succeeded in well-established markets against strong competition. The fact that it is a Chinese company adds piquancy to an already powerful story."
Haier's chairman and CEO Zhang Ruimin received the Thinkers50 Ideas Into Practice Award in 2015. He provides a foreword to the new book in which he observes: "We hope to be regarded as a classic example of business development, and also stand as a benchmark for others to learn from. Faced with new challenges, our only weapon is that we have never abandoned the founding spirit of innovation – Haier is always entrepreneurial, always innovative."
"Haier's story is a remarkable one. Its leadership and management are similarly unique," says Don Tapscott, co-author of The Blockchain Revolution.
The authors of Haier Purpose are Hu Yong and Hao Yazhou. Hu Yong is a professor at Peking University and writes a blog with seven million followers. Hao Yazhou is one of China's foremost business writers and commentators.
About Thinkers50
Created by Stuart Crainer and Des Dearlove in 2001, Thinkers50 scans, ranks and shares the very best in management ideas. Its definitive global ranking of management thinkers is published every two years. The 2015 recipient was Professor Michael Porter of Harvard Business School. Previous recipients include Clayton Christensen (2011 and 2013); CK Prahalad (2009 and 2007); Michael Porter (2005) and Peter Drucker (2001 and 2003). The Thinkers50 Awards have been described, by the Financial Times, as "the Oscars of management thinking."
About Infinite Ideas
Founded in 2004, Infinite Ideas is an innovative, independent publisher of business books that help leaders at all levels to make sense of their business environments, their careers and the convulsive changes that are continuously reshaping both.
Contacts
To receive a review copy of Haier Purpose, blog posts on Haier, or to arrange interviews please contact:
Stuart Crainer

Des Dearlove

@thinkers50
www.thinkers50.com