Many people know the benefit of finding a sponsor—someone who goes beyond traditional mentorship to partner with a junior-level employee to help build their skills, advocate for them when opportunities arise, and open doors. But few realize that being a sponsor is just as important to career growth as finding one. Well-chosen protégés contribute stellar performance, steadfast loyalty, and capabilities that you, the sponsor, may lack, thus increasing how fast and how far you can go. 
Join us as Sylvia Ann Hewlett, economist and CEO of Hewlett Consulting Partners, shares how to find standout protégés and develop them so that they're able to come through for you and your organization. She will discuss how to: 
Identify the right mix of protégés 
Include those with differing perspectives 
Inspire your protégés and ignite their ambition 
Instruct them to develop key skill sets 
Inspect your picks for performance and loyalty 
Instigate a deal, detailing the terms of a relationship 
Invest three ways and reap the rewards 
Along the way, you will discover the enormous benefits of investing in these valuable relationships. 
Sylvia Ann Hewlett is an economist and the CEO of Hewlett Consulting Partners, as well as the founder and chair emeritus of the Center for Talent Innovation. She is the award-winning author of fourteen critically acclaimed books, including When the Bough Breaks (Robert F. Kennedy Memorial Book Award winner), Executive Presence (Amazon Best Book of the Month), and The Sponsor Effect (Financial Times Business Book of the Month). Hewlett has taught at Columbia and Princeton universities and has appeared on 60 Minutes, Morning Joe, Today, and Saturday Night Live. A graduate of Cambridge University, she won a Kennedy Scholarship to Harvard University and earned her PhD at London University. Hewlett grew up in a family of six daughters in a coal mining community in South Wales and now lives with her family in New York City.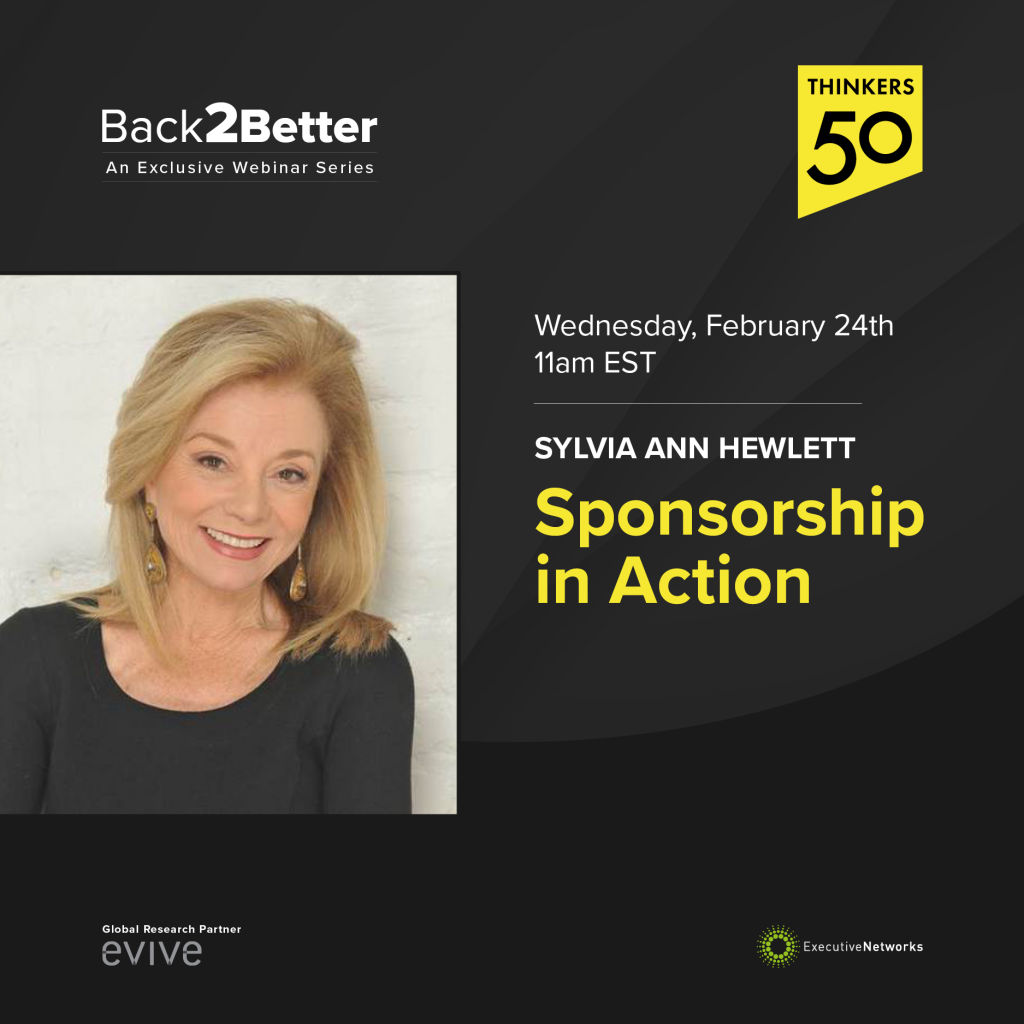 About Back2Better 
We are excited to partner up with Executive Networks to bring an exclusive collection of new resources for navigating change through the Back2Better webinar series, which includes 50 Webinars in 50 Weeks. The series officially kicked off in September 2020 and focuses on real-time actionable insights from the world's top business leaders, academics, and HR thought leaders that help organizations adapt and evolve to the new future of work. 
A catalyst for deeper exploration of the world of work, Back2Better is a platform for community knowledge-sharing that will help prepare forward-thinking organizations and their leaders to evolve and grow in the months to come. Through informative webinars delivered over the course of 50 weeks, this program covers timely topics selected moment to moment through a process informed by Executive Network member surveys, research from the Human Flourishing Program at Harvard, and insights from an esteemed advisory board. This is your opportunity to explore how you can adapt to the future of HR post-COVID with leading business professionals from Harvard, NYU, Amazon, and other top institutions and organizations.