In these uncertain and stressful times, every leader needs strategies they can use to enhance their own psychological agility and resilience. Just as importantly, they need ways of supporting agility and resilience in their teams, and in their organizations more broadly. They need to be able to spot opportunities in disruption, find creative solutions to daunting problems, and keep their people fully and productively engaged. Decades of motivation science provides us with just such a strategy—adopting and encouraging a growth mindset.
Join Dr. Heidi Grant to learn evidence-based techniques for adopting a growth-focused, "Get Better" mindset—one in which learning and improving through challenge and complexity is key. In this mindset, we welcome risk and are less afraid of failure, both of which are critical to personal and professional success and resilience—now more than ever. Learn not only how to identify your own mindset in the moment, but also how your mindset can influence your persistence, creativity, and engagement. In addition, you'll learn how to encourage others to focus on growth in difficult times, and create a "Get Better" mindset culture on your team and in your organization.
Dr. Heidi Grant is a social psychologist and management thought leader. She is the author of five bestselling books including Nine Things Successful People Do Differently and Reinforcements: How to Get People to Help You. Dr. Grant is a frequent contributor to Harvard Business Review and CBS: This Morning. Her TED talk on getting the help you need has been viewed 3 million times.
Sign up to join the webinar on January 13th at 11 am EST: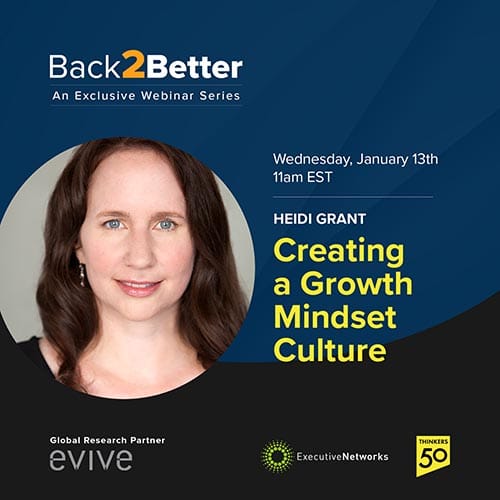 About Back2Better
We are excited to partner up with Executive Networks to bring an exclusive collection of new resources for navigating change through the Back2Better webinar series, which includes 50 Webinars in 50 Weeks. The series officially kicked off in September 2020 and focuses on real-time actionable insights from the world's top business leaders, academics, and HR thought leaders that help organizations adapt and evolve to the new future of work.
A catalyst for deeper exploration of the world of work, Back2Better is a platform for community knowledge-sharing that will help prepare forward-thinking organizations and their leaders to evolve and grow in the months to come. Through informative webinars delivered over the course of 50 weeks, this program covers timely topics selected moment to moment through a process informed by Executive Network member surveys, research from the Human Flourishing Program at Harvard, and insights from an esteemed advisory board. This is your opportunity to explore how you can adapt to the future of HR post-COVID with leading business professionals from Harvard, NYU, Amazon, and other top institutions and organizations.