For decades, one dominant pattern accounted for 90% of profitable growth in the most successful businesses. This came from driving a strong core business to full potential, increasing market share, innovating to grow the profit pool in its industry, and moving into adjacencies surrounding the core using a repeatable model that was constantly re-applied.
Yet, today, that is no longer enough to sustain profitable growth. Core businesses are under assault from insurgent competitors wielding new business models more than ever before.  New technologies are enabling the creation of new businesses at scale, leveraging assets in the original "Engine 1" core.
More leadership teams than ever are facing what we call an "Engine 2 imperative." This webinar will report on new research analyzing hundreds of "Engine 2" experiences across all industries and draw on the insights from our book The Founder's Mentality on creating entrepreneurial conditions at scale.
This webinar will examine three questions:
What are the success factors and pitfalls underlying the creation of a successful Engine 2 business?
What are some of the keys to creating entrepreneurial conditions of business building at scale in existing organizations?
How do you know if it is time for you to invest in an Engine 2?
The discussion should be of value to all members of leadership teams concerned with finding or ensuring future sources of profitable growth.
Chris Zook is an advisory partner in Bain & Company's Boston office. He was coleader of the Global Strategy practice for 20 years. During his more than 25 years at Bain, Chris has specialized in helping companies find new sources of profitable growth. A best-selling author, His best-selling book, The Founder's Mentality shows how leaders can overcome the predictable crises of growth and set their companies on a path of sustainable growth. Zook's "growth trilogy" books have received widespread critical support. Beyond the Core was recognized by The Economist as one of the top five business and economic books in the year it was published, and it was also voted one of the top 100 business books ever written. Unstoppable was identified by The Financial Times as one of the notable business books of the year. In the last five years, Chris has done over 500 talks and workshops across more than 35 different countries.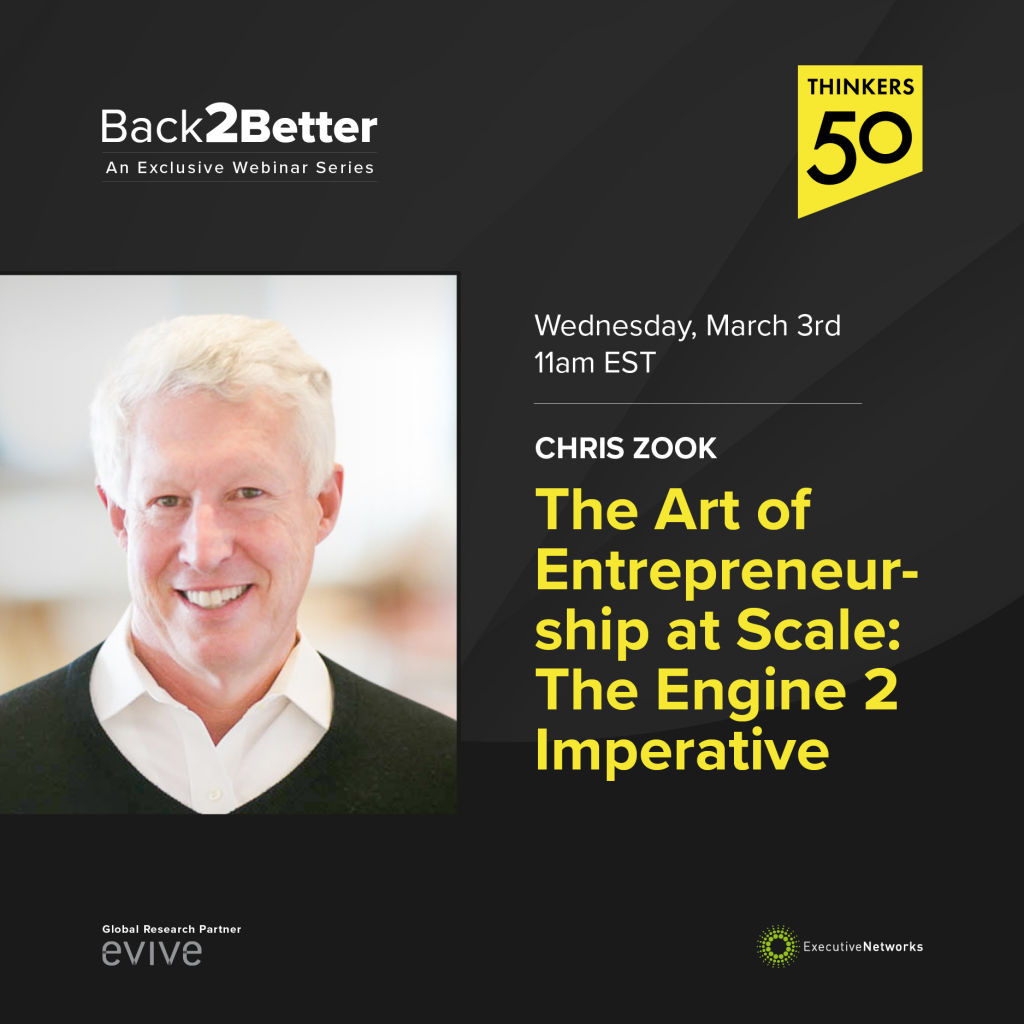 About Back2Better
We are excited to partner up with Executive Networks to bring an exclusive collection of new resources for navigating change through the Back2Better webinar series, which includes 50 Webinars in 50 Weeks. The series officially kicked off in September 2020 and focuses on real-time actionable insights from the world's top business leaders, academics, and HR thought leaders that help organizations adapt and evolve to the new future of work.
A catalyst for deeper exploration of the world of work, Back2Better is a platform for community knowledge-sharing that will help prepare forward-thinking organizations and their leaders to evolve and grow in the months to come. Through informative webinars delivered over the course of 50 weeks, this program covers timely topics selected moment to moment through a process informed by Executive Network member surveys, research from the Human Flourishing Program at Harvard, and insights from an esteemed advisory board. This is your opportunity to explore how you can adapt to the future of HR post-COVID with leading business professionals from Harvard, NYU, Amazon, and other top institutions and organizations.