The Human-Centric Enterprise ebook is the result of a partnership between Thinkers50 and Mercer. The subject is close to our hearts at Thinkers50: understanding how to manage and lead organisations in the most humane way — in a way which truly maximizes the amazing variety of human potential.
With contributions from Mercer experts, The Human-Centric Enterprise portrays a working world in which best practice is being realigned to accord with the needs and aspirations of people rather than balance sheets or restrictive notions of efficiency. It acknowledges the powerful evolution of amazing technologies, but places them in the human context, as enablers of human achievement rather than replacements for people.
Explore Ravin Jesuthasan's chapter and learn how you can redesign work for greater human-centricity.
Ravin is a senior partner and the Global Leader of Mercer's Transformation Services practice. He is a recognized global thought leader, futurist, and bestselling author and collaborates with some of the most sophisticated organisations in the world on the future of work and workforce transformation. He has led multiple research efforts on these issues and on the global workforce and the rise of artificial intelligence, including numerous projects for the World Economic Forum (WEF). His work with the WEF includes many of its groundbreaking studies on the transformation of work and the global workforce. He is also a regular participant and presenter at the WEF's annual meeting in Davos and is a member of the Forum's Steering Committee on Work and Employment.
Ravin has been a featured speaker on the aforementioned topics at conferences in North America, Europe, Asia-Pacific, the Middle East and Latin America. He has also been featured and quoted extensively by leading business media, including CNN, BBC, The Wall Street Journal, CNBC, Fortune, Financial Times, The Nikkei (Japan), Les Echoes (France), De Telegraaf (Netherlands), South China Morning Post and Dubai One TV, among others. Ravin was also an advisor to and featured prominently on PBS's widely acclaimed documentary series The Future of Work. He is a frequent guest lecturer at universities around the world, including Caltech, Oxford University, Northwestern University, New York University and the University of Southern California.
Ravin was named to the Thinkers 50 Radar Class of 2020. He has also been recognized as one of the top 25 most influential consultants in the world by Consulting Magazine, one of the top eight future of work influencers by Tech News and one of the top 100 HR influencers by HR Executive. He is the author of the books Transformative HR(Wiley, 2012), Lead the Work: Navigating a World Beyond Employment (Wiley, 2015), Reinventing Jobs: A 4-Step Approach for Applying Automation to Work (HBR Press, 2018) and the Wall Street Journal and Amazon bestseller Work Without Jobs: How to Reboot Your Organization's Work Operating System (MIT Press, 2022). Ravin has authored more than 200 articles, including 15 for the Harvard Business Review and the MIT Sloan Management Review.
Ravin holds a Bachelor of Business Administration (with high honors) in finance and commercial law and an MBA (with high honors) in finance. He is CFA® charterholder and a member of the CFA Institute. Ravin is a Fellow of the Royal Society for the encouragement of Arts, Manufactures and Commerce (RSA). Before joining Mercer, Ravin was a managing director and global business leader at Willis Towers Watson for more than 26 years and a consultant with Accenture's Strategy Consulting practice.
Watch our interview with Ravin Jesuthasan here:
Download the free e-book here
The human-centric enterprise
As the future of work rapidly evolves, we must urgently reassess our understanding of where, how and why we work.
Developed by Mercer and Thinkers50, The Human-Centric Enterprise redefines our perspective on putting people at the center of modern workplaces.
Chapter 2: Redesigning work for greater human-centricity
Creating human-centered organizations requires that organizations rethink how we design and organize work at the most fundamental level. This means redesigning how work is structured in our organizations and reassessing how we interact with technology. It also challenges leaders at every level to realign their own leadership capabilities and put them to work in driving a human-centered transformation.
For the past 140 years, work has largely been organized around processes that used jobs organized within functional hierarchies as the primary currency for work. This process-centricity has been the primary mechanism governing how talent is connected to work, how work is deployed and how organizations are structured. It has been the operating system for all organizational infrastructure — from HR systems to finance and accounting to enabling technology systems.
This traditional operating system with jobs as its basic currency is no longer sufficient. As John Boudreau and I illustrated in Work Without Jobs (MIT Press, 2022), a fundamental shift is underway. Accelerated change; demands for organizational agility; work automation; efforts to increase diversity, equity and inclusion (DEI); and emerging alternative work arrangements are exposing cracks in this old work structure, revealing it as too cumbersome and ill-suited for the future. In its place, a new work operating system is emerging, based on deconstructed work (tasks, activities, etc.) and workers (skills, interests, etc.) that can be perpetually recombined and reinvented. Those granular elements are the foundation for more human-centric organizations, where work and talent rather than jobs and processes are the building blocks.
Let's explore the drivers of this change in greater depth before we delve into exactly what more human-centric work design looks like and the capabilities leaders will need in order to lead in a new human-centric workplace.
Two key drivers of change
Some important drivers of change are powering the journey to greater human-centricity — chief among them are how we interact in a more agile and flexible way with technology and each other.
Digitalization and automation
Tectonic shifts are happening with technology in the world of work: Half (50%) of CEOs and CFOs believe their  current talent models are insufficient to meet demand. And of those in countries facing an expected recession, 57% plan to increase their use of AI and automation. In fact, according to CEOs, technological factors are the top external forces influencing their organizations.
As leaders struggle to attract and keep frontline workers in industries like retail, hospitality and food service, dramatic advances in robotics have allowed them to increase their use of automation for highly repetitive, rules- based work. Meanwhile, the ChatGPT interface for OpenAI's GPT-3 large language model — an AI-powered tool that generates clear, concise and polished prose — has alarmed artists, journalists and other creators with its potential to democratize "creativity" and reduce skill premiums significantly.
These shifts and others are prompting a radical reassessment of how we think about work and jobs — what we call "Work's Great Reboot." A significant part of this is determining how to humanistically automate. It means creating a new set of guardrails around automation — not just automating simply because we can but instead using automation where it makes sense and provides the most human benefit. Decisions about when and how to use automation must consider the human consequences — not just now but over the next three to five years.
The democratization of work
This force captures our growing ability to increasingly decouple work from its traditional confines of space, time and structure. The focus over the past three years has been largely on the space and time dimensions as organizations grappled with working onsite versus hybrid working versus working remotely — as well as with the productivity, cultural, and broader societal tradeoffs and consequences associated with those choices.
However, it's important to consider all six dimensions of work beyond the "where" and "when." This includes "how" work is done (like job/work sharing, among other things), "what" the work is (such as the tasks that make up a job, the underlying skills requirements and how rapidly these are changing), "who" does the work (including automation, gig talent, talent in agile pools, etc.) and the increasingly important "why" of work (asking questions like "Why should I engage with your mission? Does it align with my own sense of purpose?").
These drivers of change and the increasing volatility of the global economy are forcing us to look beyond our traditional organizational goals of efficiency and effectiveness and return to a more encompassing focus on resilience, agility and flexibility.
This is creating the demand and setting the stage for a more human-centric enterprise as we saw in Chapter 1.
An evolving model for connecting people to work
When we talk about the process of considering the "how," "what" and "who" of work, it may sound like we're talking about breaking work down into composite parts and then building up again into a new way of working — and that's because we are.
Over the past century or longer, the smallest atomic unit of work was always the job or role. Humans filled it, skills were applied to it, leaders managed it and activities were assigned to it. Now, as part of driving greater human-centricity at work, the job is no longer the primary currency for work. Jobs are being broken down into their composite parts: job elements or tasks. The work we bring to those jobs is likewise being broken down into its composite parts — namely, skills.
Connecting talent to work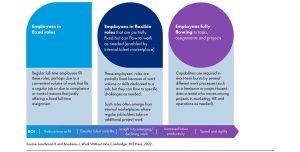 We are seeing, in other words, an evolution of work from fixed to flex to flow.
Where once we had an organization full of regular full-time employees in fixed roles, significantly fewer jobs now need to take this form. Where there is a high volume of work that is predictable — or where compliance or control factors are restrictive — a fixed full-time assignment may be appropriate for an employee. These kinds of jobs are likely to always have a place.
Recently, many more jobs have fallen into a hybrid model, where both the jobs and skills are the currency for work. In this model, employees are still in full-time roles but have the flexibility to express their skills in different domains or take on projects to acquire new skills. Instead of funneling all incremental work into new or existing jobs, people are now connected to gigs and projects as work emerges. This already happens intentionally in some organizations and organically in others — when regular jobholders take on additional projects or membership across ad hoc or agile teams and resources can be easily moved to where they are most needed.
This model is already evolving into one where employees fully flow to tasks, assignments and projects. Recognizing the benefits of moving people to work, organizations are now being more intentional about using tasks and projects as the central atomic unit of work with skills as the underlying currency. No longer bound by job titles or hierarchy, employees with the right skills are routed to assignments and projects as and where their capabilities are needed. This model is particularly useful where skills are required in short-term bursts or sprints across many different workgroups or processes. An example might be a data scientist who moves among projects in marketing, HR, IT and operations.
By deconstructing work into its component parts and building back up in this agile way — with hubs of teams and projects convened and demobilized as needed — we are able to tap into an internal skills marketplace. We can match tasks to skills in a boundaryless, democratized work ecosystem and flow talent to work in a flexible, agile way with models that can be easily expanded to incorporate nonemployee talent and gig workers.
We read in Chapter 1 how Unilever has pioneered a new way of working with its employees. Instead of a job, workers have a contract — which provides them with guaranteed benefits and a minimum monthly retainer as a percentage of the previous salary. On top of this, they are then paid by the project, based on varying assignments and their personal preference. Workers have no fixed roles or job titles but are flowed to tasks that best suit their skills and desired work schedules.
This kind of model puts people at the center, and the benefits are clear for both employees and employers. For employees, there is a more flexible approach that rewards skills development and provides varied work and greater choice. For employers, the time to fill needed capabilities is reduced since project needs can be met by tapping existing full-time or gig talent instead of undertaking a lengthy or expensive hiring process. There is also greater visibility of talent capabilities as they relate to specific types of work. Companies have better insight into emerging or declining tasks, skills that increase productivity, and more speed and agility across the board.
Five new leadership capabilities for new ways of work
What does it mean to lead in a world without jobs? Many leaders have spent their careers under a work model that focused on jobs centered on a command-and-control hierarchy. Reorienting to a more human-centric model will be a major paradigm shift for them. Furthermore, the future of work requires not only a shift in mindset for leaders but also a shift in skill set. What it took to be a successful executive or manager using the old way of work will simply not translate. A new set of capabilities, social values and behaviors will be required.
In a system of continually reinvented work, there are fewer places for leaders to hide and thus more visibility. The success of leadership will be less defined by title than it will by projects and accomplishments and — ultimately — character. Leaders will need to rethink fundamentals like attracting, retaining, motivating, and engaging workers and will need to attend to their individual leadership brand.
Leaders will want to take this opportunity to reorient around more humanistic leadership. This is because talent will be looking closely at not only the desirability of the task but also the "brand" and reputation of the leader. Leaders' reputations will continually be earned through their track records and behavior. The most successful leaders — and those who are best able to attract talent — will be those who can steadily and sustainably guide the ship.
How will the new world of work alter the steering of that ship? What must leaders adapt in order to lead a new human-centric work operating system? As John Boudreau and I note in Work Without Jobs (MIT Press, 2022), five fundamental shifts must be undertaken to steer the course through new waters.
1. Moving from hierarchical authority to empowerment and alignment
One of the most observable changes in a human-centric model of work is a shift in how work is done. Leaders will need to transition from thinking about how they organize jobs to thinking about how tasks and projects are accomplished. As employees gain the flexibility to shift from project to project based on skills and preferences, leaders will need to set strong frameworks to balance that empowerment with accountability and create an organization-wide consistency that keeps people aligned with the broader task mission.
Organization-level leaders will need to focus on how they:
Set the overall strategic mission for the organization

Define and prioritize tasks and projects

Define the standards, goals, conditions, supporting systems and resources needed to accomplish those tasks

Support leaders and managers throughout the organization
Once these top-level goals and processes are set, functional leaders will establish guardrails and systems to align and support midlevel leaders — with attention on how work is accomplished and shared. Midlevel leaders will then use those guardrails to prioritize and translate organizational goals into strategic objectives for their units.
Frontline managers will continue to define and prioritize the processes and tasks required to meet team and organizational objectives. At the project level, leaders will deconstruct projects into tasks and tap workers to join their projects and teams as needed.
Workers will no longer be assigned exclusively to one leader or role but will be free-floating. That means leaders and managers throughout the organization will need to transition from being leaders of people in roles to being leaders of people on projects — organizing and optimizing people and technology around tasks and orchestrating resources to accomplish tasks and meet goals.
2. Moving from technical to humanistic work automation
As AI, machine learning and technology like ChatGPT continue to transform how we work, leaders must balance how humans and automation work together across projects and tasks. This is an advantage human- centered work has over job-centered work — as optimal solutions for work automation are often visible only at the task and skill level. Looking through this lens will help leaders make better choices regarding how they replace, augment or reinvent human workers. To successfully make this transition, leaders will need to come to a more nuanced understanding of what humans bring to the table in terms of aesthetic creativity, cultural context and innovative potential. Leaders must also eliminate biases that assume machines will always produce greater efficiency or consistency.
3. Moving from episodic to continuous focus on DEI
A large part of the transformation to greater human-centricity means reorienting around more human social values. Traditional models encourage an episodic view of DEI, but the future of work will be determined by the quality of DEI in ongoing relationships and interactions. Work without jobs means leaders are actively involved in choosing, assigning and developing team members, and the focus will be squarely on the substance of those interactions. Each interaction will present an opportunity to enhance DEI or perpetuate existing bias if it persists.
4. Moving from digital savvy to tech fluency
Recent and rapid innovations in areas such as AI and robotics have challenged companies to keep up with rapid process and workflow changes, but combining humans and automation in the ecosystem of work means balancing innovations with viability, practicality and decisions on the project or task level. This is a symbiotic relationship. Where teams are simultaneously forming and disbanding, algorithms will be at the heart of supervision and coordination, giving leaders the tools and insights they need to stay informed and to determine where or whether automation will replace, augment or reinvent human work.
5. Moving from process execution to project guidance
This involves sourcing talent beyond the traditional organization and rapidly assembling teams based on skills and capabilities using tools that agile teams now use (Scrum, sprints and hacks, etc.). Guardrails (HR, IT, legal, compliance, ops finance, etc.) are now set when someone takes a job — clearances, processes, etc. But as jobs are deconstructed, the guardrails will have to be adapted quickly and continually — with cross-functional coordination. (This is something we explore in greater depth, particularly regarding HR, in Chapter 7.)
At first, a decentralized, flexible model may seem to diminish the human dimension of work, but the steps above illustrate how central humanity will be to the new world of work. To avoid chaos and ensure alignment with a broader strategy, leaders must shift how power and accountability are distributed and evolve to a model of more "agile, serial leadership" that emphasizes their humanity.
As you think about the continuing journey to a human-centric enterprise, we leave you to ponder the two questions we believe will continue to be at the heart of our journey of perpetual reinvention:
How will we redesign work to enable talent to flow to it as seamlessly as possible while enabling its perpetual reinvention? And how will we reenvision the talent experience to meet all talent where they are and on their individual terms instead of forcing them to comply with a traditional one-size-fits-most value proposition?