Sheree Atcheson is an international multi-award winner for her services to diversity and inclusion in industry. She is also a Global D&I Executive, Board Member of Women Who Code, and contributor to Forbes. She has been named as one of the UK's Most Influential Women in Tech and she was shortlisted for the Thinkers50 Talent Award 2021. Her book Demanding More (2021) is listed as one of the Financial Times' best books of summer 2021. It focuses on how the exclusion in systems and society have been deliberate, and how we can be purposefully and deliberately inclusive moving forward.
In this curated LinkedIn Live session, Thinkers50 co-founders Stuart Crainer and Des Dearlove join Sheree to get a deeper understanding of diversity and inclusion, privilege, and allyship.
---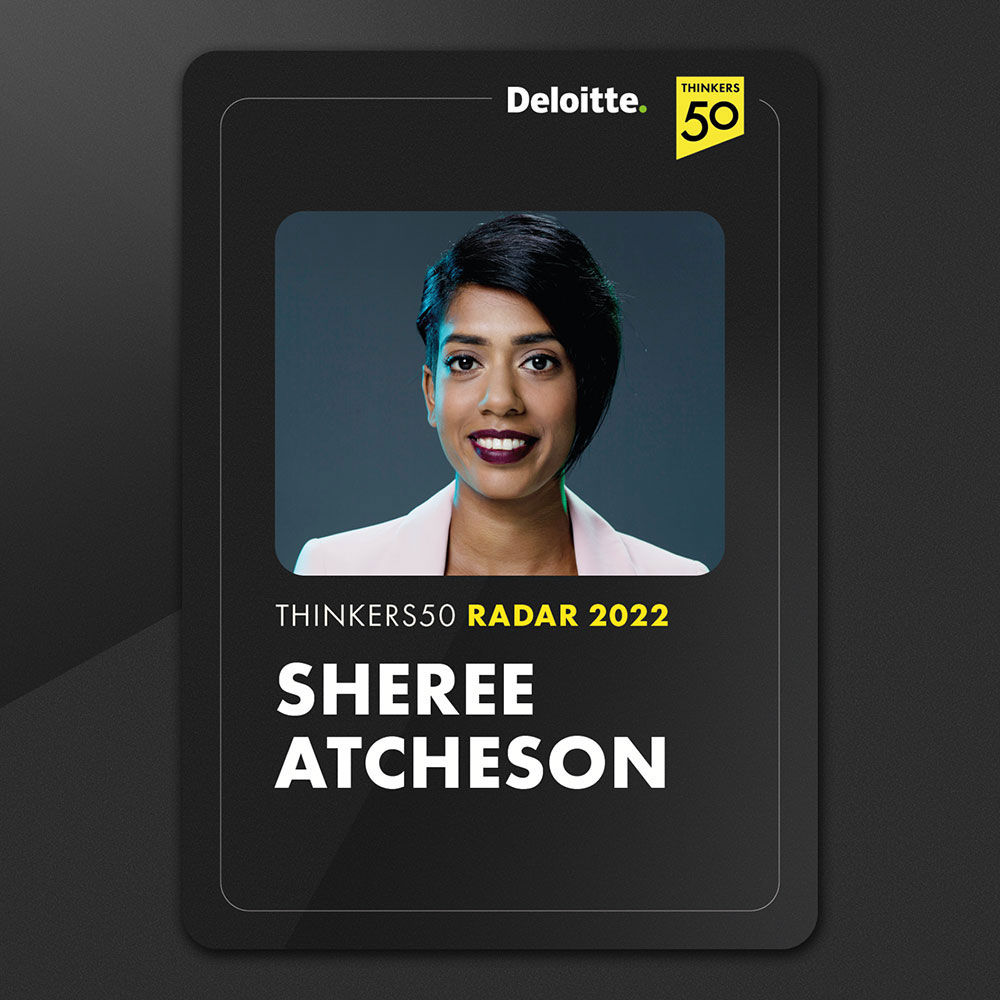 ---
Transcript
Des Dearlove:
Hello. Welcome to another Ideas With Purpose webinar, featuring Thinkers50 shortlisted thinkers, and brought to you in association with Executive Networks, our Talent Award partner. I'm Des Dearlove.
Stuart Crainer:
And I'm Stuart Crainer. And we are the founders of Thinkers50, the world's most reliable resource for identifying, ranking, and sharing for leading management ideas of our age. In November at the Thinkers50 Awards Gala 2021, we will be announcing the all new Thinkers50 ranking of the world's leading management thinkers and the recipients of the Thinkers50 Distinguished Achievement Awards. All the information about the Awards Gala can be found at thinkers50.com. It would be fantastic if you could join us.
Des Dearlove:
Now over the last few weeks we've been announcing the shortlist for the awards, so please check them out on the Thinkers50 website. And today we are delighted to welcome one of the shortlisted thinkers for the Talent award, Sheree Atcheson.
Stuart Crainer:
Sheree's one of the UK's most influential women in tech and an international multi-award winner for her services to diversity and inclusion in industry. She launched and led the award-winning UK expansion of Women Who Code, check out womenwhocode.com, the world's largest nonprofit dedicated to women in tech, where she now sits as an advisory board member.
Des Dearlove:
She's a contributor to Forbes and is the author of Demanding More, which aims to teach readers why diversity and inclusion don't happen in systems and in society, so that we can be purposefully and deliberately inclusive moving forward. Sheree is a global diversity inclusion senior executive currently at Valtech and previously at Deloitte Monzo, and Peakon. Sheree, welcome.
Sheree Atcheson:
Thank you very much. Thank you. Glad to be here.
Stuart Crainer:
Please send in your questions whenever they occur during the session. We'll pass them on to Sheree. I mean, it strikes me, a company like Valtech in more than 19 countries, 51 offices, what is your job there? How do you see your job in an organization like that? Because achieving some sort of consensus and agreement across such a large organization is very difficult on these issues.
Sheree Atcheson:
Yeah, absolutely. And diversity and inclusion should never be a one size fits all approach in any company, no less in a company as global as Valtech. And so, for us, what's really key is around actually understanding the nuances and the differences that we have in our different regions, across EMEA, APAC, Latin America, North America, for example, but creating a strategy that allows us to globally collaborate. So, five different pillars that really make sense to us around accountability, inclusivity, hiring, community, and education, providing a structure and a framework for our different regions to implement, but allowing them the freedom and the flexibility to implement in a way that really makes sense for them. Because inclusion in, for example, North Macedonia is different than Brazil and different than India, for example. And so, it's really key key that we embrace those differences, but also that we collaborate globally because in a global company you have the privilege to learn from people in completely different environments within the safe space of your organization. So, that's a really big part for us, too, that we go on that journey, as well, together.
Des Dearlove:
Now, you have an interesting background. You have a technology background. You started off as a software engineer. How has that influenced the way that you come to address these issues?
Sheree Atcheson:
Yeah. I mean my technology background and having a computer science degree and being a software engineer for quite a few years, really influences and, I guess, is pinnacle to the way I tackle diversity and inclusion work. There are a lot of principles in software engineering, for example, that are very relevant to any strategy creation, but especially the kind of strategy creation that has to pivot and flow and move with what your people need, what your clients need, for example, what your people that you're trying to serve ask for. And for me, that's really around using, for example, the agile methodology of continually reworking your policies and your processes and your strategy, defining success and feel your measures so you understand where you are.
And really, at the most base level is continuing to listen to your employee to make sure that what you're giving them is what they're asking for, as opposed to developing a strategy that is five years long with no touchpoints or only one touchpoint. I mean, last year has taught us that things change very, very quickly and if you don't change and pivot with them, you get left behind. So, what's key for organizations is that we really embed those kinds of practices in your DNI work, as well as the work that you do every day.
Des Dearlove:
And does technology have a role in… I mean, can technology help with that? I mean, I think you developed a tool, a techy tool, Engage?
Sheree Atcheson:
A techy tool. So, the company… A techy tool. I love that. At the company I used to work at called Peakon, which is an employee engagement platform, which helps organizations pulse and understand how people from all different backgrounds feel around management support, around belonging, around inclusion, and so on. And they also have a product that I worked on with the chief product officer, et cetera, called Include, which is the inclusion version of that to help measure diversity, equity, inclusion.
And for me, those kinds of tools are really, really important because if you develop a diversity and inclusion strategy that, let's say, works for right now, your organization is not the same in five days, five years, 10 months, whatever it is, so it's really key that you build for scale. And so, having a tool that allows you to do that listening that I talked about, that understanding, without one to one sessions and things that actually don't give you the insights you need in a way that is efficient and effective is really, really key. I'll always be such a huge fan of Peakon. I think it's an incredible tool.
Stuart Crainer:
So, you talk about data-driven inclusion strategies. Why haven't inclusion strategies been data-driven before? Because it was kind of seen as a nice to have rather than some that can be measured and approached in a professional managerial sort of way.
Sheree Atcheson:
I mean, you answered your own question, really. The point is that people have viewed it in the past as something that you can't measure. You can't measure, for example, inclusion. Well, you can measure inclusion. It's around understanding and pulsing people on what it means for them around those things I mentioned and breaking those insights down by different characteristics such as women in technology, people of color, Black folks, and so on and so forth, to get that nuance.
Now, for me, data-driven inclusion, which is what I've been doing for about 10 years now, is really interrogating policies and processes with the data that you have internally. Now, that means understanding if your promotion processes work from different people's backgrounds, your hiring process, your grievance process, or your issue process to raise issues internally, for example. One of the reasons organizations haven't been doing that, or continue not to do it, is they're not capturing the data that they can capture because it's quite a lot of work. There are regions, obviously, that you can't do that, especially in EMEA. But what's key is actually taking a nuanced approach. We touched on this at the start. A global perspective on this is one thing, but actually what we really need is regional and local perspectives so we can figure out what to do, what makes sense in those areas. But we need to provide the expertise in the frameworks do that.
And at the minute, a lot of companies just aren't doing it. So, it's all well and good to say, "Oh, I care about diversity and inclusion," but firstly, tell me what you mean by diversity and tell me what you mean by inclusion. And if you would never rule out a business strategy without key success and failure measures, then you shouldn't be doing the same for your diversity and inclusion strategy either.
Des Dearlove:
Alexandra is joining us from Poland and she asks… And again, this is partly a definitional thing, but what's the difference between equity and equality? What does it look like in practice? Because I think terminology is all important that people understand these kinds of things.
Sheree Atcheson:
Great question, Alexandra, and this is something I've written about quite a lot and delve into it, really, in my book as well. So, when we talk about equality, we're talking about providing support for different groups of people, providing the same support. Now, for me, that makes the assumption that everybody is starting on the same starting line, so providing the same support will bring them all up together. But actually, people are not starting on the same starting line. We have some people that are five steps ahead and some people that are 10 steps back. And equity is about actually re-leveling that, so providing tailored support for people.
So, a really good example of that and is when you think about, if you look at people of color, let's say, as a whole in your organization, if you have an organization which is a relevant conversation, if you delve down into that number, what you usually tend to find is Asian folks are represented more than Black folks. So, what you will want to do, obviously, to try and tap into Black talent and underrepresented talent in that sphere in different partnerships, different retention methods, and so on. So, you're providing an equitable measure here as opposed to just targeting people of color as a whole. So, it's again, using that nuance and understanding that people are not monolithic. Women are not monolithic. People of color are not monolithic. Disabled people are not monolithic. So, it's really key that we delve into that and we do equity as opposed to just thinking about equality.
Stuart Crainer:
We've got people joining us from Iran, Finland, Poland, Canada, and the US. And it'd be very interesting to get people's different perspectives on this. I watched something when you were talking, Sheree about privilege, and you were really good talking about privilege. I think you nailed it. And it's often talked about in a abstract sort of way. So, can you explain what you understand by privilege and how it works?
Sheree Atcheson:
Yeah. Privilege and privilege awareness, I describe it as the core to all of the work that I've done for the last 10 years, and it's a really big pillar in demanding more, as well. And for me, all too often, people take a binary view to privilege, one or zero view. We're talking about gender, we're talking about ethnicity. But actually, excuse me, it is much more nuanced and intricate in this. And for me, when I'm talking about privilege, what I think is really key to understanding is that we're talking about unearned benefits, we're talking about things that have not required any skillset but ultimately benefit you. Now, people at times will immediately think we're talking about, let's say, male privilege or white privilege and so on, and we are talking about those, but we're also talking about the nuance that you can both be underrepresented and privileged. And this is something for me personally I really identify with.
So, you can probably tell by my accent that I am Irish and was raised in Ireland, but I was adopted at three weeks old from Sri Lanka by an Irish family. I've had the benefit of being able to go to university and have the career that I have now, but I'm still very underrepresented in my field as a senior leader. However, there's a lot of privilege in my background. Being adopted is the first level of privilege we talk about here. Being in a country like Ireland, where I've been able to have access to state provided benefits that have allowed me to go to university because my parents were both disabled and I was on free school meals at school. But there's a nuance here because growing up, me and my brother, who's also adopted, faced quite a lot of racism, and that's very much shaped your perception and how you live in the world. But there's still a lot of privilege there.
And I think when we talk about privilege, it's really key that we understand and we have a conversation that… I describe it that it ebbs and flows and changes. My privilege now is very different to even 10 years or five years ago ago. I'm financially stable. I'm able to support my brother back home when I need to. I have a partner that I can openly talk about because we're both heterosexual. And all of those different things that come with that. So, what's key to understand there is that this is nuanced, and what's key what we do with that privilege is actually using it for the greater good, as lofty as that sounds, doing something meaningful with it, as opposed to getting defensive. Because every time I do a session on privilege awareness, my first question to everyone is, "Are you privileged? And I will answer that for you. The answer is yes." If you're sitting on something, you're going to a conference, you're sitting listening to someone to learn, you're privileged. And that's as simple as that.
Des Dearlove:
You also, you talked about your background a little bit. You also, you went to a Roman Catholic school in Ireland.
Sheree Atcheson:
I did.
Des Dearlove:
I'm guessing that was probably quite unusual and probably felt on your own there. Do you think your life experience, lived experience has influenced what you've chosen to do with your career so far?
Sheree Atcheson:
Oh yeah. I mean, absolutely. So, I was raised Roman Catholic, and whilst I'm atheist now, that's been an integral part of my upbringing. And religion in Ireland, and certainly Northern Ireland, is a very different conversation than anywhere else in the world for the most part. But the influence of going to a school where there are no other people of color… Now, not just the school. So, in my village, really, where I grew up, other than my brother, we didn't know any of their people of color. It's very easy for people to understand the experience of being the only in your boardroom, in your meeting room, in your team. And I have that experience, too, and it's fine. But actually in your family, it's very different. When you go to, let's say, a family wedding and you're the only one that's not white or when you go into shopping centers and so on, it's very, very noticeable.
And that does shape why I do this because I think it's really key that people recognize things outside of echo chambers, myself included. And I think it's very easy for us to slip into a level of comfort that things are okay because they're okay for us. Now, before we went live, we were talking about how we're finding the pandemic and everything else, and for the most part it's not been easy for everybody, but so some of us have been able to weather this storm a lot easier than others, myself included. And I've also lost people through the pandemic and everything else. However, I was still able to get back home when I needed to, to go to funerals and so on, and other people weren't able to do that. And I think perspective is key here.
Thinking about this outside of just what does it mean for us… And that's why this shapes my background. I've certainly faced a lot of different adversity and experiences as an Irish woman of color, for sure. I'm also married to a white Irish man, so we as a couple, and certainly when we're back home, face quite a lot of differences. When we lived in London, not so much because it's a much more multicultural area. We've just moved to Kent. And again, I say to Sean, my husband, I was like, "We're moving back to somewhere where, really, I will be the only in that bar again or in the restaurant or in the Tesco or wherever we're at." I'm used to it, but it's a shock to move back to it, again, as well. So, it definitely shapes what I do and why I do it.
Stuart Crainer:
Can you tell us about Women Who Code, Sheree? How did you get involved with that, and what kind of impact is that having, do you think?
Sheree Atcheson:
Oh, yeah, of course. So, like you said, Women Who Code is the world's largest nonprofit globally dedicated to women in technology. And so, when I graduated when I was 22, I think, which feels like quite a long time ago now, I was a software engineer and I was working at a software house in Belfast. And I wanted to do something. I was already working with my university prior to that on women in technology. So, I joined into computer science course and there were 100 people, 10 of them were women including me, so it was obviously a disparity that's been existing for years.
But in Belfast at that time, in Northern Ireland, there wasn't any groups for women to come together that weren't company-centric. So, for example, you could have, let's say, like PWC women or Deloitte women and so on, but actually, what about people that don't want to go to those groups? What if they don't work there? What if they don't feel like that resonates with them? And so, I don't like reinventing the wheel. I think it's a really silly way to do things. And I had to check online of what does exist out there? And I found a number of nonprofits and organizations dedicated to women in technology, but I found Women Who Code.
Now at that stage, Women Who Code were 5,000 global members, so quite small, based in San Francisco. But the thing for me that was really important to me was that whatever I did, whatever I put my name on, whatever I drove behind could not charge people to attend events. Because at the end of the day, if, let's say, a woman or a person wants to learn a different technology and they can't afford five, 10, 15 pounds for a meetup, does that mean they're any less worthy of that knowledge? And the answer is no.
Now, I grew up from a background where money was tight, things were not easy. My parents worked really, really hard when they were able to work. And I know the value of that money. And so, I was like, "I'm not putting money into something that charges," so I found Women Who Code and I really love that they run free monthly meetups in all of their locations. Regardless of your background, regardless of your economic stature, et cetera, you can come along and learn from industry specialists and leaders for free in your area. They also ran and now run global conferences that people can pay to go, but if you can't afford to pay, you can go for free, as well.
And so, I brought it to Belfast, then I launched it over in London, Bristol, up in Edinburgh, down in Dublin, and then helped expansion across EMEA, and built up remote teams of phenomenal women leaders to run those spaces, to create those communities and to work with the companies that were interested in working with us, which is almost every tech really now. And the work that we do has been phenomenal. We went from 5,000 global members back in… about nine years ago, or eight or nine years ago, to now over 300,000. We're launching new communities every week. We have phenomenal cohorts of people joining us. We also run remote accreditations, so as people who can't, for example, afford university can get boot camps with us for free. We partner with organizations to provide sponsorship and scholarships. So, it changes the face of technology for me. I think it's a phenomenal organization, and its impact is just growing and growing and growing.
And now I sit as an advisory board member helping at a strategic level instead of an expansion level, which is great. I mean, I've been with them for eight or nine years now and it's always a really rewarding part of my career.
Stuart Crainer:
I suppose there's an irony that such a modern contemporary industry such as tech to have old fashioned views and approaches.
Sheree Atcheson:
I mean, people, regardless of their industry, are how they have been, and I think it's sometimes easy to think that technology should be different because it's groundbreaking, it's different, it's emerging and not emerging at the same time. But actually, people are people, societies are societies, and the issues that we have in society will be in any industry. The key thing is that we really challenge them, we really recognize and understand and delve into the exclusion so we can be inclusive, as well.
Des Dearlove:
You were talking earlier about the privilege awareness, and I know you consider it a pillar of your work. And I know you did training in that when you were at Deloitte and I'm sure other places. Do you find most people are open to that message, or do you find people… I mean, as a society… I mean, I know it's a hopeless generalization, but do you come across people who really don't get it, or are people, once you explain it to them, do they get it?
Sheree Atcheson:
So, I think for me, opening up the conversation is key. I think there are always people that, one, maybe don't understand what we mean, and that's fine because we should always be starting from a common understand. And two, are not sure about why or how it's relevant to them because they've potentially had difficulties in life. Now, the privileged workshops, et cetera, that I do are really delving down into the nuance around, for example, disability, around gender, ethnicity, accessibility, neurodiversity, and all of the different connected pieces, and also sharing back the data points, actually, from a global perspective or regional, depending, on how that's influenced.
I think the conversation, once we go through it with people, is much easier to digest because I think immediately a lot of people feel like, "Well, just as I'm a man, I'm not privileged. Just because I'm a White person I'm not privileged," but actually, there's inherent privilege in that, yes. And there's also the nuance on top of that that we have to discuss, for example, social mobility and class background and disability, et cetera. So, I think whenever people really try to understand it, it's key that we take them on a journey. I also think it's key that we understand that not everybody is starting from the same position of awareness, and so my job a lot of the time is taking people to the same level of awareness and then moving forward with education and action.
Stuart Crainer:
Has the pandemic changed things? Because in many ways it made the privilege that exists starker and put a spotlight on it. And in other ways, you would think it encouraged organizations to think again, and individuals to think again, about their working lives.
Sheree Atcheson:
Yeah. I mean, the pandemic has, I would consider, widened and shown a very hard light on the gaps of in equity that we have. We've seen, if we talk about the rates of death, for example, across different ethnic groups, across those that are disabled, across the older generations in care homes, et cetera, we can see the disparities in Black and White, in ones and zeros. It's very easy to see that. What I think is really key here is that in some areas, in some countries, we're starting to… I don't want say come out of the pandemic, but getting through it and further along with vaccines and so on. Denmark is a great example of that. New Zealand, for example.
But what I think is key is that we really recognize that things were not okay the way they were before and we should really learn some very hard lessons prior. We've seen the job loss rates are predominantly affected in the UK specifically Black women in Pakistani women, and in the US specifically Black women and Latino women. What are we going to do about that? And what I really don't want people and companies to do is to just move on and, "Okay, we're getting back to normal now," but actually recognize that we had a really devastating impact and we'll continue to have that from a generational perspective. We need to do something meaningful with those lessons learned as opposed to just shoving everybody back in the office and hoping for the best.
Des Dearlove:
Please send in your questions if you have questions for Sheree. I see Rajneesh is saying, Thinkers50, our prejudices play a big role and are critical for us to be aware of them. I'm sure that's right. The trouble is it's always the same problem. You don't know what you don't know, even if you try to be open. That always strikes me as being the challenge, is even if we want to know and we want the knowledge, we all have our blind spots, we all have our privileges, as well. Is that fair?
Sheree Atcheson:
Yeah. I mean, I think, but we all have areas that we haven't delved into and we don't know. And that's where one of the most impactful things about social media, I personally think, like the Twitter and the LinkedIn and so on, is that you can follow and learn from people from all different backgrounds without ever having to meet someone. You can click a button and that person's perspectives are in your newsfeed, in your timeline. And that allows you to tap into widening that echo chamber that we all have, myself included. I think it's really key that there are meaningful steps we can take to, I guess, find out what it is that you don't know, follow people that are not like you, follow people from different regions, countries, cities, and so on, to tap to that knowledge.
And what I do think is important, though, is that we take accountability for that. So it's very easy for people to shrug it off and say, "Oh, I just don't know what I don't know." Okay, change that then. Start learning. Because we need to do something meaningful. And the only person that can be accountable for your own learning is, bingo, is yourself. Yeah. Get to it.
Stuart Crainer:
So, where is best practice in this? Which organizations, industries, or countries do you look to and gain inspiration from what they're doing?
Sheree Atcheson:
I think there's lots of different regions that are doing really, really great things. I think, first and foremost, when legislation and governments, for example, take this seriously, businesses take it seriously. So, for example, in Sweden, when there is legislation around reporting and around gender equality, et cetera, there is a significant difference in the expectation, then, of the companies that are in those regions and the level that they must work to. And I think when we start to see those kinds of things coming in…
So, for example, the UK, we have gender pay gap reporting with a strong push on people to do ethnicity pay gap and a large ask for that to be made mandatory, as well, over a certain size of business. We see the shift in change because you can't shirk responsibility. And I think that plays a really, really big role here because it means that we're able to make sure that, actually, we're all held to account and we work to those goals. I think at the minute, it's very easy to opt in and opt out in many, many regions, and that's obviously a problem. I think there are some organizations doing great work.
Transparency for me is always really, really important. And any of the organizations that I worked at, if you read the diversity and inclusion reports that I've put out, they're really open and honest, and I think when organizations do that, it's really, really, key. Because, actually, just sharing the nice successes or the wins that you've had around flagship events is one thing, but I want to know what you're trying to do better. And we've seen big organizations like Netflix and so on stepping into that area, as well, and I think when organizations like that do something, everybody else listens. We've just seen Deloitte a few months ago recognizing that in the UK and all of their employees can work wherever they want. They don't ever have to come into the office again if they don't want to or need to. And now businesses are copying them. Now the other big four scrambling to match it or do better. So, I think it's important when we recognize, again, the privilege of the weight of a reputation. What you can do with that is incredibly impactful.
Stuart Crainer:
Always amazes me that debate companies and governments have been having. British government has been very keen on people going back to the office, but there's no real evidence that… I mean, what's amazing is that people worked at home and the economy didn't grind to a halt. In fact, their productivity in many cases was more. I mean, people should be judged, it seems obvious to me, and I think it is to many organizations, that people should be judged on the jobs they do rather than where they actually do it.
Sheree Atcheson:
I mean, yeah, absolutely. The first point is being able to work from home is a privilege in itself because many people in essential roles, frontline workers, that's not an option, so for us to be able to do that anyway, for me to be able to be in my nice room that I've set up as my office is a huge amount of privilege. And I think what's key that organizations recognize is that shoving everyone back into an office is not a culture. That's not company culture. That's shoving people into an office to try and monitor how they're working. When, actually, if they're in global, regional, even teams that are in separate floor spaces, they're not working in a way that you think anyway. And what I think is really important is that we recognize that work should not be, if we can, the only dominant force in your life. Work life should pivot together.
When we talk about working from home, what we're talking about now, now that people can have childcare and folks to help with caregiving and so on, we're now getting to the stage where we're not just working from home and there's a pandemic and we're trying to survive and not get sick. We're now getting to the stage where parents, for example, that can work from home can also get childcare, schools are opening again and opened again and so on. So, we're getting more sense of normal working from home now. Now what's key is that if organizations don't appreciate that, actually, like you said, wherever you are, if you can do that job and you can do it well and meet expectations, why do you need to take 30 to one and a half hour commute into a London office to have a Pret sandwich and not see your kids some days a week when you want to put them to sleep? What's the reason there? And there is no reason other than bias.
So, for me, it's really key that people don't do that. And I applaud the organizations that are taking the meaningful steps to not do that. Because, ultimately, what's going to happen is the smart organizations will pivot, move into this, and learn that people want hybrid working, they want to have the option to go in if they want to, and also not if they don't. And those that don't will lose their best talent, and the other companies will simply snap them up very, very quickly.
Des Dearlove:
The risk of being controversial here, I mean, you mentioned gender, the gender pay differences and pay gap. Someone like Jordan Peterson would argue that there is no such thing as the gender pay gap, per se. It's simply that, if you like, women haven't been as good asking for pay raises. Do you give any credence to that sort of argument, or is that just not [inaudible] with you?
Sheree Atcheson:
Yeah. I mean, I'm not sure I would argue or dispute someone like Jordan Peterson, to be honest. I think some people like to be controversial for the sake of controversy. For me, what's very clear is that we understand… And this is the great question by Alexandra, the equity question here yet again. We can see that there is a disparity. What are we going to do about it? Are we going to continue to parrot the same lines over and over again that women are just not good enough or they're just not good enough at asking for more? When, actually, research also shows us when women do ask for more, they get turned down more than men. So, if we have research and data backing this up, either you're going to do something about it or you just want to have soundbites. And I personally would rather do something about it.
Stuart Crainer:
There's some interesting research from Megan Reitz at Ashridge Hult about the rise of the activist employee, which does seem to be a trend. There's quite a lot written about it at the moment. Do you detect that, or is that a work of imagination? I mean, it sounds a good thing to me.
Sheree Atcheson:
Yeah. I think more and more and more, especially since the murder of George Floyd, we have seen employees using that voice and that weight of an employee group, as opposed to just singular people to push for change. We've seen employees stand up and say, "We won't accept this type of treatment or this type of work. We will expect you to make company statements for the different things that are happening in the world." Because, ultimately, you're happy to take money from those groups of people, so you're serving them, you'll have to stand with them. And I think that's a really powerful tool. I think it's really powerful that we have environments where people can start to speak up, be heard, and so on. And I think organizations that try to stop that are losing people.
There was a really prominent example in the tech sphere, and I wrote about it for Thomson Reuters when it happened, was Basecamp, which is software solution in the States with people based in EMEA, et cetera, as well. Co-founders from EMEA. And they ultimately made a no politics rule at work in the middle of everything happening last year, alongside saying, "We don't want to talk about this because it's differentiating people," et cetera. And the clear point here is not talking about politics is a privilege because some of us don't have the option to not care about this stuff. Because if you don't have to care about it, ultimately that means that what's happening in power is okay for you. It's not directly affecting you.
Especially when we think about rights of Black folks and police brutality and transgender rights and so on. And they lost a huge amount of their talent. Huge swaths of people left the business because of that. And I think people are voting with their feet, and that will continue to happen, and I think employees having that ability is a powerful thing. Because at the end of the day, words and action are two different things, and accountability for me is key. And if employees are able to do that, then more power to them.
Des Dearlove:
It seems to me too, though, that part of the issue here is you've got a lot of CEOs and members of boards who are entitled, are very privileged and perhaps… I mean, there's the whole education process probably required there because these people are living quite… They are quite an elite group of people who are running these big corporations. So, by definition, they will have those blind spots and not want to get pulled into that stuff.
Sheree Atcheson:
Yeah. I mean, I think, absolutely, we have imbalance when it comes to leadership demographics and, therefore, a likely imbalance when it comes to understanding perspectives. What I think is really key is that delving into why we have, for example, in certain companies, a huge amount of imbalance in leadership and then doing something about it, will it change overnight? No, because you have leaders in the business. So, actually, what's key here is your succession planning, your hiring perspectives, and also how you support underrepresented talent up through the ranks in your business for the future. And I think that's what I would like people to consider, is that when we are talking about ensuring that we have diversity in the room, we're not just talking about right now, because right now you may have an all White, all men C-suite, et cetera, but actually, what are we talking about in the five years when you're starting to think about changing that dynamic and changing those rooms and the people internally that maybe will move up, as well? It's a much, much bigger conversation.
And for the most part, I do think people are getting it, I do think people are listening, but a big part of diversity and inclusion work has to be the hard truths. Can't just be, "Let's come together as a community and everything's sunshine and rainbows." There has to be hard truths, again, around, "Well, why do you keep hiring people from the same background? Do you understand that you're doing that and the impact that that's having on our business strategy, as well?" Because diversity and inclusion isn't that HR remit, it's a business strategy piece, and so it's really key that those folks understand the implications and the impact of their decision making.
Stuart Crainer:
I think in the 1990s they talked about the war for talent. It's clear now that talent has won. Didem Tekay says, "Creating leadership awareness about biases is so crucial in leading remote hybrid workplaces."
Sheree Atcheson:
Yeah, absolutely. Absolutely true.
Stuart Crainer:
… leadership awareness is at the heart of what you were talking about, Sheree.
Sheree Atcheson:
Yeah, absolutely.
Stuart Crainer:
And Nicole says, "Do you think that women in motherhood are part of the not privileged group in organizations? Seems to me that it's still hard to balance work in motherhood, and organizations don't recognize these issues enough."
Sheree Atcheson:
Yeah. So, I mean, that's what I was talking about with caregiving responsibilities, whether that's children, whether it's parents friends, family, and so on. And working parents and working caregivers is a huge part of understanding privilege and not having privilege. And that's why I talk about the nuance here, because that transcends all of the different things we're talking about in the same way all the other things do. There is no one or zero here and privileged and not privileged. It's actually very, very nuanced.
And what I think is key from an organization perspective is ensuring that your benefits, your policies, and your processes and your promotion rounds, et cetera, how you define those to make sure that they are supportive of, for example, working parents and making sure that there's an appropriate support mechanism in place for people to transition back if they have left to do whatever it might be, having children in whatever way that might be, and come back again. Especially after the impact of the pandemic because, actually, we've seen quite a lot of women leaving the business, having to take up caregiving responsibilities, and then not coming back at all. So, what are we doing about that?
Likewise, we've seen people leaving, and, again, mostly women, leaving businesses, not just for childcare, but looking after elderly parents, sick relatives, and so on, and not coming back. So, what's key is that we've lost a huge amount of talent there and a huge amount of potential leaders and expertise and insights, so we have to make sure we create environments for those people to thrive, as well.
Des Dearlove:
I mean, when you walk into an organization… I mean, I was struck by what you were saying about… Just because you might have all middle aged White men on the board doesn't necessarily mean that there aren't some good things happening coming through. I mean, that would be my, probably, well, as it turns out, very crude and blunt way of looking at an organization. We were talking to someone the other day who was saying, actually, the banks, the big banks are getting better, but then you flick and you look at a photograph of the board and you think, "I'm not so sure they are." But obviously, that is a very crude way of assessing. But do you have any kind of little cues that you look for when you walk into an organization that says, "Ah, this is an organization that's moving in the right direction, or that's a bad sign"?
Sheree Atcheson:
I think I do agree that there's actually a very crude and binary way to assess an entire organization based on board makeup because, one, we know that's a legacy problem and, two, those board seats have been filled, let's say, for quite a few years and also by people that have those expertise pieces. Now, that doesn't mean that they shouldn't have been filled with a more diverse slate of people, but we're in that now that doesn't mean we still can't do something about that. So, I think it's really key that the only metric, and I think one of the downfalls of social media is that it's very easy to automatically pinpoint an organization and say, "Well, they don't care about this because their board is all white." Okay, their board is all White and they need to do something about that. So, I think it's key that that's the part of the conversation.
When I'm looking at organizations of things that I think can help me make it better or that I have something to work with, the first thing is leadership engagement. Are leaders engaged and interested? Are they willing to hold their hands up and say, "Actually, you know what? We messed it up here. We haven't done it well enough. We have this problem in leadership. We have these issues in management and so on. We need to do something about it. The key thing is we don't know what the thing is that we need to do properly and we want to do it right"? That's great because I can fill in that blank, I can do that, but I need to know that you're willing to change how you work.
The second thing is the accountability piece. So, accountability for this work, certainly under for my leadership sits with me, and a whole host of other people as well, and that might be managing directors, it might be the leadership in your different countries, and so on, but that has to be there from the beginning. And I always set that up at the start that I will help you get there, but the accountability for this is still with you as well as me on the outskirts pushing you ahead.
And I think that the third thing is actually when we look at the data. So, even if companies don't have data when I join, I will spend the time to get that data in a timeframe that makes sense. And what's key is I always try to look on the pipeline of underrepresented people, what levels are they at in the more junior grades, mid-year grades, and senior grades? Never define underrepresented globally because it doesn't make sense. Underrepresented is not a global freedom. So, for example, underrepresented in India is not the same as the UK. Obviously, when we're talking of people of color in India, that doesn't make sense. It's not the same conversation. It's very different. Same in Latin America, and so on.
So, actually defining what underrepresented means, say what you mean, like catch phrase, say what you see. Always do that and be very specific about what you mean per region, and then define off of that. And then I will analyze who's moving up the pie pipeline, who isn't, and so on, and define measures. So, being able to see that in ones and zeros is really impactful, but also if organizations are willing to go on that journey, then I know I'm in a good place.
Stuart Crainer:
Tell us about the book, Demanding More. Is that now published by Kogan Page? Recommended by the FT as summer reading, which is a great thing. I can imagine the FT readers lying on the beach, reading Demanding More. Most people bought a dog during the lockdown, but you seemed to write a book. Can you tell us about the genesis of the book, Sheree? It's something you've been looking to do for a long time?
Sheree Atcheson:
I mean, no. I was very privileged. So, I write quite a lot, I write for Forbes a lot, I write for a number of other publications a lot. And Kogan Page reached out to me last year because it'd seen my work and were interested in me having an avenue to expand it, expand that work on privilege, on creating inclusive technologies, and so on. And so, for me, when they reached out to me, I really wanted to write a book maybe later on in my career, not when I was 29. And so, I sat down and I thought about it, and actually, what I wanted to do was one of my biggest bug bears of diversity and inclusion work and books in that space are that they're so heavily aimed at those with business acumen only. Now, my family does not have business acumen. I only have it now because I've had the access to the opportunities that I have. When I wrote it I said to my editors like, "I want to write this book so even my dad, who's like a 67 year old Irish man from rural Ireland, would know why this is relevant to him, as well as someone in the C-suite." That was really important to me.
Because, actually, when we talk about diversity and inclusion, all too often, people hone the conversation into the 9:00 to 5:00 conversation, into the workspace, but it's not about that only, it's about how we exist. And so, I wrote it, yes, during the pandemic. I did not expect that we was going to live through that. And that was before I got a house to live in, so I was living in a flat in London writing from my dining table. But it's been a great experience. I mean, the feedback has been really wonderful. I view it as a toolkit for people to take away and learn from. And also, we have amazing interviews with people like the CEO of Starling Bank and Boden and a number of other senior leaders to share what they're doing, too. So, I really hope people get something from it and can start to demand more on diversity and inclusion in their lives and in their businesses.
Des Dearlove:
Fantastic.
Stuart Crainer:
Yeah. The Starling Bank story is really good.
Sheree Atcheson:
Yeah. It is.
Des Dearlove:
Your positivity is fantastic. Are you optimistic? Are we getting somewhere with this stuff finally?
Sheree Atcheson:
I always say if I do this line of work and I don't be optimistic, it would be a horrible existence. So, I am optimistic because I think, at the end of the day, you've mentioned the employee activist, you've mentioned the different bits and pieces that we're doing more and certainly that I emphasize on data, on accountability, and we've seen organizations step up to the game. We just need them to keep that momentum. So, I am optimistic. I do think things will get better as long as we don't rest on our laurels and only serve our echo chambers.
Stuart Crainer:
Sheree, thank you very much. We're out of time. We recommend you check out, you join the FT readers on the beach reading Sheree Atcheson's book, Demanding More, available now from Kogan Page. And check out Sheree's website, shereeatcheson.com, I think.
Sheree Atcheson:
Correct.
Stuart Crainer:
Sheree, thank you very much. Really interesting insights and providing nuances to an essential debate, I think. And thank you everyone from around the world for joining us live. And next week we'll be joined by Dorie Clark, the author of The Long Game. Thank you, Sheree, and thank you everyone.
Sheree Atcheson:
Thank you very much.