2020 Hall of Fame Inductees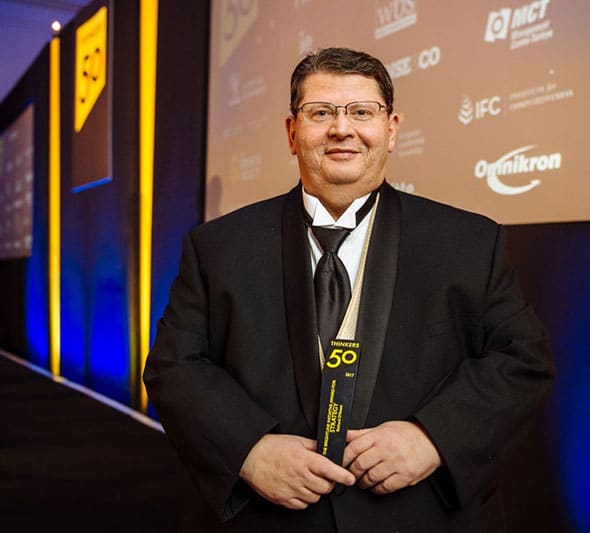 "D'Aveni is the Kissinger of corporate strategy," Adrian Slywotzky, author of The Profit Zone, has observed. "There are few authors with the prescience that D'Aveni has had. Each of his books accurately predicted major shifts in the nature of competition and the economy," says Gary Hamel.  Fortune likened D'Aveni to the ancient master of strategic arts, Sun Tzu, as he advises executives either to be revolutionaries, and or to create order out of the chaos that revolutionaries cause. He also advises government, militaries, and other organizations on how to compete effectively.
Richard A. D'Aveni (continued)
His most recent focus is on how 3D printing will change strategies, firms, markets, and even geopolitics. His book, The Pan-Industrial Revolution: How New Manufacturing Titans Will Transform the World (2018), explains the strategic implications of recent advances in additive manufacturing.
Richard A. D'Aveni is the Bakala Professor of Strategy at Dartmouth's Tuck School of Business. He holds a Ph.D. from Columbia University and a bachelor's degree from Cornell University, as well as a law degree and MBA.
He is a previous winner of the Thinkers50 Strategy Award and has been a fixture on the Thinkers50 ranking of the world's leading management thinkers since its inception in 2001.  D'Aveni's research looks for the winning competitive strategies used by corporations, governments, militaries, and sports teams in conflict. He seeks the fundamental principles of the application of power that transcends time, space, type of rival, and arena of competition.
His first book, Hypercompetition (1994), predicted the evaporation of long term competitive advantages based on barriers to entry and power over buyers, suppliers, and substitutes. It foresaw the demise of national oligopolies, broken up by challengers with temporary advantages in the dynamic economy of the late 1990s and beyond. Next, Strategic Supremacy (2001) predicted that global companies would aim to replace national oligopolies with new global spheres of influence. These spheres of influence would create new forms of barriers to entry. Beating the Commodity Trap (2010) described how spheres of influence in turn would be undermined by commoditization in local markets, and offered a variety of tactical responses.
Strategic Capitalism (2012) looked at the many types of capitalism emerging around the world, especially in China, and foresaw conflicts between some incompatible models. It predicted an economic cold war, including over trade, between the U.S. and China.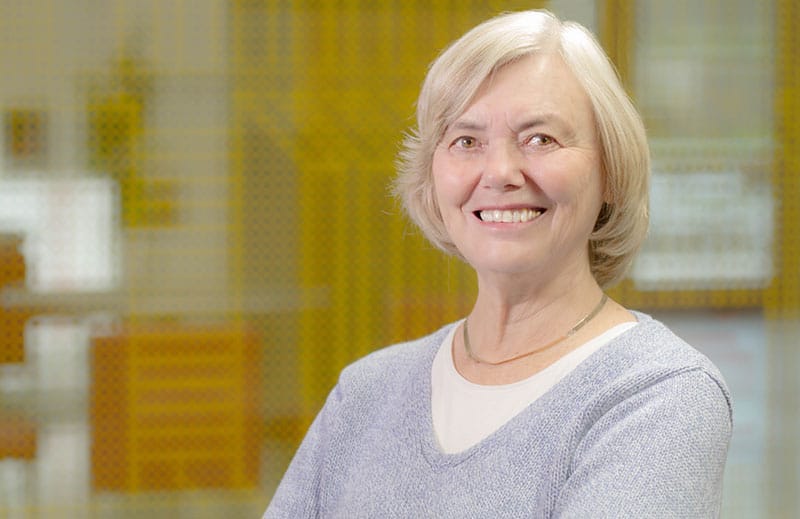 Kathleen Eisenhardt is the Stanford W. Ascherman M.D. Professor at Stanford University's School of Engineering and a faculty member in the Stanford Technology Ventures Program. Her early work centered on how top management teams make fast strategic decisions, engage in conflict, and still get along. She moved on to explore how major corporations organize, and now strategy in high-growth (and profitable) new firms. Her most recent book (with Don Sull) is Simple Rules: How to Survive in a Complex World which explores how simplicity tames complexity in business, life, and nature. She is also co-author (with Shona Brown) of Competing on the Edge: Strategy as Structured Chaos which captures how corporations succeed at the "edge of chaos".
Kathleen Eisenhardt (continued)
"Traditional approaches to strategy are largely static, assuming industry structure is fixed and companies' strategies are set in stone," says Don Sull, a professor at MIT Sloan School of Management and Eisenhardt's co-author. "Kathy has produced a steady stream of fresh insights showing how start-ups and large companies can pursue dynamic strategies to adapt to uncertain markets. Her research is grounded in rigorous research but also deeply practical for both entrepreneurs and corporate leaders." 
Eisenhardt's research, teaching, and consulting focus is strategy and organization, especially in technology-based companies and high-velocity industries. She is currently studying the use of "simple rules" heuristics, strategic interaction in new markets and ecosystems, strategy making in marketplaces, and designing business models that scale. She actively advises both PhD students and corporate executives.
On the origins of her work on simple rules, Eisenhardt and co-author Don Sull explained: "To shape their high-level strategies, companies like Intel and Cisco relied not on complicated frameworks but on simple rules of thumb. This was true even though they were in extraordinarily complex, challenging, and fast-moving industries. The rules were not only simple, we found, but quite specific. Typically, managers had identified one critical process—making acquisitions, for example, or allocating capital—where a bottleneck impeded growth, and then crafted a handful of guidelines to manage that process."  She often uses multi-case theory building methods to probe deeply inside firms, and more recently machine learning for theory building to capture large-scale pattern recognition.
Eisenhardt holds multiple honorary degrees and awards for scholarly contributions. She received her B.S. in Mechanical Engineering from Brown University, holds an M.S. in computer science and her Ph.D. is from Stanford's Graduate School of Business.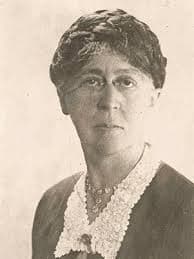 Mary Parker Follett (1868-1933) was born in Quincy, Massachusetts. She attended Thayer Academy and the Society for the Collegiate Instruction of Women in Cambridge, Massachusetts (now part of Harvard University). She also studied at Newnham College, Cambridge in the UK and in Paris.  Her first published work was The Speaker of the House of Representatives (1896) which she wrote while still a student.   
Mary Parker Follett (continued)
Follett's career was largely spent in social work though her books appeared regularly — The New State (1918), an influential description of Follett's brand of dynamic democracy, and Creative Experience (1924), Follett's first business-oriented book.  In her later years she was in great demand as a lecturer.  After the death of a long-time partner, Isobel Briggs in 1926, she moved to London.
Generally ignored, Follett was decades ahead of her time.  She was discussing issues such as teamworking and responsibility in the first decades of the twentieth century.  The breadth and humanity of her work was a refreshing counter to the dehumanized visions of Taylor and others.  The simple thrust of Follett's thinking was that people were central to any business activity — or, indeed, to any other activity.  In particular, she explored conflict.  She argued that as conflict is a fact of life "we should, I think, use it to work for us".  Follett pointed out three ways of dealing with confrontation: domination, compromise or integration.  The latter, she concluded, is the only positive way forward. 
Follett's views were a large step beyond those of Elton Mayo and the Hawthorne investigators.  While Mayo offered a humanistic view of the workplace, it was still one which assumed that the behavior of workers was dictated by the "logic of sentiment" while that of the bosses was by the "logic of cost and efficiency". 
There was also a modern ring to Follett's advice on leadership though she was concerned that the actual term leadership was unhelpful – it smacked of dictatorship, being told what to do.  Her vision of leadership was of "reciprocal leadership", "a partnership in following, of following the invisible leader–the common purpose".  In addition, Follett was an early advocate of management training and that leadership could be taught. 
Follett's work was largely neglected in the West.  Peter Drucker recalled that when he was seeking out management literature in the 1940s no-one even mentioned her name.  Once again, however, a Western thinker was honored in Japan which even boasts a Follett Society.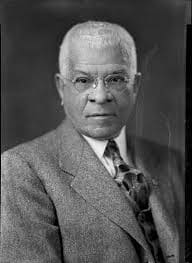 Charles Clinton Spaulding
Charles Clinton Spaulding (1874–1952) was an African-American business leader. He was both a practitioner and a considered thinker on the nature of management and business.  His insights on management practice pre-date the first English translation of General and Industrial Management written by Henri Fayol who is lauded as one of the earliest purveyors of a coherent philosophy of management.
Charles Clinton Spaulding (continued)
In practice Spaulding managed the North Carolina Mutual Life Insurance Company for over fifty years (1900-1952).  It became America's largest Black-owned business, with assets of over $40 million when he died.
"C. C. Spaulding was an exceptional business pioneer and transformative management guru whose insightful thought leadership and practical expertise, along with his people-oriented values, render him worthy of the title Father of African American Management and membership of the Thinkers50 Hall of Fame. He was a business pioneer who overcame the odds to become one of the most successful Black business executives in the early twentieth century," say Leon Prieto and Simone Phipps, authors of African American Management History: Insights on Gaining a Cooperative Advantage.  "Spaulding's contributions were significant, from his insight regarding the fundamental necessities for the effective management of a business and the cardinal points of entrepreneurship, to his management style and implementation of practices which reflected his recognition of the importance of transformational leadership, employee development, diversity, corporate social responsibility and a strong positive culture for the successful management of an enterprise."
Spaulding's 1927 article "The administration of big business" provides his considered and comprehensive take on the nature of management.  He sets down professional standards for managers which foreshadow the later professionalization of management through Alfred P. Sloan and others. Spaulding champions the role of co-operation—"thorough-going co-operation is essential on the part of the executives in the development of big business. What I mean by co-operation is: a complete unity in matters of policy and a thorough knowledge of all of the details of management in the various departments."  There should, he contends be a familial spirit among managers—"the executives of an organization are a family and that family should be as well organized and as well protected as any natural family in the community."
Spaulding concludes: "The chief problem of big business is the problem of contact. The problem of contact is the chief problem of human intercourse. Personal contact, business contact, if not properly directed and if not based on mutual goodwill and intelligence derived from a common sense education, will develop personal conflict and business conflict instead of personal co-operation and business co-operation."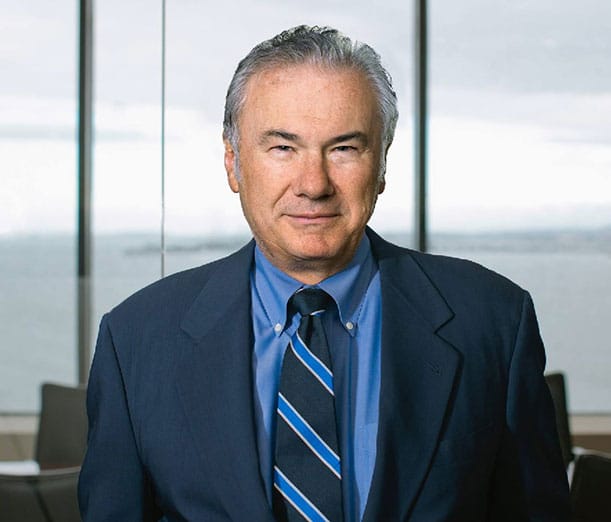 A native of New Zealand, David J. Teece is an academic, consultant and entrepreneur.  He is the Thomas W. Tusher Professor in Global Business and director of the Tusher Initiative for the Management of Intellectual Capital at the Haas School of Business at the University of California, Berkeley. He is also a member of the board of overseers for the faculty of arts and sciences at the University of Pennsylvania. Teece has a PhD in economics from the University of Pennsylvania and has held teaching and research positions at Stanford University and Oxford University.
Teece has over thirty years of experience as a consultant to businesses and governments around the world.  In 2010 he co-founded the Berkeley Research Group, an expert services and consulting firm of leading professionals with expertise in domains ranging from economics to healthcare to corporate finance. BRG has 40 offices and more than 1,300 employees. Teece also co-founded and took public two other professional services firms. He is an advisor to CEOs, and an investor in startups, and a coach and lecturer through the Legacy Academy and the Berkeley Executive Institute.
He has authored over 30 books and 200 scholarly papers. He is co-editor of the Palgrave Encyclopedia of Strategic Management and of Industrial and Corporate Change. 
Teece pioneered the dynamic capabilities  perspective, defined as "the ability to integrate, build, and reconfigure internal and external competencies to address rapidly changing environments." Dynamic capabilities can be distinguished from operational capabilities, which pertain to the current operations of an organization. The assumption of the dynamic capabilities framework is that core competencies should be used to modify short-term competitive positions that can be used to build longer-term competitive advantage. According to Science Watch, Teece's paper (with Gary Pisano and Amy Shuen) "Dynamic Capabilities and Strategic Management" was the most cited paper in economics and business globally for the period from 1995 to 2005.
He has also created what has come to be known as the "profiting from innovation" framework, sometimes knows as the "Teece model" that predicts whether the pioneer will likely win in the innovative game or whether followers with relevant complementary assets are likely to eclipse the innovator.  He is also known for his work on business models, business strategy, and technical innovation.
Teece describes himself as a scholar-entrepreneur, explaining: "Being both reflective and a doer might seem like an oxymoron, but it is not. Doing, and doing the right thing, are different activities and require different skills.  The competent scholar-entrepreneur has a chance to be reflective while doing the right things, the things that produce positive results in the market-place and yield social value. This quest to be both reflective and entrepreneurial, hopefully employing practical wisdom, has animated my activities."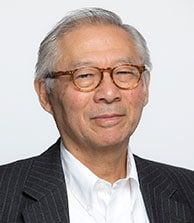 George S. Yip is Emeritus Professor of Marketing and Strategy at Imperial College Business School where he was also Associate Dean for Executive Programmes. He is also currently Distinguished Visiting Professor at the D'Amore-McKim School of Business, Northeastern University.
George S. Yip (continued)
His key research concerns are how, in the era of globalization, companies can no longer develop strategies on a country-by-country basis but need to develop globally integrated strategies that leverage industry globalization drivers. He has extended this approach to the challenging issue of how multinational companies can run global account management programs. He now focuses on how China is moving from imitation to innovation and what Western companies can learn from this new phenomenon.
Yip grew up in Hong Kong, Burma and England and has forged a uniquely global career combined with a prolific output of articles and books.  He was Professor of Strategy and Co-Director of the Centre on China Innovation at China Europe International Business School; Dean of Rotterdam School of Management, Erasmus University; Beckwith Professor of Marketing and Strategy at Cambridge Judge; Professor and Associate Dean at London Business School; and Lead Senior Fellow of the UK's Advanced Institute of Management Research, as well as positions at Harvard Business School, Georgetown and UCLA.
He has also been a vice president and Director of Research & Innovation at Capgemini Consulting, a senior manager at Price Waterhouse and a manager at Unilever. "I started working at Unilever and then did my MBA. During my very first class in the MBA, I felt a desire to be on the other side," says Yip. "I feel that my experience in both the academic and private business sector has been a major advantage; as Dean, I got to apply strategic concepts which is my main area of research anyway, while doing the job. That is how I helped get RSM as a school to the number six rank in Europe and London Business School's MBA  to number one in the world."
His latest work champions the concept of "organizational intelligence" -- "OQ, as we'll call it, consists of five competencies: sending
messages that reinforce strategy, fostering an ethos, using 'action strategy', rebelling from the top, and staging moments of theater."
Yip is the author or co-author of Pioneers, Hidden Champions, Change Makers and Underdogs: Lessons From China's Innovators (2019), China's Next Strategic Advantage: From Imitation to Innovation (2016), Strategic Transformation (2013), Managing Global Customers (2007), Asian Advantage: Key Strategies for Winning in the Asia-Pacific Region (1998), Total Global Strategy (1992 and 2012) and Barriers to Entry (1982).
He is also an education and arts benefactor, having endowed two visiting fellowships at Magdalene College, Cambridge, where he was an undergraduate, then a Fellow; made donations in the memories of a former headmaster and housemaster at Dover College; and now serves on boards of opera and theater companies in Boston.
More Hall of Fame Inductees