Government Reimagined
Leading Through New Realities
The traditional model of government is no longer fit for purpose. A new approach is required.
Government can no longer be isolated from the increasingly volatile ecosystem in which it operates. Government Reimagined explores a more synergistic model for an effective government and addresses the new realities of public leadership. With contributions from former presidents, prime ministers and senior government ministers, internationally renowned expert Dr Ali Qassim Jawad takes the reader on a transformative journey to the future of government.
Rich with real life examples, case studies and guidance, this ground-breaking book will inspire you to action.
Transforming Beyond the Crisis
What Organizations Need to Do Now to Seize Tomorrow
The Covid-19 pandemic reminded us how fragile our societies, businesses, and our lives are. It turned things upside down in a matter of weeks. Today, the question is what do you need to do now to seize tomorrow? Transforming Beyond the Crisis is a new book by Brightline Initiative and Thinkers50 and brings a unique compilation of the best thinking from the world's leading business thinkers and practitioners. They share their groundbreaking ideas, global experience and valuable insights. It provides lessons learned, practical tools, and inspiration to guide leaders through the current crisis and carry forward their transformation agenda.
Ecosystems Inc.
Understanding, harnessing and developing organizational ecosystems
Insights from the world's leading thinkers and practitioners.
Organizations were once linear and one dimensional. No more. The modern organization exists in a multi-dimensional ecosystem sustained by a potent combination of trust, technology and management. Think of Amazon, Alibaba, WeWork, Tencent and Uber. In Ecosystems Inc. some of the world's leading management thinkers make sense of what it takes to understand, harness and develop organizational ecosystems.
Looking Ahead: The Sustainable Global Agenda
Our oceans and forests are home to many diverse ecosystems that support the livelihoods of billions of people. Metals, minerals, and energy provide us with the raw materials to create entire industries, from transport to healthcare. This, in addition to labour and innovation has spurred a series of technological revolutions and driven unprecedented global economic growth, lifting millions out of poverty. But the strain on the earth's resources is increasing. So how do we create the thriving cities of tomorrow? How do we drive social and economic progress for all? How do we tackle climate change? Looking Ahead: The Sustainable Global Agenda examines key global developments, challenges and opportunities, presenting data-driven evidence in creative graphics. It is essential reading for anyone interested in the United Nations' Sustainable Development Goals.
The Chief Strategy Officer Playbook
How to Transform Strategies Into Great Results

The cSO Playbook showcases some of the very best thinkers and business leaders in the field of strategy implementation and beyond. Thinkers50 ranked and award-winning thinkers are featured including Anil Gupta, Haiyan Wang, Rita McGrath, Antonio Nieto Rodriguez, Alessandro Di Fiore and Julian Birkinshaw. The result is a unique and compelling collection of valuable experiences, research and insights and recommendations to help transform strategies into great results.
Download EPub Version
(best format for reading on iPads, iPhones, Kobos and all Android-based gadgets)
Mobi Version
(for Kindle readers/tablets and PCs running the Kindle app)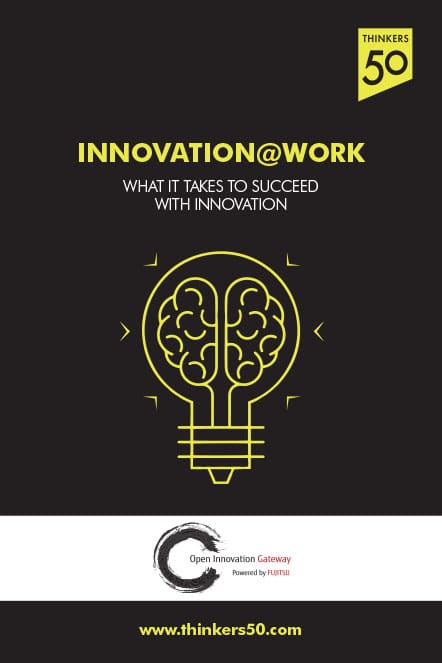 Innovation@Work
What it takes to succeed with Innovation

Innovation is where the worlds of business and creativity meet to create new value. It really is as simple as that. Indeed, one definition of innovation is "the creation of new value."
Innovation@Work is a smorgasbord of ideas and insights on innovation. We are delighted to partner with Fujitsu's Open Innovation Gateway (OIG) in bringing Innovation@Work to the world. OIG describes itself as a gateway to growth, truly contributing to our new understanding of innovation as something built on sharing, collaboration, exploration and openness. Fujitsu has also been the sponsor of the Thinkers50 Innovation Award since its inception. So far, the award has been given to Clay Christensen, Linda Hill, Navi Radjou and Scott Anthony – all of whom are featured in Innovation@Work. Opening up to innovation is the way forward.
Join us!
Strategy@Work
A Brightline and Thinkers50 collaboration bringing together the very best thinking and insights in the field of strategy and beyond.
If you ask a manager what excites them about their job, what gets them out of bed in the morning, what provides meaning to their work, their answers tend to be similar no matter where they are in the world, who they work for or what their job is. Distilled to three words it is: Getting things done. Strategy@Work showcases some of the very best thinkers in the field of strategy and beyond. We hope that it acts as a catalyst for readers to get things done.
Dear CEO

This collection of specially-commissioned letters offers clear, calming and concise advice from across the spectrum of current leadership thinking. Written by respected business thinkers around the world, these 50 letters provide guidance, wisdom and personal insight into the particular challenges facing the business world today and anyone in a senior position. Contributors include high-profile names such as Tom Peters, who stresses the importance of focussing on the people within an organization; Liz Mellon, who writes to her CEO about gender equality in the workplace; Chris Zook, explaining how a change of mentality can lead to exponential growth; and Linda Brimm, who discusses managing global cosmopolitans and a modern workforce. Listen to the City A.M. Unregulated Podcast with Des Dearlove on Dear CEO.
Haier Purpose

In 1984 Zhang Ruimin took over as Director of the Qingdao Refrigerator Factory. The small collectively-owned factory was losing money. Others had tried to turn the venture around and failed. Money had to be borrowed to pay wages and products often had to be repaired before leaving the factory.
Since then Zhang Ruimin and Haier have cut an impressive swathe through business orthodoxy. Their experiments and innovations in management are unique in their scale. Today, Haier has 75,000 employees and annual revenues of over $32 billion. In 2016 Haier bought GE's appliances business in the US for $5.4 billion. This year Zhang Ruimin was identified by Fortune as one of the World's Greatest Leaders.
Now, for the first time, the inside story of the company's rise and its revolutionary approach to management and leadership is told by Hu Yong and Hao Yazhou in Haier Purpose.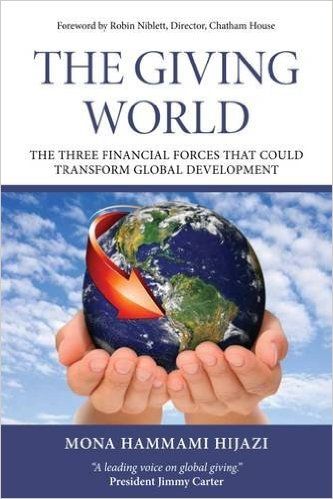 The Giving World: The Three Financial Forces That Could Transform Global Development 
The developing world faces many significant social and economic challenges. These include tackling poverty and disease, reducing crime, and creating the infrastructure and security needed to foster economic prosperity and create jobs. Governments around the world currently provide some $135 billion in international aid. But this is not enough. Many parts of the world also rely on the goodwill and financial support of charitable organizations and private individuals. Two other types of international giving are significant: international philanthropy; and money sent home by migrant workers as remittances. All together government aid, philanthropy and remittances add up to a staggering $350 billion a year. Yet, at present, these huge sums of money are underutilized; they are wasted or fall far short of their potential maximum impact.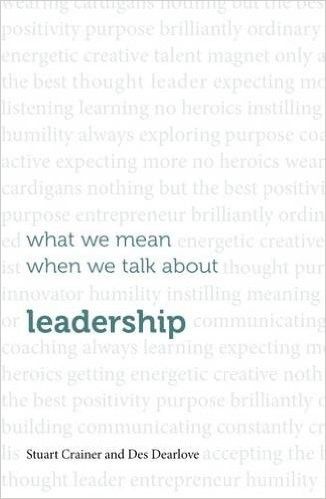 What We Mean When We Talk About Leadership
In their newest title, Des Dearlove and Stuart Crainer capture the extraordinariness as well as the ordinariness of great leaders. In What We Mean When We Talk About Leadership you will discover: how leaders build things, the behaviours of great leaders, how leaders thrive on ambiguity, and – why great leaders wear cardigans.
This entertaining and lively book presents a vision of leadership illuminated by conversations with entrepreneurs, management thinkers, CEOs of global businesses, and leading sports stars.
Thinkers50 Future of Business books series
The Thinkers50 Future of Business books series delivers compact and distilled wisdom from the world's leading management thinkers and showcases the ideas that are changing business today.
The titles Innovation, Leadership, Management & Strategy are available as an e-book bundle.