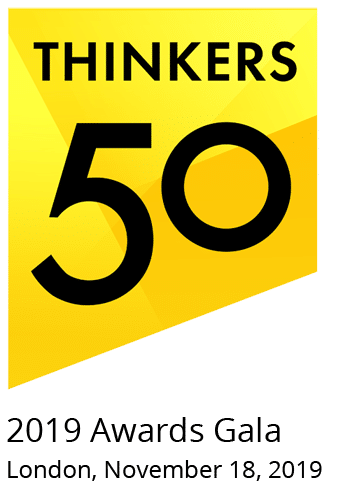 THE THINKERS50 GALA
A biennial gathering of the leading management thinkers of our era. Be a part of this unique opportunity – meet, mingle, and be inspired at what may be the most important ideas exchange in the business and management world.
The next Thinkers50 Gala will be held at London's Guildhall on Tuesday 16 November 2021, featuring announcement of our 11th biennial ranking of management thinkers. Save the date!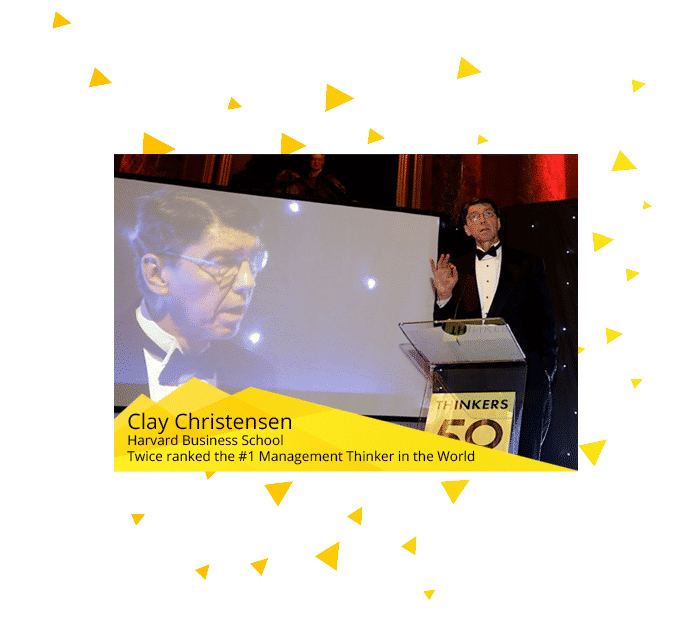 THINKERS50 2019
Every two years, Thinkers50 hosts a unique event in central London – a gathering of great business minds for a day of ideas, debate, and networking, followed by an elegant evening celebrating the very best in management thinking.
Highlights of this gala event, dubbed "The Oscars of Management Thinking" by the Financial Times included:
Announcement of the new Thinkers50 ranking of the world's leading management thinkers, and presentation of the coveted trophy for the #1 ranked thinker for 2019. The Thinkers50 Ranking is widely considered the most influential ranking of its kind.
Announcement of the winners of the Thinkers50 Distinguished Achievement Awards. For 2019 the awards were:

Breakthrough Idea Award
Digital Thinking Award
Ideas into Practice Award
Innovation Award
Leadership Award

Marshall Goldsmith Award for Coaching & Mentoring
Radar Award
Strategy Award
Talent Award

Shortlists for the 2019 Awards are here
"Who knew management gurus could be so noisy – or so emotional? Gather business academics together in one place and they are more likely to exchange views on core competences or quietly debate the legacy of Peter Drucker. Put them in a banqueting hall and offer them the chance to win an award, though, and they go as mad as a group of middle managers at the Regional Salesperson of the Year gala luncheon!"
– Andrew Hill, Financial Times
Mohi Ahmed, Fujitsu Open Innovation Gateway
Simone Bhan Ahuja, author Disrupt It Yourself
Scott Anthony, Innosight
Steven Baert, Novartis
Marco Bertini, ESADE
Julian Birkinshaw, London Business School
Randall T. (Randy) Black, PMI Chairman
Rachel Botsman, author Who Can You Trust?
Tiffani Bova, author Growth IQ
Peter Bregman, author Leading with Emotional Courage
David Burkus, author Under New Management
Christian Busch, LSE
Dan Cable, London Business School
Gabriella Cacciotti, Warwick Business School
Ron Carucci, managing partner Navalent
Subir Chowdhury, CEO, ASI Consulting
Dorie Clark, author Reinventing You
David Cobb, CEO, Oceanova
Alisa Cohn, coach
Stuart Crainer, co-founder Thinkers50
Richard D'Aveni, Tuck School of Business, Dartmouth College
Des Dearlove, co-founder Thinkers50
Jos de Blok, Founder & CEO Buurtzorg
Jim Detert, Darden
Sir Chris Deverell
Frank Dillon, Editor, Decision
Karen Dillon, co-author The Prosperity Paradox
Sameer Dua, Institute for Generative Leadership, India
Jeff Dyer, co-author The Innovator's DNA
Alessandro Di Fiore, ECSI Consulting
Amy Edmondson, Harvard Business School
Mark Esposito, author The AI Republic
Tasha Eurich, author Insight
Peter Fisk, author Change Makers
Karolin Frankenberger, University of St Gallen
Stew Friedman, Wharton School
Nathan Furr, Insead
Steve Goldbach, Deloitte
Marshall Goldsmith, author Triggers
Soulaima Gourani, co-founder womenreignite.com
VJ Govindarajan, Tuck School of Business, Dartmouth College
Hal Gregersen, MIT
Anil Gupta, Smith School of Business, University of Maryland
Didem Gurcuoglu, MCT, Turkey
Jeremy Heimans, New Power
Marga Hoek, author Trillion Dollar Shift
Raymond Hofmann
Herminia Ibarra, London Business School
Adi Ignatius, Editor, Harvard Business Review
Anders Indset, author Wild Knowledge
Santiago Iniguez, Dean, IE University
Kriti Jain, IE Business School
His Excellency Ali Jawad, Oman Business Forum
Whitney Johnson, author Disrupt Yourself
Rosabeth Moss Kanter, Harvard Business School
Amit Kapoor, Institute for Competitiveness, India
Carol Kauffman, Institute of Coaching
Perry Keenan, Boston Consulting Group.
Oleg Konovalov, author, Corporate Superpower
Kaihan Krippendorff, founder Outthinker
Ben Laker, National Centre for Leadership & Management
Curtis Lefrandt, coauthor The Innovator's DNA
Alexandra Levit, author Humanity Works
David Lewis, London Business School
Martin Lindstrom, author Small Data
Carsten Linz, SAP
Rita McGrath, Columbia Business School
Roger Martin, Rotman School of Management
Erin Meyer, Insead
Joost Minnaar, Corporate Rebels
Magdalena Mook, International Coach Federation
Karl Moore, McGill University
Pim de Morree, Corporate Rebels
Leena Nair, Chief HR Officer, Unilever
David Nour, author Co-Create
Alex Osterwalder, Strategyzer
Gianpiero Petriglieri, Insead
Jennifer Petriglieri, Insead
Yves Pigneur, University of Lausanne
Gary Pisano, Harvard Business School
Dan Pontefract, author The Purpose Effect
Deepa Prahalad, author Predictable Magic
Aneeta Rattan, London Business School
Alf Rehn, University of Southern Denmark
Megan Reitz, Hult Ashridge Business School
Alison Reynolds, Hult Ashridge Business School
Antonio Nieto Rodriguez, author The Project Revolution
Johan Roos, Chief Academic Officer, Hult Business School
Fabrizio Salvador, IE Business School
Sanyin Siang, Duke CE
Hermann Simon, Simon Kucher & Partners
Michael Bungay Stanier, author The Coaching Habit
Wilko Stark, Daimler AG
Danny Stern, Stern Strategy Group
Henry Stewart, CEO, Happy
Tejas Sura, PMI Board of Directors
Behnam Tabrizi, Stanford Business School
Yoshi Takashige, vice president, Fujitsu
Don Tapscott, Blockchain Research Institute
Olivier Terree, CrossKnowledge
Nicole Torres, Harvard Business Review
Geoff Tuff, Deloitte
Ruchika Tulshyan, author The Diversity Advantage
Ricardo Vargas, The Brightline Initiative
Tendayi Viki, Strategyzer
Haiyan Wang, China India Institute
Amy Webb, Future Today Institute
Ania Wieckowski, Executive Editor, Harvard Business Review
Cali Yost, Flex+Strategy group
Chris Zook, author The Founder's Mentality
I was lucky enough to be honored by the Thinkers 50 last year with their lifetime achievement award. If the phrase "time of my life" had not been invented, I would have invented it on the spot. First the turnout: "Everybody was there" is only the slightest exaggeration. Stars in my field whose work I had admired and used for decades, most of whom I'd never met "F2F," were present–by the dozen. My head was literally twirling from one old/new colleague to another…
Read the full Letter from Tom Peters
It's the Oscars of Management Thinking. Period. Exclamation point.
I want to thank Des and Stuart for creating this whole movement that Thinkers50 represents. As they have said, ideas truly do change the world. I have seen that with my own eyes all throughout my career. I also believe that management thinking unlocks value in every field, not just business.
I love the Thinkers50. And the reason is increasingly in the world of business academics the enforced culture is to speak exclusively to other academics. Thinkers50 rewards business academics and other business thinkers for speaking to the world of practitioners. We need more of that. Without Thinkers50 the academic/practitioner imbalance would be much greater so it plays a very important role.
What excites me about Thinkers50? It is a group looking for new approaches and celebrating the novel, the ways we are pushing forward the leading edge of our organizations today. We spend more of our time in our companies than anywhere else in our lives. If we can find better approaches to managing these organizations, that's going to change lives and ultimately change the world. Organizations are the most powerful force on this planet and if we can manage them better we can do a lot of good in the world. Organizations like this that are pushing that edge and celebrating advances inspire me.
If a tree falls in the forest and no one hears it, does it make a sound? If we have ideas, but no one uses them or finds value in them, do they matter? Thinkers50 is a validation that ideas are at least heard by and maybe help others.
HISTORIC VENUE
For 2019, Thinkers50 once again took up residence at the iconic De Vere Grand Connaught Rooms, Covent Garden, central London. Dating back to 1775, this historic building was once home to the original Freemason's Tavern and, since becoming a hotel in 1909, has hosted the world's leading politicians, royalty, and celebrities. With grand Georgian architecture, ornate ceilings, and art deco interiors, the De Vere Grand Connaught Rooms was an exceptional venue for the Thinkers50 gala event, in the heart of London's West End.
Hotels recommended by the DeVere Grand Connaught Rooms include:
MEDIA COVERAGE
Thinkers50 attracts media coverage from throughout the world. Journalists from China, Korea, Germany, France, the US and the UK attend our events. Among many others, the ranking and awards have been featured by:
BBC, UK
Business Insider, US
China Daily, China
China National TV News, China
Chosun Biz, Korea
Conference Board Review, US
Executive Excellence, Spain
The Economist, UK
Financial Times, UK
Forbes, US
Globe & Mail, Canada
Harvard Business Review, China
Harvard Business Review, US
Les Echos, France
Manager Seminare, Germany
Smart Manager, India
The Times of India, India
The Times, UK
Vedomosti, Russia
The Wall Street Journal, US
Washington Post, US
DRESS
Daytime events require business attire. The Thinkers50 Gala in the evening is a formal event.