Thinkers50 2021
Distinguished Achievement Awards
Identifying, ranking, and recognizing the very best in management thinking
About the Shortlists
Every two years we announce the shortlists for the Thinkers50 Distinguished Achievement Awards.  The shortlists identify eight thinkers in each of our award categories who have made an exceptional contribution over the last two years.
Every time we go through this process we are amazed at the sheer range of brilliant ideas, thinking and best practice which is out in the world. It is simply a matter of uncovering the individuals and organizations and celebrating their brilliance!
And we think there are brilliant thinkers aplenty in our 2021 shortlists.  As always, they are a truly global mix.
Our belief at Thinkers50 has always been that ideas can – and must be – a force for good in the world.  Fresh thinking drives the world forward and allows us to tackle some of the huge problems we now face.  Early in the development of Thinkers50 we were inspired by the late CK Prahalad.  CK's book The Fortune at the Bottom of the Pyramid brought his considerable intellect to bear on an apparently intractable problem.  It changed perceptions and created opportunities for some of the poorest people on earth.
We believe that CK's inspiration connects with many of the shortlisted thinkers of 2021. They are activists who want to make the world a better place whether that is through better understanding of technology, improving the quality of leadership in organizations, or broadening understanding of exciting concepts such as cooperative advantage.  They are the thinkers the future demands.
We hope you take this as an invitation to learn more about the people we are celebrating in the 2021 Thinkers50 Distinguished Achievement Awards.
Stuart Crainer and Des Dearlove,
Thinkers50 co-founders

2021 Distinguished Achievement Awards Shortlisted Nominees
One new shortlist will be released every Monday until all ten have been announced.
Leadership Shortlist
Teams, corporations, and organisations of every kind demand and require leadership. Yet the nature of leadership and how we understand the role of the leader is constantly evolving and being reappraised. The T50 Leadership Award acknowledges thinkers who shed powerful and original new light onto this perennial and yet classic subject.
Todd Cherches
Kirstin Ferguson
Frances Frei & Anne Morriss
Steve Goldbach & Geoff Tuff
Morela Hernandez
Hubert Joly
Oleg Konovalov
Alyson Meister, Brianna Caza & Wei Zheng
Radar Shortlist
The T50 Radar Award will identify the new thinker who has emerged over the last two years with the potential to change the world of theory and practice.
Ruth Gotian
Laura Huang
Jackson Lu
Nina Montgomery
Kaisa Snellman
Dashun Wang
Thomas Wedell-Wedellsborg
Kai D. Wright
Digital Thinking Shortlist
Digital technology has transformed the world. It has also changed the way we work and even the way we understand ourselves as human beings. Which thinker's research and insights shed the most original and valuable light on the new digital reality of business? The T50 Digital Thinking Award celebrates the thinker who has done the most to transform the digital revolution into useful management insights.
Sinan Aral
Matt Beane
François Candelon
David De Cremer
Kate Darling
Erica Dhawan
Ashley Galina Dudarenok
Amy Webb
Talent Shortlist
in partnership with Executive Networks
In ancient Greece the talent was a unit of currency. Today, human talent has become the global currency, with organisations competing for the very best people from around the world. With changing attitudes toward work and new generations entering the workforce, the challenge now is to better understand how talented individuals work best and how they can be effectively trained, attracted, motivated and employed. The T50 Talent Award recognises the thinker who has done the most to advance our understanding of the changing talent landscape.
Sheree Atcheson
Dorie Clark
Erin Meyer & Reed Hastings
Tsedal Neeley
Lindsey Pollak
Laura Morgan Roberts
Michelle Weise
Ben Whitter
Breakthrough Idea Shortlist
dedicated to the legacy of CK Prahalad
The T50 Breakthrough Idea Award celebrates a eureka moment in management thinking. It is given to a thinker whose radical ideas and insights have the potential to change the way we think about business forever. From Taylorism to The Fortune at the Bottom of the Pyramid, new ideas have challenged what we know about the business world. Where will the next management breakthrough come from?
Elizabeth Altman for Ecosystems in Businesses and Organizations
Todd Bridgman & Stephen Cummings for Sustainable Management
Leon Prieto & Simone Phipps for Cooperative Advantage
Navi Radjou for Conscious Business
Megan Reitz & John Higgins for Employee Activism
Christian Sarkar for The Wicked 7
Sandra J. Sucher & Shalene Gupta for The Power of Trust
Andrew Winston & Paul Polman for Net Positive
Innovation Shortlist
in partnership with Fujitsu
If necessity is the mother of invention, then innovation is its nurturing father. The word innovate comes from the Latin to "make new." The need for innovation has never been more pressing—in society as well as in organisations. The T50 Innovation Award recognises the thinker who has contributed the most to our understanding of innovation in every sphere over the last two years.
Scott Anthony, Paul Cobban, Natalie Painchaud & Andy Parker
Christian Busch
Rahaf Harfoush
Amantha Imber
Stefanie K. Johnson
David Schonthal & Loran Nordgren
Martin Reeves & Jack Fuller
Tendayi Viki
Strategy Shortlist
in partnership with Brightline
Where are you going and how do you intend to get there? This question lives at the heart of management and leadership. Strategy is arguably the intellectual and inspirational lifeblood of every organisation. The T50 Strategy Award celebrates the very best of strategic thinking. If you were running a corporation, to whom would you turn for strategic advice?
Sangeet Paul Choudary
David Scott Duncan
Margaret Heffernan
Rita McGrath
Katy Milkman
Alex Osterwalder, Yves Pigneur, Fred Etiemble & Alan Smith
Christian Rangen
Christian Stadler, Julia Hautz, Kurt Matzler & Stephan Friedrich Von Den Eichen
Ideas into Practice Shortlist
There is nothing so practical as a great idea. At Thinkers50 we value practical thinking that makes a valuable contribution in the real world. Equally, we admire organisations that are open to new ideas no matter what their source. The T50 Ideas into Practice Award celebrates the individual whose ideas have successfully led organisational change, putting new ideas to work.
NK Chaudhary & Jaipur Rugs for their commitment to values-led growth
Subir Chowdhury for his work in quality and the relationship between literature and leadership
Piyush Gupta and DBS Bank with Robin Speculand for organizational transformation
Dambisa Moyo for How Boards Work
Marlon Parker for RLabs
Louise van Rhyn for Symphonia & Partners for Possibility
Luz Rello Sanchez for her campaigning work as founder of Change Dyslexia
Gabriela Teasdale for the Transformation Begins with Me initiative in Paraguay
Winners to be announced at Thinkers50 Awards Gala 2021
Join us for two days of celebrating 20 years of identifying, ranking, and sharing extraordinary management and business thinking on 15-16 November 2021. Learn more and apply for your tickets.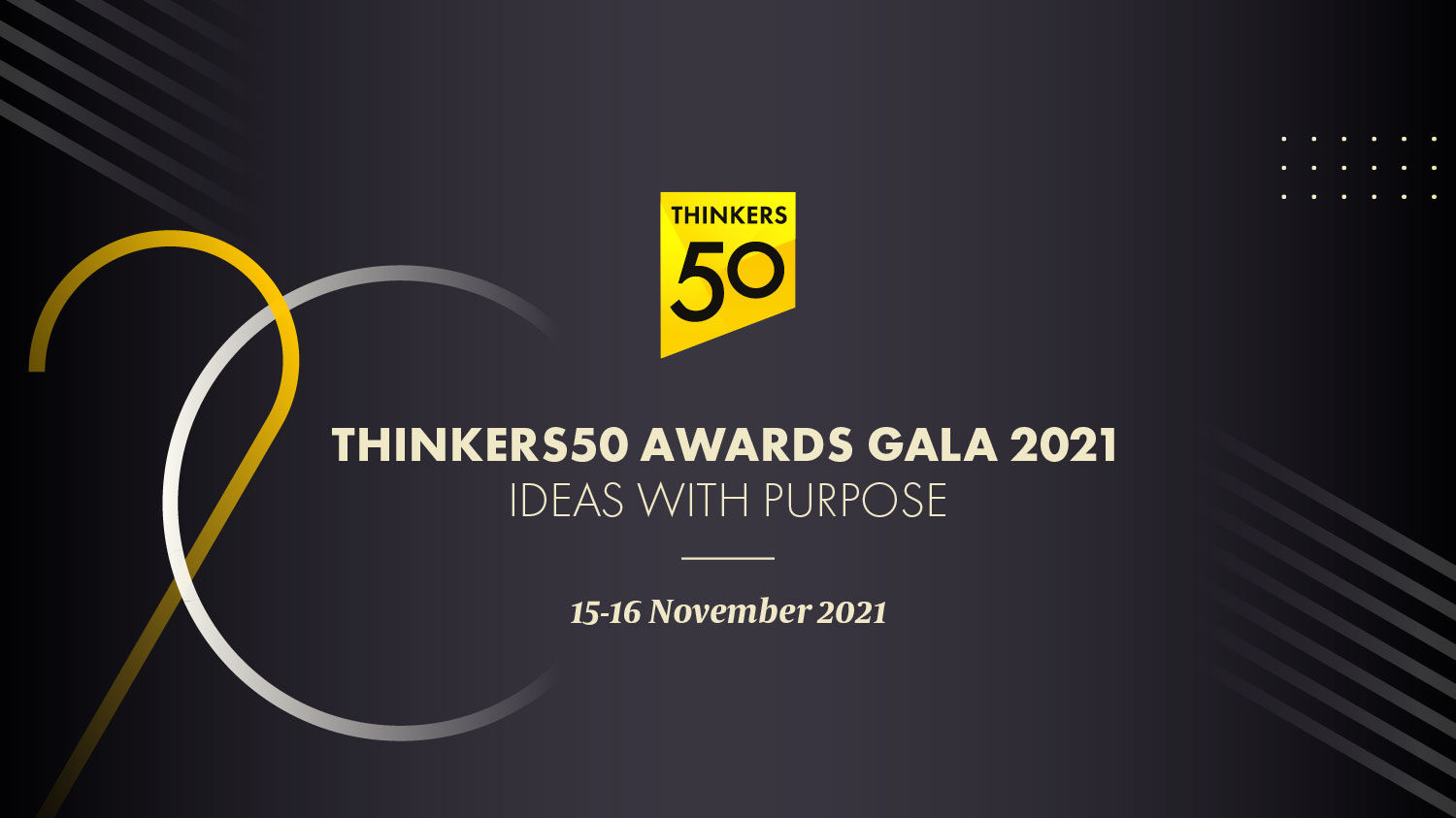 Partnerships
If you would like to explore a potential partnership, we would love to hear from you. Contact Thinkers50 co-founders Stuart and Des.