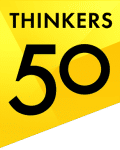 Thinkers50 Awards Gala 2021
IDEAS WITH PURPOSE
15-16 November 2021
Join us this year to celebrate 20 years of identifying, ranking, and sharing extraordinary management and business thinking
About Thinkers50 Awards Gala 2021
This year marks the 20th anniversary of the first ever Thinkers50 Ranking and will see business and management thinkers from around the world sharing two days of ideas, inspiration, and celebration. The anniversary as well as the current disruption caused by the pandemic gave us the opportunity to re-think our biennial event.
Read on to learn more about what we have in store for you this autumn!

Format
This year's Awards Gala is set to be a two-day virtual event,
hosted from our studio in London.
Whether our 20th anniversary celebration could be hybrid or should be completely virtual has been a vexing issue for us. Being natural optimists, we left the hybrid option on the table for as long as we could, hoping that the picture would become clearer and it would be possible to meet safely and celebrate in person. But we always knew we would have to make a hard decision at some point, and, after consulting widely with you, the Thinkers50 community, we have decided that for 2021 the virtual option makes most sense and is the safest and most inclusive way for us to all get together. Obviously we are sad that we cannot welcome you all to London this year of all years, but the great news is that you can join the celebration from anywhere in the world!
Our purpose
Thinkers50 2021 is an opportunity to recognise the very best in management thinking. It is also your chance to participate in a curated conversation with your fellow Thinkers50 community members to shape a more humane and sustainable future for the world – and make a difference through ideas with purpose.
Curated audience
To guarantee the intimacy and exclusivity you have come to expect from what the Financial Times describes as the "Oscars of management thinking", we are offering our extended Thinkers50 community a limited number of premium tickets.
In order to access premium tickets, please submit your application by filling out the form below. We will select the participants who will then be able to join us on 15 and 16 November. Curating the audience in this way will provide the best networking opportunities for you and other Thinkers50 Awards Gala 2021 participants.
If your application is approved, the invitation to the event is extended to you and one guest of your choice.
To see who has already secured their ticket, please visit our attendees list.
Thinkers50 Awards Gala 2021 Attendees List
Abhishek Kumar
Abraham Khoureis
Aishwarya Rindhe
Alex Osterwalder
Alice Vincent
Alison Roberts
Alf Rehn
Alisa Cohn
Alison du Toit
Allison Liddle
Alwin Magimay
Alyson Meister
Amanda Wikman
Amantha Imber
Amit Kapoor
Amy Bradley
Amy Edmondson
Anders Indset
Andries Breytenbach
Andries Celliers
Anil Gupta
Annika Steiber
Antonio Nieto-Rodriguez
Antonios Kouroutakis
Ashraf Garda
Ashwini Bakshi
Asuka Takaoka
Atchara Juicharern
Bin Ma
Bongi Ndimande
Brantlee Underhill
Brenda Bence
Cali Yost
Carlo Bozzoli
Caroline Webb
Chenyang Guo
Chris Klopper
Christian Rangen
Christopher Fenning
Claudio Fernández-Aráoz
Clifford Sheldon
Colleen Leclerq
Connie Dieken
Cristina Cruz
Dan Pontefract
Dane Jensen
Daniel Blake
Daniel Pink
Darren Menabney
Dave Ulrich
David De Cremer
David Nour
David Burkus
David Duncan
David Gentle
David Kasperson
David Lancefield
Deb Harrity
Deepa Prahalad
Delphine Dubuet
Diane Hamilton
Dipankar Chowdhury
Dorie Clark
Elizabeth Altman
Ellen Snee
Elmien Solms
Emanuele Quintarelli
Emil Andersson
Engelbert Pelster
Enrique Dans
Erica Dhawan
Erika Lucas
Erin Meyer
Ernest Adams
Eugene van Rensburg
Fabienne Astier
Fabrizio Salvador
Federico Fernández de Santos Ortiz
Fons Trompenaars
Francesca Gino
Francis Hintermann
François Candelon
Francois Cyril
Frederic Etiemble
Gena Cox
Geoff Parker
Geoff Tuff
George Yip
Imperial College and Northeastern University
Gianpiero Petriglieri
Grant Kelly
Guido Bartalena
Haiyan Wang
Hal Gregersen
Helen Bevan
Henry Stewart
Herminia Ibarra
Hiroshi Nishikawa
Hubert Joly
Ian Daley
Ingrid Vasiliu-Feltes
Jacob Chacko
Jeffrey Kuhn
Jennifer Petriglieri
Jill Totenberg
Joan Bigham
Johan Nel
Jon Fraser
Joost Minnaar
Jose Pinto
Josef Hoeckner
Joseph Cahill
Julia Hautz
Kachi Teruko
Kaihan Krippendorff
Kaisa Snellman
Kamalesh Agarwalla
Karen Christensen
Karen McKenzie
Karim Harbott
Karina Garcia
Karl Moore
Karlheinz Schwuchow
Kim Korn
Kriti Jain
Kumar Mahadeva
Kurt Matzler
Laney Liu
Laura Gassner Otting
Laura Watkins
Leon Prieto
Liezel van Arkel
Lina Zhu
Linda Brimm
Linda Hill
Lindsey Pollak
Liz Morrison
Liz Wiseman
Louise van Rhyn
Luyao Wang
Luz Rello
Lynda Gratton
Lynda Smith
Manbir Kaur
Mandeep Sethi
Marc Silvester
Mariaan Uys
Marietjie du Toit
Marshall Van Alstyne
Martin Lindstrom
Martina Pasquini
Matt Gitsham
Matteo Malito
Mel Tomlinson
Michael DePrisco
Michael Jacobides
Michael Watkins
Michael Stanier
Michelle Duplessis
Mike Dulworth
Mike Lee
Morten Hansen
Nankhonde Kasonde-van den Broek
Nathan Furr
Navi Radjou
Neil Davis
Nikitas Konstantinidis
Nilofer Merchant
Ninez Piezas-Jerbi
Noah Askin
Oleg Konovalov
Olivier Terrée
Patrice Louvet
Peter Bregman
Peter Ilyes
Peter Lorange
Philip Kotler
Pim De Morree
Pradeep Jethi
Rachael Ballard
Radoslava Anguelova
Rahaf Harfoush
Rahul Agarwal
Rashmir Balasubramaniam
Rebecca Zucker
Renée Mauborgne
Rita McGrath
Rita Pinto
Rita Vanhauwenhuyse
Robert C Griffin
Robin Speculand
Rocío Bonet
Roger Martin
Ron Carucci
Rudy Buys
Sally Ashworth
Sami Carouba
Sanyin Siang
Sarah Green Carmichael
Scott Anthony
Selim Oktar
Sheree Atcheson
Simone Ahuja
Simone Cicero
Sinan Aral
Stefanie K. Johnson
Stephen M R Covey
Steven Goldbach
Stew Friedman
Subir Chowdhury
Susan David
Sylvia Ann Hewlett
Sylvia Guan
Tahirou Assane
Tammy Erickson
Tasha Eurich
Tendayi Viki
Terence Mauri
Thomas Wedell-Wedellsborg
Tilly Kgatla
Tim Moody
Todd Cherches
Tom Kolditz
Tsedal Neeley
Vinod Jain
W. Chan Kim
Wen Yang
Whitney Johnson
William Cornellius Zeeb J
William Fischer
William Malek
Xiaotong Gu
Xin Fu
Yavnika Khanna
Yoshikuni Takashige
Yuying Shen
Yves Pigneur
Event Theme: Ideas with Purpose
This year is the 20th anniversary of the first ever Thinkers50 Ranking, and we are marking the occasion by instigating a dialogue about the role and value of management in society. Our theme is Ideas with Purpose
The Thinkers50 mission is to be the world's most reliable resource for identifying, ranking and sharing the leading management ideas of our age: ideas that can make a real difference in the world.
The second part is significant. Ideas are all well and good for their own sake, but what we value most are ideas with a practical application, which create value in the real world.
'There is nothing quite so practical as a good theory,' Kurt Lewin said, and we agree. The best theories are those with a clear purpose, which encourage us to apply them, but also to challenge them to ensure they are robust and remain relevant.
Ideas with a Purpose can make a difference by informing practice. But only if we are prepared to constantly seek out new and better theories. That requires attributes such as curiosity, humility, and inclusivity – which we are proud to curate in our program.
It also means questioning outdated assumptions, challenging arrogant leaders, and demanding fairer working practices. Above all it takes a restless desire to have a positive impact on the lives of real people.
Join us in our pursuit of Ideas with Purpose!
Ideas Premiere Pre-Event on 13-14 October
Welcome to our Ideas Premiere, a foretaste of what's to come in our Awards Gala.
Over two days we will be curating some of the world's leading business thinkers as they set the scene for the post-pandemic business world by questioning outdated assumptions and challenging the status quo.
From calling out arrogant leaders and the damage they do, to exploring the customer and employee experience imperatives, and from reimagining capitalism to a long overdue reappraisal of management history, we shine a light on the latest ideas and offer a vision of business that is joyful, open to ecosystems thinking and able to embrace a state of permanent transformation.
We are joined by business leaders including Piyush Gupta, CEO of DBS Group, and leading thinkers including Amy Edmondson, Michael Jacobides, and Philip Kotler, the man who invented and continues to reinvent modern marketing, and go in search of deeper meaning with Leadership and Literature with Subir Chowdhury and a panel of acclaimed novelists and poets.
Premium tickets
A premium ticket to the Thinkers50 Awards Gala 2021 is £500 (*20% VAT applies only to purchases in the UK).
Premium ticket holders will enjoy several exclusive benefits:
Interactive event participation
Interactive participation in live events and breakout rooms throughout the two days, including the Gala announcement of the new Thinkers50 Ranking and winners of the 2021 Distinguished Achievement Awards.
Access to Thinkers50 Community Platform
Your ticket includes access to our brand new platform launching in October 2021, where you'll be able to connect with your fellow Thinkers50 community members. It will enable you to share ideas, collaborate, and learn – throughout the year.
Co-creation of the Thinkers50 Declaration of Purpose
A unique opportunity to co-create the Thinkers50 Declaration of Purpose – a message about the role and purpose of management in a challenged world and a declaration of our beliefs as a community, which will be announced at the Thinkers50 Awards Gala 2021 and promoted across global media.
Inclusion in the 20th Anniversary Thinkers50 Yearbook
For Thinkers50 2021 we are producing a unique, high quality ebook to celebrate 20 years of extraordinary ideas and the latest Ranking and Award Winners. As a premium ticket holder, you will be featured.
Join us – apply for your ticket now!
To escape the Covid crisis and tackle the wicked problems facing the world, we need fresh ideas more than ever: support the work of Thinkers50 and the role of thought leadership in the business world by joining us at Thinkers50 Awards Gala 2021.
Partnerships
If you would like to explore a potential partnership, we would love to hear from you. Contact Thinkers50 co-founders Stuart and Des.