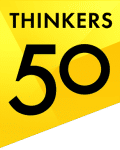 Thinkers50 Awards Gala 2021
IDEAS WITH PURPOSE
15-16 November 2021
Celebrating 20 years of identifying, ranking, and sharing extraordinary management and business thinking
About Thinkers50 Awards Gala 2021
This year marks the 20th anniversary of the first ever Thinkers50 Ranking and has seen business and management thinkers from around the world sharing two days of ideas, inspiration, and celebration. The anniversary as well as the current disruption caused by the pandemic gave us the opportunity to re-think our biennial event.

Our purpose
Thinkers50 2021 is an opportunity to recognise the very best in management thinking. It is also your chance to participate in a curated conversation with your fellow Thinkers50 community members to shape a more humane and sustainable future for the world – and make a difference through ideas with purpose.
Event Theme: Ideas with Purpose
This year is the 20th anniversary of the first ever Thinkers50 Ranking, and we are marking the occasion by instigating a dialogue about the role and value of management in society. Our theme is Ideas with Purpose
The Thinkers50 mission is to be the world's most reliable resource for identifying, ranking and sharing the leading management ideas of our age: ideas that can make a real difference in the world.
The second part is significant. Ideas are all well and good for their own sake, but what we value most are ideas with a practical application, which create value in the real world.
'There is nothing quite so practical as a good theory,' Kurt Lewin said, and we agree. The best theories are those with a clear purpose, which encourage us to apply them, but also to challenge them to ensure they are robust and remain relevant.
Ideas with a Purpose can make a difference by informing practice. But only if we are prepared to constantly seek out new and better theories. That requires attributes such as curiosity, humility, and inclusivity – which we are proud to curate in our program.
It also means questioning outdated assumptions, challenging arrogant leaders, and demanding fairer working practices. Above all it takes a restless desire to have a positive impact on the lives of real people.
Ideas Premiere Pre-Event on 13-14 October
Welcome to our Ideas Premiere, a foretaste of what's to come in our Awards Gala.
Over two days we will be curating some of the world's leading business thinkers as they set the scene for the post-pandemic business world by questioning outdated assumptions and challenging the status quo.
From calling out arrogant leaders and the damage they do, to exploring the customer and employee experience imperatives, and from reimagining capitalism to a long overdue reappraisal of management history, we shine a light on the latest ideas and offer a vision of business that is joyful, open to ecosystems thinking and able to embrace a state of permanent transformation.
We are joined by business leaders including Piyush Gupta, CEO of DBS Group, and leading thinkers including Amy Edmondson, Michael Jacobides, and Philip Kotler, the man who invented and continues to reinvent modern marketing, and go in search of deeper meaning with Leadership and Literature with Subir Chowdhury and a panel of acclaimed novelists and poets.
Premium tickets
Premium ticket holders enjoyed several exclusive benefits:
Interactive event participation
Interactive participation in live events and breakout rooms throughout the two days, including the Gala announcement of the new Thinkers50 Ranking and winners of the 2021 Distinguished Achievement Awards.
Access to Thinkers50 Community Platform
Your ticket includes access to our brand new platform launching in October 2021, where you'll be able to connect with your fellow Thinkers50 community members. It will enable you to share ideas, collaborate, and learn – throughout the year.
Co-creation of the Thinkers50 Declaration of Purpose
A unique opportunity to co-create the Thinkers50 Declaration of Purpose – a message about the role and purpose of management in a challenged world and a declaration of our beliefs as a community, which will be announced at the Thinkers50 Awards Gala 2021 and promoted across global media.
Inclusion in the 20th Anniversary Thinkers50 Yearbook
For Thinkers50 2021 we are producing a unique, high quality ebook to celebrate 20 years of extraordinary ideas and the latest Ranking and Award Winners. As a premium ticket holder, you will be featured.