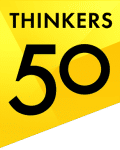 Thinkers50 Awards Gala 2021
IDEAS WITH PURPOSE
15-16 November 2021
Join us this year to celebrate 20 years of identifying, ranking, and sharing extraordinary management and business thinking
About Thinkers50 Awards Gala 2021
This year marks the 20th anniversary of the first ever Thinkers50 Ranking and will see business and management thinkers from around the world sharing two days of ideas, inspiration, and celebration. The anniversary as well as the current disruption caused by the pandemic gave us the opportunity to re-think our biennial event.
Read on to learn more about what we have in store for you this autumn!

Format
This year's Awards Gala is set to be a two-day virtual event, hosted from our studio in London.  As soon as it is safe, we would love to welcome you in person. In such a case, the event will be turned into a hybrid virtual and physical event.
Our purpose
Thinkers50 2021 is an opportunity to recognise the very best in management thinking. It is also your chance to participate in a curated conversation with your fellow Thinkers50 community members to shape a more humane and sustainable future for the world – and make a difference through ideas with purpose.
Curated audience
To guarantee the intimacy and exclusivity you have come to expect from what the Financial Times describes as the "Oscars of management thinking", we are offering our extended Thinkers50 community a limited number of premium tickets.
In order to access premium tickets, please submit your application by filling out the form below. We will select the participants who will then be able to join us on 15 and 16 November. Curating the audience in this way will provide the best networking opportunities for you and other Thinkers50 Awards Gala 2021 participants.
If your application is approved, the invitation to the event is extended to you and one guest of your choice.
To see who has already secured their ticket, please visit our attendees list.
Thinkers50 Awards Gala 2021 Attendees List
Abraham Khoureis
Alex Osterwalder
Alf Rehn
Alisa Cohn
Allison Liddle
Amantha Imber
Amy Edmondson
Alwin Magimay
Amit Kapoor
Amy Bradley
Anders Indset
Anil Gupta
Antonio Nieto-Rodriguez
Asuka Takaoka
Atchara Juicharern
Brenda Bence
Cali Yost
Caroline Webb
Claudio Fernández-Aráoz
Connie Dieken
Dan Pontefract
Dane Jensen
Daniel Pink
Darren Menabney
Dave Ulrich
David De Cremer
David Nour
David Burkus
David Lancefield
Deepa Prahalad
Diane Hamilton
Dorie Clark
Erica Dhawan
Erika Lucas
Federico Fernández de Santos Ortiz
Fons Trompenaars
Francesca Gino
Francis Hintermann
Geoff Parker
George Yip Imperial College and Northeastern University
Hal Gregersen
Helen Bevan
Henry Stewart
Herminia Ibarra
Ian Daley
Jacob Chacko
Jeffrey Kuhn
Jill Totenberg
Jon Fraser
Kachi Teruko
Kaihan Krippendorff
Karen Christensen
Karim Harbott
Karl Moore
Karlheinz Schwuchow
Laura Watkins
Leon Prieto
Linda Hill
Liz Wiseman
Lynda Gratton
Marc Silvester
Marshall Van Alstyne
Martin Lindstrom
Matt Gitsham
Michael Jacobides
Michael Watkins
Michael Stanier
Morten Hansen
Nilofer Merchant
Ninez Piezas-Jerbi
Oleg Konovalov
Olivier Terrée
Peter Bregman
Peter Lorange
Philip Kotler
Rebecca Zucker
Rita McGrath
Robert C Griffin
Robin Speculand
Ron Carucci
Roger Martin
Sanyin Siang
Sarah Green Carmichael
Scott Anthony
Simone Ahuja
Sinan Aral
Stefanie K. Johnson
Stephen M R Covey
Stew Friedman
Subir Chowdhury
Susan David
Sylvia Ann Hewlett
Tammy Erickson
Tasha Eurich
Tendayi Viki
Terence Mauri
Thomas Wedell-Wedellsborg
Tom Kolditz
Tsedal Neeley
Whitney Johnson
William Cornellius Zeeb J
William Fischer
Yves Pigneur
Premium tickets
A premium ticket to the Thinkers50 Awards Gala 2021 is £500 (*20% VAT applies only to purchases in the UK).
Premium ticket holders will enjoy several exclusive benefits:
Interactive event participation
Interactive participation in live events and breakout rooms throughout the two days, including the Gala announcement of the new Thinkers50 Ranking and winners of the 2021 Distinguished Achievement Awards.
Access to Thinkers50 Community Platform
Your ticket includes access to our brand new platform launching in October 2021, where you'll be able to connect with your fellow Thinkers50 community members. It will enable you to share ideas, collaborate, and learn – throughout the year.
Co-creation of the Thinkers50 Declaration of Purpose
A unique opportunity to co-create the Thinkers50 Declaration of Purpose – a message about the role and purpose of management in a challenged world and a declaration of our beliefs as a community, which will be announced at the Thinkers50 Awards Gala 2021 and promoted across global media.
Inclusion in the 20th Anniversary Thinkers50 Yearbook
For Thinkers50 2021 we are producing a unique, high quality ebook to celebrate 20 years of extraordinary ideas and the latest Ranking and Award Winners. As a premium ticket holder, you will be featured.
Be the first to join us in London
Premium ticket holders will have the first option on upgrading their virtual event tickets in order to be able to join our hybrid / live event.
Join us – apply for your ticket now!
To escape the Covid crisis and tackle the wicked problems facing the world, we need fresh ideas more than ever: support the work of Thinkers50 and the role of thought leadership in the business world by joining us at Thinkers50 Awards Gala 2021.
Partnerships
If you would like to explore a potential partnership, we would love to hear from you. Contact Thinkers50 co-founders Stuart and Des.